Here on our Breaking News page we will from time to time post news reports, press releases and official statements from a variety of sources that address issues of significance to interfaith relations. We may also post links to sites where more details may be found. Neither posts on this page nor links to other sites should be taken as endorsement of any writer's position. We simply provide the material as a courtesy to you, our readers, trying to keep you abreast of events and the resulting discussion. 
FCAT test schedule conflicts with Passover, Holy Week
FCAT testing will begin in April, the same week as passover and Holy Week.
By Jeff Allen, Reporter
Last Updated: Friday, March 07, 2014, 7:17 AM
SEMINOLE COUNTY – 
Cathy Swerdlow said it means everything to celebrate Passover with her five kids.
"It forms the basis of Judaism, to pass it on from one generation to the next," said Swerdlow.
Swerdlow has five children that have graduated from Seminole County Schools.  She said the night Passover begins is typically a late night of celebration, and not conducive to being ready for a big test like the FCAT the next day.
"By the time you have all the family over and you get started, it can go past what would be a normal bedtime, especially for high school students that need to get up so early in the morning," said Swerdlow.
The Interfaith Council of Central Florida is objecting to the state's mandatory timeframe for the FCAT. They say the timeframe creates religious conflicts in most of Florida's counties.  And the council said this is not the first year testing has conflicted religious holidays.
"And then have to wake up early the next morning and take one of the most important tests you'll have to take, is just very shocking," said Temple Israel Rabbi Joshua Neely.
Nearly every Central Florida school district begins FCAT testing on April 14. That's the same day Passover begins at sundown. The testing also runs through Holy Week, which Christians celebrate leading up to Easter.
In a statement released Wednesday, Council Executive Director Pastor James Coffin said:
"Religious leaders recognize the challenge educators face in scheduling state-wide exams. But, as a practical matter, there are some days that should be considered off limits."
"Unfortunately the testing window is such that we have to squeeze every day that we can in because of capacity," said Tim Harper, the director of assessments for Seminole County Public Schools.
School administrators said they have limited the number of students that will have to be tested on the first day of Passover. They say students who can't test those days can be excluded.
"So they would come back in on a make-up day. We have ample make-up days built into the testing calendar," said Harper.
But Rabbi Joshua Neely thinks school administrators could have done more to prevent the conflict.
"For the major statewide tests, we were surprised more consideration wasn't given," said Neely.
* * * * * * * * 
Orlando interfaith march commemorates Martin Luther King Jr.
Marchers gather at First United Methodist Church in downtown Orlando on Sunday to honor the legacy of the Rev. Martin Luther King Jr. (Joshua C. Cruey, Orlando Sentinel / January 13, 2013)
(Orlando Sentinel, January 14, 2013)
By Jeff Kunerth, 9:57 p.m. EST, January 13, 2013
White, black and Hispanic, young, old and in between, wearing ball caps, turbans, yarmulkes and hijabs, about 300 people marched Sunday night in a demonstration of the multi-racial, interfaith vision of the Rev. Martin Luther King Jr.
The annual candlelight vigil and march, sponsored by the Interfaith Council of Central Florida and the Mayor's Martin Luther King Jr. Commission, is the first of several events scheduled to commemorate the ideals of the slain civil-rights leader.
"Tonight kicks off more than a week of events celebrating the legacy of Dr. King," Orlando Mayor Buddy Dyer told the marchers assembled inside Orlando City Hall. "We are individually and collectively continuing to keep Dr. King's dream alive."
They walked from City Hall to First United Methodist Church with children on their shoulders and nestled inside strollers. They dressed in dark suits, dress slacks, shorts, and skirts, and wore T-shirts that quoted King across their shoulders: "Everyone can be great, because everyone can serve."
"We are gathered here as one community, diverse but united, with the purpose of fulfilling the words of Dr. King," said Rabbi David Kay, of Congregation Ohev Shalom in Maitland. "We come from many perspectives, but we can all agree we have unalienable rights to bear unarmed truth and unconditional love."
They filled half the bright white sanctuary of the First United Methodist, Jews seated next to Muslims, Christians beside Sikhs. In their hands were the lyrics of "We Shall Overcome" and affirmations from different faiths that ended with the pledge, "We affirm the teachings of Dr. Martin Luther King Jr. that we are all, first and foremost, brothers and sisters, one human family in a beloved community."
"We are not the same in faith. We are not the same in the name of our God. But we are a single body with many members," said keynote speaker Pastor Larry Mills, of Mt. Sinai Missionary Baptist Church in Orlando.
They marched and sang and prayed and applauded on a night when partisan politics, competing agendas, racial divides, and opposite sides seemed not to matter.
They also came because King, whose national holiday will coincide with the second inauguration of President Barack Obama, still matters to generations who were not yet born when he died.
"When I'm trying to teach my children about the importance of voting, of standing tall, and being proud of yourself, I use him as a reference," said Yolanda Young, 43, an Orlando mother of four. "You have to know where you came from to know where you're going."
jkunerth@tribune.com or 407-420-5392
**********
Pushing for Peace in the Muslim World: A Conversation with Imam Muhammad Musri
By Katie Melone
Tensions in the Middle East and Africa continue to flare. Muslims have been objecting to Wednesday's issue of the French satirical magazine Charlie Hebdo, which features a cartoon depicting an Orthodox Jew and the prophet Muhammad. Meanwhile, concerned that France could face violent protests by Muslims like the ones that led to the death of a U.S. Ambassador and three other Americans in Libya, French officials are now banning street protests and closing its embassies in Muslim countries. And a legal battle is being waged by the actors in the film "The Innocence of Muslims," an American-made film which some have said provoked the U.S. embassy protests and attacks. The actors say they were misled by the filmmaker as to the film's aim and content.
As the story continues to unfold, Odyssey Networks reached out to Imam Muhammad Musri, the president of the Islamic Society of Central Florida, to hear his thoughts on the situation.
Read it at http://www.odysseynetworks.org/news/2012/09/21/pushing-for-peace-in-the-muslim-world-a-conversation-with-imam-muhammad-musri.
 **********
Sharing information without understanding can be deadly
(Orlando Sentinel, Guest column, September 22, 2012)
By Bryan Fulwider
We call it the Information Age. And in one sense, it is. Words and pictures can be transmitted to the entire world in seconds. And that's on a slow day.
Our technology is impressive. But it has limits. For one thing, information and understanding aren't the same thing. Information can be transmitted readily. Understanding is much harder to acquire. And information without understanding can be deadly.
Only days ago, millions of Muslims in some two dozen countries around the globe saw a trailer for a movie that made their blood boil. The movie mocked what to them is sacred. And in their social, political and religious contexts — unlike in the United States — profaning what's sacred is more than just a sacrilege; it can be a crime.
Some of those offended by what they saw on the Internet responded with more than mere anger. Not only did they destroy property, they became vigilantes, murdering people solely on the basis of their national identities — people who had nothing to do with the offending movie. In fact, they killed the Americans who, in all of Libya, probably best understood and most cared about the Muslim perspective.
As images of out-of-control mobs flashed onto TV screens back in the United States, American viewers judged the mobs' actions to be indefensible by any standard of morality, be it religious or secular. But what many Americans didn't realize is that a great array of Muslims — both as individuals and as organizations — were likewise strongly denouncing the violence.
The movie, offensive as it was, in no way justified the mob's response. As the Universal Muslim Association of America said in a press release: "No legitimate goal can ever be accomplished by harming innocent people, and no such behavior can ever be tolerated by the Holy Religion of Islam."
The challenge for both overseas Muslims and non-Muslim Americans is to understand the complicated dynamics of this tragic saga.
Overseas Muslims, most of whom have limited understanding of the philosophy upon which the U.S. legal system is based, simply can't comprehend such an unbending commitment to freedom of speech that a handful of radical Christians would be allowed to revile a religion that's sacred to nearly a quarter of the world's population.
Americans typically have a different viewpoint. We recognize that freedom of speech has its downside. And it can be badly misused. But we feel the positives of free speech far outweigh the negatives. Nothing could be more foreign to many overseas Muslims.
Now to keep things in perspective, let me remind my fellow Christians (and Jews) that our own holy writings are strident concerning disrespect for the sacred. When an ancient Hebrew reached out merely to steady the ark of the covenant … Bam! … Struck dead! By God, no less!
That's how our Bible describes it. Only the priests were supposed to touch the ark. And I could cite a long list of biblical stories in which humans themselves responded violently to real or perceived spiritual disrespect.
As a born-and-bred American, I understand and support our freedom-of-speech perspective. And as one who has been involved in interfaith dialogue for some three decades, I understand and respect Muslims' concern for the sacred. I also understand the chagrin mainstream Muslims feel when radicalized elements within the faith foment actions that (as my long-time friend Imam Muhammad Musri of the Islamic Society of Central Florida puts it) are "not representative of Islam, and do not represent the vast majority of Muslims."
I want neither government officials nor religious clerics telling me what I can and can't say. But we all need to remember that with freedom comes responsibility. I like the Rotary Club's Four-Way Test: "Of the things we think, say or do: Is it the truth? Is it fair to all concerned? Will it build goodwill and better friendships? Will it be beneficial to all concerned?'
Had those principles been followed, there would have been no violence and murder. In fact, there would have been no movie.
The Rev. Bryan Fulwider is a fellow at the Winter Park Institute at Rollins College and president of the Interfaith Council of Central Florida.
**********
We can tell you who does NOT speak for Christianity or Islam: the radicals who are getting all the media attention.
In both Christianity and Islam, freedoms of speech and expression are cherished rights, however, a small fraction of extremists on both sides are abusing these rights and pretending to speak on behalf of billions of peaceful Christians and Muslims. The tendency to mischaracterize a religion other than your own is nothing new. The desire to defend one's faith and respond to insults is certainly understandable. But let us all take a moment to put this in perspective: Who is launching the attacks?
Recently, a demeaning and degrading hate film, produced by a radical Christian in California and promoted by a fundamentalist Christian leader in Florida, resulted in radical Muslims rioting in several countries. The Christian extremists intended to outrage Muslims worldwide, and to get the Muslim extremists to respond violently. They blame each other, but they are two faces of the same coin.
We have both been in the office of Rev. Terry Jones, on different occasions, to try to dissuade him from actions that would place Americans, especially those serving in our Armed Forces, in danger. We have failed for a simple reason: He loves the attention and he believes he is fighting evil. His tiny congregation loves the idea that believers like them are the only ones true to Christ and courageous enough to defend the faith against enemies. Like other fundamentalists of any faith, he speaks with disdain when talking about other churches let alone Islam. When we visited him, instead of carrying a Bible around the office, Rev. Jones and his assistant pastor carried guns.
We do not know any respected Christian leader or denomination who would promote or even tolerate a despicable video denigrating the leader of another religion. Out of the billions of Christians on this earth, only a very few would approve of such slander. The question is, how many will speak out against it?
We both have talked to Muslims, encouraging them to peace and dialogue. Compared to the of the millions that demonstrated for more democratic reforms in the "Arab Spring" movement across the Middle East, how many have been involved in these violent reactions to the film? Only thousands, in some cases hundreds, demonstrated angrily and only a fraction of those were violent.
Everyone likes to blame the media for focusing on the loud voices of the radicals, but some of the responsibility must rest on the majority of religious leaders who are silent during these times, the ones who would speak up for peace and respect of others but they do not take the initiative. Maybe if more of us spoke up, we could drown out the radical provocations and the radical responses with voices of reason, civility and thoughtfulness.
As a Christian leader, I, Pastor Joel Hunter, rebuke the Coptic Christian who made such a disgusting video. I know many Coptic Christians in Egypt and other countries who would be sick about this kind of attack on the Prophet of Islam. I will be part of the voices that will drown out future attempts to incite the clash of religions and civilizations.
As a Muslim leader, I, Imam Muhammad Musri, strongly condemn the cowardly criminal attacks against the U.S. Consulate in Benghazi, Libya, and other U.S. Embassies around the world. My prayers and condolences go out to the families and loved ones of Ambassador Christopher Stevens and his colleagues, who were killed in these senseless criminal acts. I strongly condemn the radical mob that carried out the attacks, and I stand up with the vast majority of Muslims who are peaceful against the extremists who keep trying to hijack our faith. Islam is peace, and under no circumstances is any kind of violence ever justified in response to such provocations.
While many religious leaders find it difficult to reach out across the religious divide, we are proud to say we have been best friends for nearly 20 years. We have advocated for many issues of compassion and justice and health together. We have worked together to reduce nuclear arms, pollution, eliminate torture, minimize poverty and other important issues. How
many will stand with us to speak out and outlast the voices of degradation when it comes to other religions? We are each strong advocates for our own scriptures and understandings of God, but we do not build our communities by tearing others down.
**********
September 20, 2012
Making History, First Sikh Testifies at U.S. Senate Hearing

September 20, 2012 (Washington, DC) – Over 400 people attended a Senate subcommittee hearing yesterday to watch Harpreet Singh Saini deliver an emotional tribute to his mother, who was one of six worshipers whose lives were taken during the Aug. 5th attack on the Oak Creek Gurdwara. Harpreet also made history by being the first Sikh to testify at a U.S. Senate hearing.

Click here to watch the hearing on C-SPAN
Click here to read Harpreet's testimony

With his brother Kamaljit by his side, and backed by Oak Creek community members Amardeep and Kanwardeep Singh Kaleka, Harpreet moved the hearing room to tears with his courageous and heartfelt testimony, saying "I want to tell the gunman who took her from me: You may have been full of hate, but my mother was full of love."

Senate Assistant Majority Leader Richard Durbin, Chairman of the Senate Judiciary Subcommittee on the Constitution, Civil Rights, and Human Rights, paid tribute to the Oak Creek community by displaying photographs of those who lost their lives: Paramjit Kaur Saini, Sita Singh, Ranjit Singh, Prakash Singh, Suvegh Singh, Satwant Singh Kaleka.

Of note, the United States Justice Department representative at the hearing stated that by "mid-October" the decision of the Justice Department on the longstanding Sikh demand to create an anti-Sikh hate crime category "would be known."

Yesterday's historic hearing was convened after more than 150 organizations, led by the Sikh Coalition, requested the hearing in a joint letter to the Senate Judiciary Committee on August 21.

The Coalition thanks Senate Assistant Majority Leader Dick Durbin for his leadership in convening the hearing. The Coalition is also deeply thankful to the over 400 people, mostly Sikhs, who completely filled both the hearing room and the hearing overflow room. Their service in attending yesterday's historic hearing made a clear statement to the Senate that Sikhs will stand up for both their rights and the rights of all. The Sikh Coalition is also grateful to Harpreet Singh Saini for exemplary courage and leadership in offering his testimony.

As always, the Sikh Coalition encourages all Sikhs to fearlessly practice their faith.

---

"While speaking today about our mother and our loss was difficult, it was necessary. My brother and I are grateful that the Senate heard our testimony. We would like to thank the Sikh Coalition for making the hearing and today's testimony happen. They supported us every step of the way."

– Kamaljit Singh Saini,
Brother of Harpreet Singh Saini

---

Sikh Coalition Testimony
C-SPAN (video)
Associated Press
Milwaukee Journal-Sentinel
The Sikh Coalition
50 Broad St., Suite 1537
New York, NY 10004T 212.655.3095www.sikhcoalition.org
The Sikh Coalition is a community-based organization that works towards the realization of civil and human rights for all people. The Coalition serves as a resource on Sikhs and Sikh concerns for governments, organizations and individuals.The Sikh Coalition relies on your financial support to sustain its initiatives and broaden its services. In addition to supporting the Sikh Coalition directly, we encourage you to use matching donation programs offered by many employers. The Sikh Coalition is a 501c (3) non-profit organization. Thank you for your support.
**********
Imam Feisal Abdul Rauf: Let the Global Movement of Moderates Rise
Those behind the anti-Islam video and those protesting violently against it are both extremists working to ignite a clash of religions. Imam Feisal Abdul Rauf, the man behind the Ground Zero Mosque plan, offers a call to action for all moderates to push back.
The people in the United States who made the obscene video that enflamed the Muslim world and the people in Egypt who found it, translated it, and publicized it as the latest Western affront to Islam think they are mortal enemies.
They are not. They are allies in extremism.
The world is divided between those working hard to forge harmony among people of different religions and the extremists working hard to ignite a "clash of religions."
It is up to the majority—who are coming together as the Global Movement of Moderates—to push back against the extremists of all faiths. We must counter those who erroneously believe that smearing another religion is the best way to defend their own.
And we certainly must condemn those who believe that taking innocent lives—whether it is suicide bombers exploding in marketplaces or killers of American diplomats in Libya—is somehow endorsed by Islam.
As an imam who has spent a lifetime studying the Quran and Islamic law, I know that Islam prohibits taking any innocent life. The Quran states: "No soul shall be held responsible for the crimes of another." The Quran equates killing an innocent with killing all of humankind.
In the Quran, God tells us not to insult the beliefs of others, lest they take revenge by insulting God. God's plan in creating and testing humankind requires Muslims to respect every human being's right to accept or reject God. That means accepting religious freedom and all other religious communities.
By taking the bait offered by extremist Islamophobes, we Muslims embarrass ourselves, reinforce stereotypes held by those who hate us, and sin against God.
In the Quran, God explicitly criticized believers, even the Prophet, for prohibiting that which God has permitted. We must bring that openness to protect religious diversity. We have clear instructions in the Quran that tell us, "to you your religion, to me mine."
Threatening to wipe out Jews, or Christians, or members of any faith; or Sunnis killing Shia and Shia killing Sunnis, or terrorist attacks against the United States—none of this can be supported by the Quran or any holy book.
[The first step is to recognize the enemy. It's not Islam. It's not Christianity. It's not Judaism. It is anyone in any faith who would destroy and kill in the name of religion.]
As we have seen, it takes only one extremist action to ignite a counter-reaction from extremists on the other side that lights the world on fire and undermines security and economic prosperity.
Opposition groups then use extremist reaction to their own ends, undermining government and pushing political agendas, some of which are hardline.
Just as Republican challenger Mitt Romney—to advance his own political campaign—used the turmoil caused by the video protests to castigate President Obama's policies of positively engaging the Muslim world, political opposition parties in Muslim majority nations are castigating their governments for positively engaging with the United States—to advance their domestic political agendas.
That's why Malaysian Prime Minister Mohammad Najib Abdul Razak launched the Global Movement of Moderates to galvanize the opposition to extremist ideology in all faith traditions.
"It is time for us, the majority who are peace-loving and moderate, to reclaim our rightful place," he said.
Western leaders have embraced his movement. British Prime Minister David Cameron told Najib in Malaysia in April, "I've been keen to share a platform with you on the Global Movement of Moderates." Said U.S. Secretary of State Hillary Clinton, "We are eager to support [Najib] and other leaders to take up this call."
This is a call to action for all moderates. The first step is to recognize the enemy. It's not Islam. It's not Christianity. It's not Judaism. It is anyone in any faith who would destroy and kill in the name of religion. It is anyone who would deny a person's right to the free practice of religion.
People of good faith in all religions need to turn their backs on the extremists who wish to divide us and not let them dictate events and seize control of the dialogue. It's not an easy thing to do. But it's our best hope for a safe, just, and thriving world.
Like The Daily Beast on Facebook and follow us on Twitter for updates all day long. 
Imam Feisal Abdul Rauf is author of Moving the Mountain, published by Free Press. He is chairman of Cordoba Initiative, an independent, multi-faith, and multi-national project that provides innovative solutions to those areas where conflict between Islamic and Western communities undermines local and global security. His work has appeared in The Wall Street Journaland Foreign Policy, and Time magazine named him among the 100 most influential people of the world.
For inquiries, please contact The Daily Beast ateditorial@thedailybeast.com.
**********
Domestic terror: Are we doing enough to combat the threat from within?
(By Sumit Galhotra, CNN, updated 8:42 AM EDT, Mon September 17, 2012)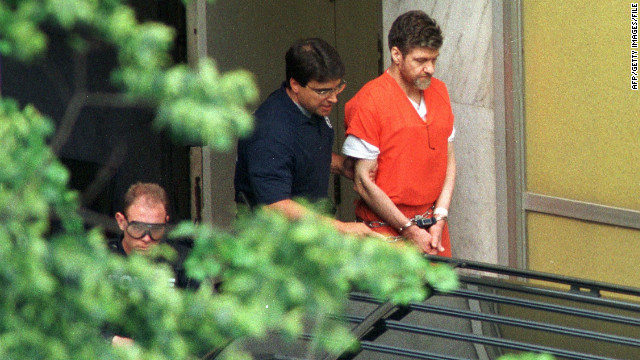 Convicted "Unabomber" Ted Kaczynski terrorized the country with a series of mail bombs over nearly two decades. The Harvard graduate killed three people and wounded 23 others prior to his arrest in 1996. Kaczynski pleaded guilty in 1998 and is serving a life term in the federal supermax prison in Florence, Colorado. Click through to read about other attacks carried out by Americans on American soil.
STORY HIGHLIGHTS
FBI says domestic terrorism is Americans attacking Americans based on extremist ideologies
Report: Counterterrorism efforts shaped largely in response to foreign terrorism
Resources devoted to domestic counterterrorism have been cut
2008 election riled up some right-wing groups, ex-DHS counterterrorism expert said
(CNN) – Americans watched this week as U.S. interests abroad became targets of Muslims enraged over a film mocking their religion. It was a storyline featuring familiar characters in the so-called war on terror, but some experts say the narrative may be overplayed.
Though radical Islam and Western interests are commonly the primary subjects of stateside conversation when it comes to terror, domestic terrorists pose significant threats to the homeland, experts say, and the U.S. needs to do more to safeguard itself from the threat within.
A handful of recent events — including the deadly rampages at aSikh temple in Wisconsin and an Aurora, Colorado, theater – have left communities in grief and raised additional questions about whether we're paying enough attention to domestic terrorism following the September 11, 2001 attacks.
Click here to read full story.
**********
Statement Issued by the Council of Shia Muslim Scholars in North America:
Concerning the offensive film which slanders the Holy Prophet of Islam, Muhammad son of Abdullah (peace and blessings be upon him and his family)
In the Name of God, the Beneficent, the Merciful
"And We have not sent you but as a mercy to the worlds."
[Holy Quran 21:107]
            To all respected leaders and decision-makers in governments, religions, or foundations and organizations which carry the responsibility and honor of serving humanity as well as global peace and security…
            With hearts filled with pain and sorrow, and eyes filled with tears, Muslims as well as all free spirited individuals in this world unite to express their honorable position in the face of the offensive video clips being propagated these days. These clips are from a movie which is supposedly to be released, and have been broadcast through various media outlets worldwide. The clips contain unforgivable insults to the greatest Islamic personality of all time, the leader of one of the world's major faith traditions, and one of the most important icons worldwide. He is a man who enjoys the respect and appreciation of billions of human beings – at the very least, among those who have even the slightest proper knowledge, awareness and information regarding him and his message.
            The Council of Shia Muslim Scholars in North America, including its religious scholars, preachers, spiritual leaders, and Islamic center and organization leaders, serving the American and Canadian communities, senses the threat of an intentionally devised scheme, filled with hate, behind the insults and offenses against such a holy figure. Attacking the personality of one who is so significant to a community of over 1.5 billion human beings can incite conflict which threatens worldwide security and stability. These billions of human beings view this figure with such high regard, love, allegiance, and loyalty, and are spread out across the globe. The resulting strife may eventually lead to wars and bloodshed, let alone destroy the coexistence and harmony which Muslims and non-Muslims have become accustomed to as members of a single community and nation.
            The Council of Shia Muslim Scholars in North America severely condemns and strongly denounces this heinous act. Moreover, the Council cautions and demands that all those with a sense of responsibility take the following into account:
Officials and governmental authorities should exercise extensive efforts to prevent the propagation of causes for spreading hate which can endanger security and stability. Among such causes is this offensive and inappropriate film. This must be done in order to protect the lives and property of people from the rage of those taken by emotions and who may lose control, whether Muslims or non-Muslims.
International media outlets, at all levels, should exercise their responsibilities ethically and professionally, by deleting these repulsive clips, which incite hatred and violence, from their websites and other mediums. Indeed, freedom of expression does not at all mean giving the opportunity to insult the beliefs and sacred icons of communities, disrespecting them and disregarding their emotions. Rather, such acts may eventually lead to legal prosecution.
We call upon all artists, writers and media personnel who truly wish to benefit from the experiences of humanity, its religions and peoples, to refer to the experts and proper sources to learn about any particular religion or community. Yes, we would like to confirm that some books of Muslims, which claim to be attributed to them and to the heritage of the Holy Prophet Muhammad (peace be upon him and his family), do contain false reports that offend Islam and the personality of the Prophet. However, that is not to be considered an excuse for those of greed and conspiracies to take advantage. That is because such reports or books are known to represent only an extremist mob which has been abandoned by history and humanity, let alone being abandoned by Muslims and free spirited individuals.
The Council urges all believers, who revolted and rebelled out of a sense of protectiveness and loyalty to the Messenger of God (peace be upon him and his family), to exercise utmost caution and wariness regarding the entities or individuals that wish ill for Muslims. They await for a slip here or an act there to make it into an excuse to drag the Muslims, especially the members of safe societies and nations, into artificial wars which serve the enemies of humanity as a whole. It is not hidden that those who aim for such provocations are surely neither among those who believe in God, nor among those who belong to a faith tradition, and they merely aim to achieve their narrow-minded interests.
In conclusion, we confirm the need to avoid any step which may promote this despicable film's popularity and viewership. We call upon all believers and free spirited individuals, who are revolting against this despicable act to express their protectiveness, love, allegiance, and loyalty to the Holy Prophet (peace be upon him and his family), to abide by wise and peaceful means within the legal and religious guidelines. We also urge them to appeal to decision-makers and people of influence, in all countries across the globe, to limit and prevent these slanderous lies. Perhaps, one of the most important things which can be done is to sponsor an international seminar gathering experts in the history and heritage of various religions and peoples, as well as experts in the art and media of various cultures, in order to discuss the inherited information which is spread throughout libraries worldwide about this unique personality. Then the seminar can come out with a final, official document, which sheds light on the historical truth as it is, brilliantly clear. This would serve humanity, knowledge and civilization, would prevent the causes of sedition, and shut the doors of the greedy, the opportunists, and those who live on turmoil and planting the seeds of hate for fellow human beings.
"Surely (as for) those who speak evil things of Allah and His Messenger, Allah has cursed them in this world and the hereafter, and He has prepared for them a chastisement bringing disgrace."
[Holy Quran 33:57]
"They desire to put out the light of Allah with their mouths but Allah will perfect His light, though the unbelievers may be averse."
[Holy Quran 61:8]
May the peace, mercy, and blessings of God be upon you.
**********
Orlando, FL – September 12, 2012 - The Islamic Society of Central Florida (ISCF) strongly condemns the cowardly criminal attacks against the US Consulate in Benghazi, Libya, and the U.S. Embassy in Egypt.Our prayers and condolences go out to the families and loved ones of Ambassador Jay Christopher Stevens, and the three staff members who were killed in these senseless criminal acts. We call on the Libyan and Egyptian authorities to bring the murderers and vandals swiftly to justice.It is heartbreaking that Ambassador Stevens who loved, and worked hard to help bring freedom to Libya, is murdered in Benghazi, the very city he helped save from Gaddafi.The radical mobs who carried out the attacks are not representative of Islam, and do not represent the vast majority of Muslims.The mobs were reacting to a provocative film insulting the Prophet Muhammad, part of which was circulated online by a "Pastor" from Gainesville, FL who held an "International Judge Muhammad Day", and who repeatedly insulted Muslims worldwide with Quran burnings, mock trials of Prophet Muhammad, and hate speech on Islam.We remind Muslims that Prophet Muhammad was subjected to physical and verbal abuse, but responded in a peaceful and loving manner, not allowing the provocations to influence his peaceful character. Therefore, under no circumstances is any kind of violence ever justified in response to the provocations. The Quran and the Prophet Muhammad are quite clear on this, and they call on every Muslim to be the protector of all HUMAN life and property.As we have always stated, freedom of speech is very much a part of Islam, however, with freedom comes responsibility. The alleged 'men of God' who are responsible for this despicable film knew quite well and intended to cause such terrible reactions. They are also behaving in contradiction to the tenants of their faith, and they share in the responsibility for these criminal acts. We call for an increase in honest and civil dialogue among people of all faiths and traditions to improve relationships with one another.
http://www.iscf.org/media/news/muslims-condemn-attacks-on.html
Imam Muhammad MusriPresident
Islamic Society of Central Florida
(877) 740-6420 (x 19) 
**********
IIC Information Alert
Politics, Media, and Interfaith Since 2002
(WASHINGTON DC — September 14, 2012) The Islamic Information Center, joining a statement from UMAA and the Idara e Jaferia, strongly condemns the attacks on the United States Embassies in Cairo, Eypt, Benghazi, Libya, and Sanaa, Yemen. Further, we condemn the murder of US Ambassador Christopher Stevens and that of his staff members. No legitimate goal can ever be accomplished by harming innocent people, and no such behavior can ever be tolerated by the Holy Religion of Islam.  We call upon the people of Egypt, Libya, and Yemen to take proactive measures to prevent violence and ensure that such actions can never happen again.

These riots are believed to be the result of an anti-Islam video created in the United States, which while derogatory and insulting, do not justify the harming of innocents. In the Holy Quran, God says that evil must be met with good deeds:

"The good deed and the evil deed are not alike. Repel the evil deed with one which is better, then lo! he, between whom and thee there was enmity will become as though he was a near friend." (Chapter 41, Verse 34).

The Islamic Information Center condemns all acts of terrorism as deplorable crimes against humanity, as they are completely reprehensible, and there is no legitimate reason for them to occur. Islam is a religion that advocates peace and tranquility amongst all peoples, and for any innocent individual to be harmed, is completely against the teachings of Prophet Muhammad (Peace Be Upon Him).

Islam, as taught by the Holy Prophet and his family, strongly advocates peaceful dialogue and discussion and rejects wanton violence against innocents. Further, the Holy Prophet Muhammad (May God Bless Him) condemned all forms of terrorism against all people. The individuals who perpetrated this attack blatantly acted against the teachings of Islam and humanity.

 

IIC provides many useful services to the community, but to continue providing the highest quality of work – we need your assistance! Become a member today and you too can enjoy the many benefits the Islamic Information Center has to offer. Click above to become an IIC Member for only $125. Your support is invaluable to accomplishing IIC's mission. IIC uses the world's most secure online payment service, PayPal, for your donations.

SHARE THIS EMAIL:

CONNECT WITH US:

view email in browser | unsubscribe | update your profile | forward to a friend
Copyright (C) 2012 Islamic Information Center All rights reserved.
**********
UMAA Condemns Attack on Embassies in Egypt, Libya, and Yemen
---
The Universal Muslim Association of America strongly condemns the attacks on the United States Embassies in Cairo, Eypt, Benghazi, Libya, and Sanaa, Yemen. Further, we condemn the murder of US Ambassador Christopher Stevens and that of his staff members. No legitimate goal can ever be accomplished by harming innocent people, and no such behavior can ever be tolerated by the Holy Religion of Islam.  We call upon the people of Egypt, Libya, and Yemen to take proactive measures to prevent violence and ensure that such actions can never happen again.
These riots are believed to be the result of an anti-Islam video created in the United States, which while derogatory and insulting, do not justify the harming of innocents. In the Holy Quran, God says that evil must be met with good deeds:
"The good deed and the evil deed are not alike. Repel the evil deed with one which is better, then lo! he, between whom and thee there was enmity will become as though he was a near friend." (Chapter 41, Verse 34).
The Universal Muslim Association of America condemns all acts of terrorism as deplorable crimes against humanity, as they are completely reprehensible, and there is no legitimate reason for them to occur. Islam is a religion that advocates peace and tranquility amongst all peoples, and for any innocent individual to be harmed, is completely against the teachings of Prophet Muhammad (Peace Be Upon Him).
Islam, as taught by the Holy Prophet and his family, strongly advocates peaceful dialogue and discussion and rejects wanton violence against innocents. Further, the Holy Prophet Muhammad (May God Bless Him) condemned all forms of terrorism against all people. The individuals who perpetrated this attack blatantly acted against the teachings of Islam and humanity
**********
Killing of Diplomats is un-Islamic
Islamic Educational Center strongly condemns the unjustified and un-Islamic attacks on the United States consulates in Egypt and Libya, and the consequent deaths of four Americans, including U.S. Ambassador to Libya Christopher Stevens.
The attacks on the U.S. consulates were a result of the public outrage caused by a movie which was produced in the United States depicting the Prophet Muhammad (peace be upon him) in a very disrespectful and degrading manner.
IECOC strongly condemns this movie and those who were behind it, and the condescending treatment of all religious figures and symbols.
Not only is the desecration of religious symbols irreverent in itself, but such a film which depicts religious extremism also feeds into the greater extremism that eventually leads to the explosion of public sentiment.
Although, Muslims enjoy the right to protest this film and anything else that they deem degrading to their faith; nonetheless, they must do so in a civil, peaceful, and nonviolent way.
Islamic leaders and scholars are strongly urged to illustrate the peaceful and tolerant nature of Islam to the Muslims and encourage them to deal with those around them in a peaceful way, and to completely denounce acts of violence towards others.
The Qur'an clearly and repeatedly states, "No soul is responsible for the crime of others." Thus, there is absolutely no justification for the attack on the U.S. consulate and killing of innocent people. Islam calls for the protection of all individuals, including diplomats and envoys to other nations.
Ambassador Christopher Stevens was known for his love and commitment to Libya, in addition to his great work in bringing democracy to Libya.
IECOC prays for the victims and their families of this atrocious attack and calls for both our government and the government of Libya to bring those who are responsible for these attacks to justice.
Islamic Educational Center of Orange County, California
**********
My Word: Sikh killings: Where is true freedom?
(Orlando Sentinel, August 8, 2012)
By Jasbir Singh Bhatia
Another senseless shooting. This time in a place of worship near Milwaukee.
What a tragic loss of innocent human life at the hands of one who wanted to violently express his hate-filled ideology before the American public. Had it not been for the brave police officer who was badly injured, this tragedy could have been much worse.
The attack on the Sikh temple has caused pain to Sikhs throughout the world. However, it wasn't an attack on just one social-spiritual community but on the very essence and definition of the United States of America. A small but increasingly powerful and ruthless group is trying to define our nation in a different way from what our founders envisioned.
Sikhs have been immigrating to this country since 1899. A high percentage of the farming development in California's central valley and the lumber industry in Northwest Canada owe their strength today to the hard work of those early Sikh immigrants.
Since then, Sikhs have participated in fields such as economics, science, technology, medicine and education. And they've done it for the well-being of our nation. Yet we as a people are still not accepted — at least not by some sections of society — as the integral and beneficial component of the American mosaic that we are.
Is it simply because we're too passionate about some of our cultural traditions and spiritual values?
Since our arrival, individual Sikhs have been subjected to discrimination and hate crimes — but particularly so after 9-11. The attack on a Sikh temple may be the first. But is it only the first? I fear a trend. What's next? And what's next after that?
Our nation has suffered for the past 11 years because a small group of people from outside our country violently expressed their extreme view of life and religion in a manner contrary to our value system as Americans. In response, thousands of our brave men and women have sacrificed their lives. In addition, we've expended an enormous amount of our nation's resources.
Now one of our own Americans has violently expressed his extremism. How are we as a nation going to respond? Should we all just barricade ourselves behind ID scanners and other machines? Or is there a better solution? Where is true freedom?
There are too many guns in the hands of too many out-of-control people. It's our responsibility as a nation to find some form of control.
Jasbir Singh Bhatia is a past president of the Sikh Society of Central Florida.
**********
Sikhs and Sacred Ground
Sojourners (http://sojo.net/blogs/2012/08/07/sikhs-and-sacred-ground), August 9, 2012)
By Eboo Patel
Imagine the terror.
You are in a temple, a safe, sacred place, preparing for a morning service. In the kitchen, you are busy cooking food for lunch, while others read scriptures and recite prayers. Friends begin to gather for the soon-to-start service.
At the front door, you smile at the next man who enters. He does not smile back. Instead, he greets you with a hateful stare and bullets from his gun.
Such was the scene Sunday at a Sikh gurudwara in Oak Creek, Wis., just south of Milwaukee, where a gunman, Wade Michael Page, killed six and critically injured three others before being shot down by law enforcement agents.
As Page began his shooting spree, terrified worshippers sought shelter in bathrooms and prayer rooms. Rumors of a hostage situation surfaced, and those trapped inside asked loved ones outside not to text or call their cell phones, for fear that the phone ring might give away their hiding place.
The first police officer to arrive on the scene stopped to tend to a victim outside the gurudwara. He looked up to find the shooter pointing his gun directly at him, and then took several bullets to his upper body. He waved the next set of officers into the temple, encouraging them to help others even as he bled.
That magnanimity is a common theme among the stories of victims and survivors of the Wisconsin shootings. Amidst terror and confusion, Sikhs offered food and water to the growing crowd of police and news reporters outside the gurudwara as part of langar — the Sikh practice of feeding all visitors to the house of worship.
We now know that Page was part of a neo-Nazi movement. But let us not take these moments to look into the heart of hate. May we instead shed light on a religious tradition of peace and generosity, the kind of generosity that inspired distraught worshippers to feed others just minutes after they had been brutally attacked.
The Sikh community has been one of welcome and hospitality since its founding in India 500 years ago. With their belief in a supreme Creator and a deep respect for all human beings, Sikhs place strong emphasis on equality, religious freedom, human rights, and justice.
Sikhs from India began immigrating to the United States in the late 19th century, and currently the Sikh popuation numbers about 314,000 in America and 30 million worldwide. Today, Sikhs are successful business people, active community members, and advocates for social justice.
Their love for all humanity inspires the hospitality we witnessed so vividly outside that Oak Creek gurudwara, though it has not protected them from being the targets of numerous post-9/11 hate crimes.
In living out that hospitality, Sikhs remind us of our own quintessentially American generosity. A core American idea is that we welcome contributions from all different groups and build cooperation between people of diverse backgrounds. It's the theme of my new book, Sacred Ground: Pluralism, Prejudice, and the Promise of America.
While today we hear news stories of division and hate, American history tells a different story.
The shooting in Oak Creek reminds us that the forces of prejudice are loud. They sling bigoted slurs and occasionally bring 9mm guns to places of worship. But we are not a country of Wade Michael Pages.
We are a country whose first president, George Washington, told a Jewish community leader that "The Government of the United States…gives to bigotry no sanction, to persecution no assistance."
We are a country where Jane Addams welcomed Jewish and Catholic immigrants streaming in from Eastern Europe in the 19th century as citizens, not as strangers.
We are a country where a young black preacher, Martin Luther King, Jr., learned nonviolence not only from Jesus Christ, but also from an Indian Hindu named Gandhi and from a Buddhist monk named Thich Nhat Hanh.
And we must be a country where a new generation of leaders rises up to write the next chapter in the glorious story of American pluralism, or else we will forfeit the territory to those who would shoot at our neighbors while they worship.
Already we see the forces of pluralism in action. Donation sitesfor families of the victims have sprung up, and supporters have updated their Facebook profiles with pictures saying "I Pledge Humanity."
Groups in Madison, Minneapolis, and Detroit have held vigils in solidarity with those affected by the shooting, and survivors of the recent shooting in Aurora, Colo., have reached out to Sikh victims via social media.
As Sacred Ground discusses, there have been periods in American history when the staunch opponents of pluralism have won the battle. But they didn't win the war, because irrepressible people of good faith refused to surrender their nation to such fear and hatred.
Let us remember that we cannot cede this moment in our history to the forces of intolerance. And may we draw inspiration from our Sikh neighbors as we build a world where people of all backgrounds are honored for their unique contributions to America.
Eboo Patel is founder and executive director of the Interfaith Youth Core, a Chicago-based international nonprofit that promotes interfaith cooperation. His blog, The Faith Divide, explores what drives faiths apart and what brings them together.His latest book is Sacred Ground: Pluralism, Prejudice, and the Promise of America.
Hana Suckstorff, a communications associate for the Interfaith Youth Core, also contributed to this article.
**********
Multifaith service reflects King's 'beloved community'
(Orlando Sentinel, January 15, 2012)
By Jeff Kunerth, Orlando Sentinel Religion Writer
On a night that honored, and reiterated, the living legacy of Martin Luther King Jr., Muslims and Jews, Christians and Hindus, blacks and whites, Hispanics and Asians, sat together Sunday in the sanctuary of the Shiloh Baptist Church.
"I think this is the kind of congregation that Dr. King envisioned and dreamed of when he talked of the beloved community," said Pastor Bryan Fulwider, chair of the Interfaith Council of Central Florida.
The interfaith-worship service filled the oak pews of the church with several hundred people who participated in a march from Orlando City Hall to Shiloh Baptist, were King once visited during a rare trip to Orlando. King's portrait was on an easel in the lobby and projected on the walls of the sanctuary. His words were repeated by guest speakers and copied onto placards carried by members of Occupy Orlando, which was taking part in the event.
"We feel we are carrying on the tradition," said Jim Callahan, a member of Occupy Orlando. "In terms of expenditures for war, in terms of poverty and inequity, these things are still relevant."
The service included representatives from the Buddhist, Christian, Hindu, Jewish, Muslim and Sikh communities. The crowd was multihued and wearing hijabs, kufis, yarmulkes, turbans and identical free T-shirts emblazoned with the letters MLK.
Orlando Mayor Buddy Dyer said the gathering demonstrated how far Orlando has come toward realizing King's dream of an integrated, multicultural community but also how far the city, and the nation, has to go to fully realize that vision.
"We must never forget that Dr. King gave his life for equality, justice and freedom for everybody in this sanctuary today," said Dyer, whose office sponsored the march, as well as other MLK events, over four days. "It shouldn't just be these four days this weekend. It needs to be 365 days a year, 24/7 a day."
Keynote speaker the Rev. Jim Coffin reminded those in the church that King stood up in the face of injustice not only for blacks and the poor, but for everyone who experienced hatred and oppression.
"To his great credit, Martin Luther King fought injustice wherever he encountered it," said Coffin, executive director of the Interfaith Council. "He refused to leave anyone in darkness, discrimination and disdain."
And then Coffin repeated the sentiment that much of what is happening today echoes the era in which King lived and died: "The disparity between rich and poor is no less than it was in his day. We are just as willing to resort to war as we were when he was alive. …In other words, we still have a lot of ground to cover before darkness is dispelled and light reigns supreme."
jkunerth@tribune.com or 407-420-5392