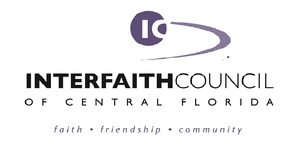 NEWSLETTER  –  AUGUST  2013
---
Native Americans of Wekiva River Basin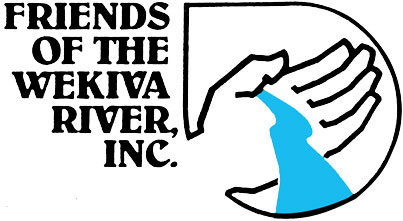 Dr. Asa Randall, faculty member of the University of Oklahoma and a Fellow of the University of Florida's Laboratory of Southeastern Archeology, will report on the latest findings concerning the Native Americans who thousands of years ago called the Wekiva River Basin their home. The event, which will include a rare display of artifacts and "themed" refreshments, will be held on Thursday evening, August 1, at 6:15 pm at the Community Room of the Markham Woods Church of Seventh-day Adventists, 505 Markham Woods Road, Longwood, Fl 32779. The event is sponsored jointly by Friends of the Wekiva River, Wekiwa Springs State Park andWekiva Wilderness Trust. For further information contact Dr. Russell Bryant, program chair, 407-889-2655; or Deede Sharpe, president, Friends of the Wekiva River, 407-647-7487.
"Friends Talking Faith" 

      The Rev. Bryan Fulwider, Rabbi Steve Engel and Imam Muhammad Musri
Remember, the show now airs weekly on Tuesdays at 6:30 PM on 90.7 WMFE FM in Orlando.  Tune in on your radio, or listen online at the following link:  http://www.wmfe.org/stream_player/fm_stream.html
LINEUP OF AUGUST SHOWS
August 6, 2013 – Faith and Society: Self-Defense and "Stand Your Ground"
August 13, 2013 – Faith and Culture: Religion and Technology (1 in a 3-part series)
August 20, 2013 – Faith and Society: Religious Internet Dating (2 in a 3-part series)
August 27, 2013 – Faith and Science: Medical Technology (3 in a 3-part series)
To listen to any show that has already aired, simply go to the website at this link:http://twgradio.com/listen/.
Sikhs Petition to Join Military, Honor Faith
"I can tell you with 100 percent assurance that none of my fellow soldiers or patients could care less that I was wearing a turban or had a beard while I was treating their wounds."–Major Kamaljeet Singh Kalsi, medical doctor and Bronze Star recipient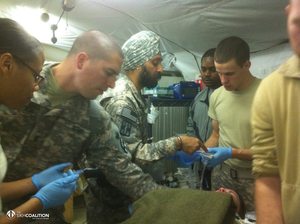 For a practicing Sikh, a shaved head during basic training in the military does more than cramp one's style–it violates one's faith. Major Kamaljeet Singh Kalsi, a military doctor and one of only three Sikhs currently in the U.S. military who've been granted religious accommodation to honor their articles of faith, writes the following: "As you know, the Sikh Coalition and the law firm of McDermott Will & Emery LLP have stood withCaptain Tejdeep Singh Rattan, Specialist Simran Preet Singh Lamba and me every step of the way as we became the first three Sikhs in over 25 years to be accepted into the United States Army with our full Sikh articles of faith intact. Over the past three and half years, we have proven what so many already know–that Americans like us can be proud Sikhs and great soldiers at the same time. While we are grateful for our individual accommodations to maintain our Sikh articles of faith, these accommodations are not guaranteed,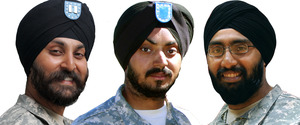 and the general rule remains that devout Sikhs must remove their Sikh articles of faith in order to serve. . . . I respectfully ask that you sign a petition to President Obama requesting that the United States military allow all Sikhs to serve our country with their articles of faith."
Orlando National Night Out Slated for August 6
The 30th National Night Out–a cooperative effort between the City of Orlando, Orlando churches, the Orlando Police Department, the Orlando Fire Department, Orlando residents and Orlando's neighborhood-watch programs–will be held Tuesday, August 6. According to Orlando Mayor Buddy Dyer, "Last year, the City of Orlando placed among the top three in the nation for our participation in The National Association of Town Watch's National Night Out campaign. By participating in National Night Out, City residents, the Orlando Police Department and the Orlando Fire Department can work together to increase community involvement and make our City safer." Follow the links for the location of the various neighborhood parties and information about starting a neighborhood-watch program. Other municipalities likewise sponsor National Night Out, so check concerning events in your region.
Majority Support Some Form of Creationism
Eighty-eight years after the "Scopes Monkey Trial," 37 percent of those responding to a poll of American done by YouGov said they believe that "God created human beings in their present form within the last ten thousand years." Twenty-one percent said they believe that "human beings evolved from less advanced life forms over millions of years, and God did not directly guide this process." (That figure is up from 13 percent in a similar poll in 2004.) Twenty-five percent said they believe that "human beings evolved from less advanced life forms over millions [of years], but God guided this process." When it comes to what should be taught in public schools about origins, 40 percent favor teaching creationism or intelligent design, 32 percent oppose it, and 29 percent aren't sure. It would be interesting to ask in a poll: Would you be willing to have creation instruction include the different accounts of all the world's major religions? Or must such instruction be based only on the biblical account in Genesis?
Check Out Community Food and Outreach
If you're not acquainted with Community Food and Outreach, that needs to change. This community-aid organization, situated at 150 West Michigan Street, Suite A, Orlando, FL 32806, is "dedicated to helping those that are in need to fight hunger, overcome personal crisis and prevent homelessness. We do this by helping struggling families get their basic needs met, connecting those in crisis with the resources and tools needed to get back on their feet, and providing the training and skills necessary to help our neighbors get employment opportunities, achieve their dreams, and regain hope for their lives." Check out their website. Then phone 407-650-0774 to arrange a visit. See firsthand how this diverse resource agency might be beneficial to members of your house of worship who may be in need (whatever your faith tradition) as well as those in your community who come seeking your aid.
"Negro Spiritual" Scholarship Foundation Competition


The "Negro Spiritual" Scholarship Foundation, a group charged with helping the American people preserve the traditional sacred music known as Negro Spirituals, is launching a pilot program called YONDER! "From Negro Spiritual To Gospel." The goal is to re-introduce Negro Spirituals to young church singers in an exciting way. The program involves a competition in which groups of teen singers (no fewer than three, and no more than twenty) must transform a traditional American Negro Spiritual melody into a contemporary gospel anthem arranged in an original way. Groups can be all males, all females or mixed. Singers (but not accompanying musicians) must be between the ages of 13 and 19. Groups may perform either a cappella, or accompanied by any combination of keyboard, drums/percussion set and guitars. They must first sing the spiritual they have chosen in a traditional "old school" format (chorus and at least one full verse), then repeat the same tune using their own contemporary arrangement. There will be a panel of judges.  Top-rated groups in three categories (female ensemble, male ensemble, mixed choir) will be given trophies and other prizes.  A group must be sponsored by a church community to register for this competition. Each church may enter only one singing group. Since the competition is just over a month away, this is short notice. To get more detail, respond to competition. And do it quickly!
Interfaith Council Article RE Zimmerman Verdict
A few days before the conclusion of the George Zimmerman trial, the Rev. Bryan Fulwider, chair of the executive committee of the Interfaith Council of Central Florida,  issued a "simple request" for restraint whatever the verdict. In a guest column in the Orlando Sentinel, Fulwider stated: "If you approve of the verdict the jury renders, err on the side of restraint in your celebrating. It's not a time to gloat. Whatever the outcome, we've witnessed a tragic chapter in the life of two families and our community as a whole. If you disapprove of the verdict, err on the side of restraint in your venting of disapproval. Instead of giving in to rage, seek to positively harness the energy generated by the emotion."
Congregation and Environmental Group Collaborating
Sunshine State Interstate Power and Light and Northland, a Church Distributed, are teaming up for a "Go to the Sunlight" event on Sunday, September 22, 2:00 to 4:00 pm at Northland Church. The event will focus on how faith-based entities can conserve energy and save money by (among other things): Reducing, Reusing, Recycling and Utilizing resources. Mark the date on your calendars. More details will be shared in next month's newsletter.
How Can We Help OCPS?  Let's Count the Ways
Free Legal Aid at Orange County Bar Association
The Legal Aid Society and the Orange County Bar Association are trying to get the word out to the community about a variety of free services being offered that can be of great help in a variety of personal crises. They've decided that one good way to spread the word is through clergy and staff at various faith-based organizations. Not only can the information be of help to members, but it can also help those from the community who come to houses of worship seeking assistance. For ALL Orange County homeowners in foreclosure, the Orange County Bar Association offers a free weekly attorney seminar.  Please call 407-649-1833 to attend. For Orange County residents facing foreclosure or any other housing challenges such as landlord/tenant problems, they may qualify for free legal help from the Legal Aid Society and need to call 407-841-8310 for assistance.
Arab Spring Lessens Religious Liberty
The move toward greater democracy in those countries involved in the Arab Spring hasn't produced a commensurate improvement in religious tolerance, according to information released in June by the Pew Research Center's Forum on Religion and Public Life. "The Arab Spring uprisings in the Middle East and North Africa appear to have increased religious hostility," states a UPI article reporting on the Pew poll. "Egypt, especially, saw a great increase in religious intolerance in 2011." In turn, in other regions undergoing political change–such as Myanmar–Muslims have faced increased persecution and harassment.
Hindu American Foundation Membership Drive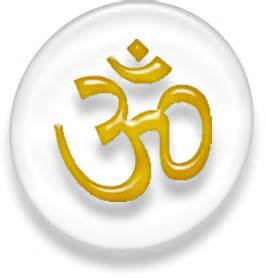 Hindus, those interested in Hinduism, people of Indian extraction and those who follow religious-liberty issues among minority faith traditions may be interested in two upcoming membership-drive events being sponsored by the Hindu American Foundation. The first is on September 7 in Miami, and the second is on October 19 in Jacksonville. And what is the Hindu American Foundation all about? This 12-minuteYouTube video gives a fairly comprehensive picture.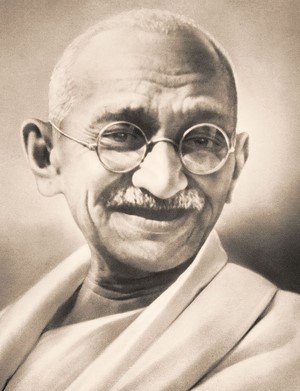 And Speaking of Hindus, You Might Enjoy…
If you want a super-quick, interesting, inspiring read that shouldn't take more than two or three minutes, check out  10 Things You Didn't Know About Gandhi. Of course, you might know all 10 of the tidbits of information already. But some of us didn't!
Global Peace Film Festival September 17 – 22


One of the best events in Central Florida is the annual Global Peace Film Festival. News about such a world-class event needs to be shouted from the housetops as well as from the street corners. This is the 11th year the film festival has stimulated thought and action on socially and morally important topics. So plan to take advantage of as many of the movies as possible. The films, the venues, the discussion opportunities–it's all falling into place. So keep an eye on the GPFF website as information specific to this year's event will soon be posted in detail.
Unitarians See "Immigration as a Moral Issue"
As a faith tradition that's noted for its social-justice activism, it's not surprising that at its June 2013 General Assembly in Louisville, Kentucky, the Unitarian Universalist Association of Congregations approved a statement of conscience titled "Immigration as a Moral Issue." The statement isn't limited to the theoretical. It outlines practical ways individuals, congregations and organizations can respond to the moral imperative posed by the need not only to enact comprehensive immigration-reform legislation but also to minimize the humanitarian crisis until such legislation is in place. Whether one agrees or disagrees with the conclusions, it's a document worth reading.
Holocaust Center and Others in Major Collaboration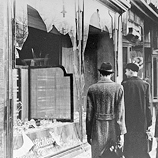 This year, 2013, is the 75th anniversary of one of Western civilization's major excursions into infamy. On November 9 and 10, 1938, an event that came to be known as Kristallnacht–the night of breaking glass–was perpetrated by ordinary citizens against the Jews, urged on by Hitler's Nazi regime. Over a period of two days, thousands of Jewish homes and businesses were ransacked or destroyed, 91 Jews were killed, 30,000 Jewish men were taken to concentration camps, and 1,668 synagogues were ransacked, 267 of them set on fire. For the first time there was incontrovertible evidence for the entire world to see concerning Hitler's intentions toward the Jews. To ensure that we appropriately reflect on and learn from this historic travesty–which marked the visible beginning of the Holocaust–a wide array of Central Florida organizations are partnering with the Holocaust Center in a series of events that include a lecture at Rollins College by famed Holocaust survivor Elie Wiesel, three performances by the Bach Festival Society Choir and Orchestra of the Kristallnacht-inspired oratorio, A Child of Our Time, and multiple performances of the readers theater "Witness," which describes in the words of those who were there what really happened. Go to the Holocaust Center's website for more detail and a list of the activities that have been finalized to date.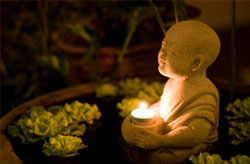 Buddhist Reflection
"Thousands of candles can be lighted from a single candle, and the life of the candle will not be shortened. Happiness never decreases by being shared."–Buddha