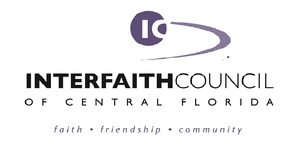 NEWSLETTER  –  JULY  2013
---
"The Golden Rule in the Public Square"
"The Golden Rule in the Public Square" is the title of a presentation to be given at 10:30 am on Sunday, June 30, at the University Unitarian Universalist Society (11648 McCulloch Road, Orlando, FL 32817) by James Coffin, Executive Director of the Interfaith Council of Central Florida. The public is welcome. Every major religion of the world espouses some form of the Golden Rule. This near-universally recognized moral imperative rolls easily off the tongue. But actually putting it into practice is a lot more complicated. Especially when it means I may have to give up something I really like because my neighbor doesn't like it. In light of the Golden Rule, how much right do I have, as a member of the Christian majority and a member of the clergy, to impose my worldview and religious practices on those with a different perspective?
"Friends Talking Faith" Is Going Weekly!

  The Rev. Bryan Fulwider, Rabbi Steve Engel and Imam Muhammad Musri
The "Friends Talking Faith" radio show is undergoing major changes. Starting July 2, it will air every Tuesday at 6:30 pm, following "Marketplace" with Kai Ryssdal on 90.7 WMFE, Orlando. Learn more about the program and listen to archived broadcasts at The Three Wise Guys. Upcoming program dates and topics include:
Jul 2.      Faith and Politics – Immigration – with special guest                                                   Sr. Ann Kendrick of the Hope Community Center in Apopka
Jul 9.      Faith and Culture – Sports
Jul 16.    Faith and Society – Taking Care of Your Body
Jul 23.    Faith and Culture – Food and Religious Traditions
Jul 30.    Faith and Science – Technology (first of three part series)
Aug 6.     Faith and Culture – Religious Internet Dating
Aug 13.   Faith and Science – Medical Technology
OCPS Still Seeking Faith-Based Partners
Every school in Orange County Public Schools needs volunteers and community partners–from elementary schools to high schools to alternative and exceptional education centers. Faith-based organizations make ideal partners (functioning in a non-proselytizing capacity) because of the organizational structure they already have in place. The extra attention and care from such volunteers can inspire students to reach for and realize their dreams. Click here for more ideas on participation. Or if you're ready to get started, contact Kate Galindo to be matched with a school in need. Time is running out to get all the details sorted out with OCPS so you'll be ready to go when the 2013-2014 school year begins. Hurry!
Religious Barriers Then and Now
"Religious Barriers Then and Now" is the title of the sermon to be presented by James Coffin, Executive Director of the Interfaith Council of Central Florida, during the Sunday worship service at the chapel of the Waterman Village Retirement Community (255 Waterman Avenue,  Mount Dora, FL 32757) at 10:30 am on Sunday, July 7. The public is invited to attend as Coffin looks at issues that created barriers to spiritual community that are described in both the Hebrew scriptures and the Christian scriptures. The same barriers seem to crop up with monotonous regularity even in our modern world.
Habitat's ReStores Seek Volunteers
Habitat's ReStores depend on enthusiastic volunteers for everything from helping customers to arranging merchandise. Whether you enjoy interacting with the public or prefer tinkering behind the scenes, there's probably a volunteer opportunity waiting for you. These include helping to sort, clean and price donated items. Preparing merchandise for display and sale. Providing muscle power to load and unload furniture and other heavy items. Being the friendly voice to answer phones, schedule deliveries and greet customers. Or assisting the cashier. Due to the training involved, long-term volunteer commitments are preferred. For further detail, phone 407-688-8874 or email sanfordvolunteer@habitat-sa.org.
Interfaith Discussion, July 10
"In what ways does your faith tradition inform your stance on immigration legislation? Do you in any way part company with your faith tradition's teaching on the subject?" That's the topic to be addressed by the Interfaith Discussion Group, which meets from 7:00 to 8:30 pm on the second Wednesday of each month at Adventist University of Health Sciences on Florida Hospital's main campus. For directions to the meeting place, click here.
FBI to Track Hate Crimes Against Other Religions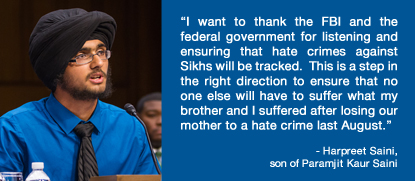 An advisory policy board of the Federal Bureau of Investigation (FBI) voted on June 5, 2013, to revise its list of groups for which it keeps hate-crime statistics. It will now also includeSikhs, Hindus and Arab Americans. "The highly anticipated decision comes more than two years after the Sikh Coalition first requested that the agency begin tracking hate crimes against Sikh Americans the way it does for Christians, Jews, Muslims and atheists," reports a press release from the U.S. Department of Justice. "During this [two-year] period, Sikhs have been subjected to a spate of suspected hate attacks in California, Florida, New York, Washington; and the massacre of six worshippers last August 5, 2012, at a Sikh gurdwara [temple] in Oak Creek, Wisconsin. . . . Over 140 bipartisan members of the U.S. House of Representatives, U.S. Senate, and American Sikh Congressional Caucus, as well as the U.S. Attorney General, endorsed the Sikh Coalition's request to add hate-crime tracking categories for Sikhs, Hindus and Arab Americans."
Perspective on Buddhist Behavior in Myanmar
People around the globe who monitor world events have been shocked by the persecution being inflicted on Muslims in Myanmar by Buddhists. The shock comes not just from the fact that humans mistreat each other, but more particularly that it's being done by adherents and leaders of a life philosophy that so strongly advocates peace. An article on the website of the South China Morning Post suggests that it's a relative handful of Buddhist monks who are advocating and leading this persecution. Other segments of the Buddhist population are doing what they can to counter the results of what a relative few are orchestrating.
Australian Prime Minister Visits Sikh Gurdwara
Not only are Sikhs in the United States becoming more recognized and understood, the same is happening in Australia. On May 23, 2013, Australian Prime Minister Julia Gillard visited a Sikh gurdwara in the western suburbs of Sydney–the largest gurdwara in Australia and in the Southern Hemisphere. According to media report, Ms. Gillard "promised to look into allowing Sikhs to wear turbans at work places and also while riding a motorcycle." It is believed to be the first time an Australian Prime Minister has visited a gurdwara. Four Australian states–Queensland, Victoria, South Australia and Western Australia already have helmet exemptions for Sikh cyclists.
U.S. Shias and Sunnis Continue to Support Accord
At the 11th annual convention of the Universal Muslim American Association, held in Dearborn, Michigan, over Memorial Day weekend (2013), those present recommitted to theIntra-faith Code of Honor, a document that was drafted some five years ago and was signed by major American Muslim leaders representing both the Shia and Sunni communities. As news reports remind us, the overseas Muslim world has regions of major sectarian tension, too often leading to destruction, violence and killing. The goal of the Intra-faith Code of Honor is to ensure that such sectarian tensions don't spill over into the United States. The document reads in part: "As Muslim Americans who live and struggle together in harmony and cohesion, and who agree that the challenges of the future should supersede the problems of the past, we are eager to offer any help and join hands with all those who wish well for our Ummah (community) toward stopping this vicious cycle of violence in the Middle East, which is abhorrent to all Islamic values and principles."
Atheists in Florida Making News–Repeatedly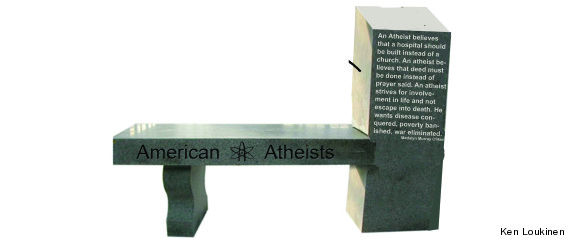 The First Atheist Monument – Starke, Florida
Florida's atheists, usually working in tandem with some national organization, have captured headlines recently: (1) When the American Atheists sued Bradford County last July, claiming that the Ten Commandments monument that had been put in in front of the county courthouse constituted a governmental endorsement of religion, they didn't succeed in forcing its removal. Instead, they ended up with permission to add their own monument–which the Huffington Post declares is the first such monument to atheism in the nation. (2)When the Humanists of the Treasure Coast requested the Vero Beach City Council to proclaim a Humanist Recognition Week, Mayor Craig Fletcher declared: "I refuse to support an organization that does not believe in Jesus Christ." Nevertheless, the request was approved by a vote of 3-2. The mayor's statement created deep concern among the non-Christian segments of the Vero Beach faith community, who called a meeting of religious leaders to discuss the matter. The mayor retracted his statement and apologized. The Indian River County Commission later passed a similar request for the county to likewise proclaim a Humanist Recognition Week. (3) According to a press release, "The Freedom From Religion Foundation (FFRF) and its local chapter, the Central Florida Freethought Community (CFFC), filed a lawsuit in U.S. District Court against the Orange County School Board for censorship of their literature distribution on May 2, the National Day of Reason. The CFFC distributed selected items in response to the unfettered distribution of Christian Bibles in January by World Changers of Florida (WCF), but the School Board prohibited many of the submitted materials." The permission to distribute Bibles was uncensored, the plaintiffs claim. The censoring by OCPS of the atheist material was cited as the basis for the lawsuit.
Islamic Center Invites Public to Participate in Iftar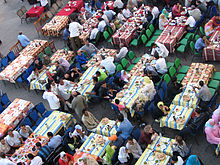 Ramadan Dinner known as Iftar
The Islamic Center of Orlando, in the spirit of building bridges of dialogue and understanding about Islam, annually invites those of other faiths to experience with them a day of prayer, fasting and the ritual fast-breaking dinner (Iftar) at sunset. This year the invitation is for Monday, July 22. Each year during the month of Ramadan, Muslims fast from dawn until sunset for 29 or 30 days until the arrival of the new moon. During that time, they do not eat, drink or have conjugal relations from dawn until sunset. As a prelude to the the Monday event, on Sunday, July 21, at 2:00 pm at Saint Luke's United Methodist Church(4851 South Apopka-Vineland Road, Orlando, FL 32819) in their Attic (Building C), Imam Abdurrahman Sykes will host a "Ramadan 101" class to explain the next day's events, which will be held at the Muslim Academy of Greater Orlando (11551 Ruby Lake Road, Orlando, FL 32836). If you're unable to attend the "Ramadan 101" class at Saint Luke's, you're still invited to participate in the July 22 Iftar. Plan to arrive at 7:30 pm sharp. Seating is limited, so RSVP by July 16 to nuransykes@gmail.com or 407-629-5590. Please provide your name, the number in your party and your religious affiliation.
Interested in a More Complete Ramadan Experience?
For those who wish to have the full experience of a day of Ramadan fasting in addition to attending the Iftar to which the 
Islamic Center of Orlando
 is inviting the public, the prayer and fasting schedule for Monday, July 22, is as follows:
Option to eat a pre-dawn meal (Suhoor); should complete the meal before 5:13 am and fast until 8:25 pm.
The morning prayer (Fajr) should occur between 5:13 am and 6:42 am.
The midday prayer (Zhur) should occur between 1:33 pm and 6:20 pm.
The afternoon prayer (Asr) should be prayed at 6:20 pm.
Guests should arrive at the Muslim Academy of Greater Orlando (11551 Ruby Lake Road, Orlando, FL 32836) between 7:45 and 8:00 pm. (Women may wear a scarf of their choice–or will be provided with one–in order to go to the masjid–mosque–for prayer.)
At 8:15 pm guests will be escorted to the adjacent masjid in preparation for breaking their fast and observance of the sunset prayer (Maghrib). After the prayer, all will return to the Muslim Academy of Greater Orlando (MAGO) for dinner and a program of sharing experiences.
Those who choose not to fast and pray according to the schedule above are still invited to join for the fast-breaking dinner (Iftar). Please arrive at MAGO between 7:45 and 8:00 pm. Seating is limited, so RSVP by July 16 to nuransykes@gmail.com or 407-629-5590. Please provide your name, the number in your party and your religious affiliation.
Save the Date – Multi-Faith Workshop
The Multi-Faith Workshop sponsored last November by the Hindu Society of Central Florida in conjunction with the Sikh Society of Central Florida was so appreciated that, by popular demand, there's going be an event redux, addressing a different aspect of interfaith interest this time. Please mark this event on your calendars right now: Sunday afternoon, November 3, 2013. Specific details will be provided as we get closer to the date.
Hindu Reflection
| | | |
| --- | --- | --- |
| | "Happiness is when what you think, what you say, and what you do are in harmony."–Mahatma Ghandi | Mahatma Gandhi |