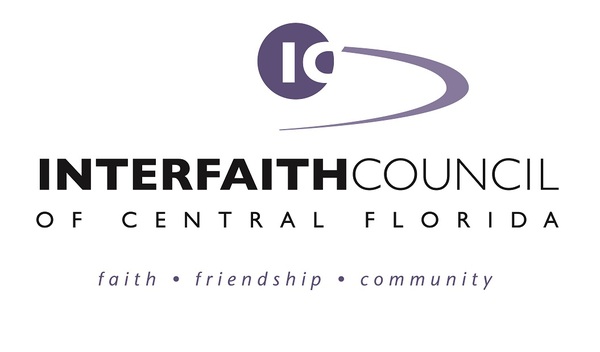 NEWSLETTER  –  OCTOBER  2013
---
Don't Miss"Friends Talking Faith" Radio Show

      The Rev. Bryan Fulwider, Rabbi Steve Engel and Imam Muhammad Musri
Hear the varied perspectives of the Rev. Bryan Fulwider, Rabbi Steve Engel and Imam Muhammad Musri as each week they discuss how faith impacts both the simple and the complicated aspects of life. "Friends Talking Faith with The Three Wise Guys" airs on Tuesdays at 6:30 pm on 90.7 WMFE FM in Orlando. Tune in on your radio or listen online. You can also listen to any show already aired. October's shows are:
October 1: Faith and Society–Going Green (third in a three-part series)
October 8: Faith and Culture–The Ethical Treatment of Animals
October 15: Faith and Religion–The Religious Pilgrimage
October 22: Faith and Society–Genocide and Righteous Gentiles (first in a three-part series (see also Kristallnacht 2013)
October 29: Faith and Society–Bullying and Bystanders or Upstanders (second in a three-part series (see also Kristallnacht 2013)
Pace Center for Girls Still Has Opening
If you know a girl who . . .
Is experiencing academic underachievement
Has struggled with social skills
Has had difficulty in middle or high school
Has been a victim of trauma
Has battled health problems that have left her behind in school
Has a history of truancy
Will benefit from small classes and having a counselor . . .
She might find it helpful to study in a smaller school setting with individualized counseling services. PACE Center for Girls Orange in Winter Park still has a few spots available for girls looking for an alternative school setting this fall. PACE operates on the philosophy that each girl "deserves an opportunity to find her voice, achieve her potential and celebrate a life defined by responsibility, dignity, serenity and grace." The center's stated mission is to provide "girls and young women an opportunity for a better future through education, counseling, training and advocacy." If you know a girl you think would thrive at PACE, download the referral form, then send or hand-deliver it to PACE Center for Girls, 445 North Wymore Road, Winter Park, FL 32789. Questions may be directed to Denise Ryan at 407-992-0456 ext. 205.
OCPS Asks You to Be a Teacher For a Day on 11/20
Each November the Foundation for Orange County Public Schools invites civic leaders and community members into the classrooms to talk with students in a fun and engaging way about academics, careers and the future, in celebration of American Education Week. Volunteers can read books to pre-Kindergarten and Kindergarten students; teach practical, personal skills to high-school students (such as managing a checking account and using credit cards wisely); or involve entire middle-school classes in projects such as a mock election. Other options include sharing an educational experience or your career; talk about a favorite vacation, hobby, or how a special teacher touched your life. Whatever your skills, no matter your topic, there is a classroom waiting to hear from you! To get matched with the appropriate grade and classroom(s), please register to serve as a speaker. For more information, contact the Foundation at 407-317-3261 or visit the web site.
New York Hate Crimes Opponent Becomes a Victim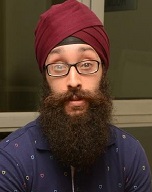 From National Public Radio: "Last year, Prabhjot Singh wrote an op-ed calling for the government to track anti-Sikh violence. This month, he became a victim of a similar attack near his home in New York City. He talks with host Rachel Martin about the attack, and what he hopes comes out of it." You can read and/or listen to the interview at the NPR website. Read more at the New York Daily News and at the Huffington Post. And read an opinion piece by the victim's wife at The Daily Beast.
Interfaith Discussion: When is War Justified–If Ever?
The topic for October's Interfaith Discussion, sponsored by the Interfaith Council of Central Florida, is: "When is pacifism the moral response? When is war the the moral response?" The Interfaith Discussion Group meets from 7:00 to 8:30 pm on the second Wednesday of each month at Adventist University of Health Sciences on Florida Hospital's main campus. The public is welcome. For directions to the meeting place, click here. John Whitehead, founder and president of the Rutherford Institute, has written and performed a song called "Will Flowers Ever Grow Here Again? In light of today's numerous conflicts and terrorist attacks, the song provides a sobering platform from which to contemplate the horrors of war and serves as a fitting backdrop for the October 9 Interfaith Discussion.
Public Invited to Muslims' 'Eid al-Adha Festival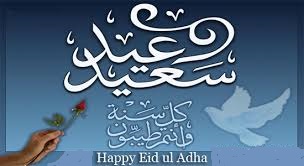 The Islamic Center of Orlando is inviting the public to join them for an 'Eid al-Adha (Muslim Festival of Sacrifice) Interfaith Dinner on Saturday, October 19, at 5:45 pm at the Muslim Academy of Greater Orlando, 11551 Ruby Lake Road, Orlando, FL  32836. The event will explore the significance and value of the Muslim faith's pilgrimage (Hajj). This is the holiest of Muslim holidays, commemorating the willingness of Abraham to sacrifice his son Ishmael as an act of obedience to God. It also marks the end of the Hajj pilgrimage to Mecca. Please RSVP to imamsykes@gmail.com by Wednesday, October 16.
Interesting Facts Related to Ohev Shalom's Origins
When asked to share a bit of the history of his Jewish congregation in conjunction with his scheduled invocation at an Orlando City Council meeting, Rabbi David Kay, Associate Rabbi of Congregation Ohev Shalom, did a little research. He discovered that a year before incorporating as a synagogue in 1918, the early Jewish settlers of Orlando purchased land from the Seventh-day Adventist Church at the corner of what is now Terry and Central

Streets. Until 1919, the Jewish congregation met in a member's home, then moved into the building on Terry Street, remaining there until 1926. Today, that same parcel of land is where the Islamic Society of Central Florida's Masjid Al-Haqq (photo) stands. Over the course of almost a century, Christians, Jews, and Muslims–all three of the Abrahamic faiths–have in turn worshipped on the same plot of Orlando real estate.
Harvard Professor Advocates Local "Bridge Building"
Diana L. Eck–Professor of Comparative Religion and Indian Studies, Frederic Wetham

Professor of Law and Psychiatry, and Director of The Pluralism Project(all at Harvard University)–presented a lecture at the East Dallas Christian Church, Dallas, Texas, on June 9, 2013, titled "Understanding Unity in a Religiously Diverse World." Dr. Eck describes the magnitude of our nation's diversity, then notes: "The fact of diversity is here–right here in about any place you live in the U.S. today . . . . What we make of it as citizens and as people of faith is up to us. All over the country, we live too closely with new neighbors to have the level of ignorance that most of us still have. The local questions interest me, because most of the religious and interfaith encounters in today's world do not take place at the global level of Dalai Lamas, Popes, and Swamis, but in the neighborhoods of our immediate world. Most of us don't get a chance to be bridge builders to world peace, but we do have the opportunity every day to build bridges of relationship and understanding that make a huge difference at the the local level. . . . We can make a difference . . . in any community you can name, if we work together." Click here to read Dr. Eck's full lecture.
Multi-Faith Workshop to Focus on Human Values
The New Age (Seniors) Group of the Hindu Society of Central Florida cordially invites the public to a Multi-Faith Workshop focusing on Human Values and Developing Universal Brotherhood. Presented in collaboration with Hindu University of America, the Chinmaya Mission, the Sikh Society of Central Florida and the Interfaith Council of Central Florida, the event will be held at the Community Hall at the Hindu Society of Central Florida, 1994 Lake Drive, Casselberry, FL 32707, from 1:30 to 4:00 pm on Sunday, November 3. The event is free, with prior RSVP to hscfnewagegroup@yahoo.com. Speakers from a variety of faith traditions will each give a brief presentation on the main human values taught by their faith and how those values promote universal brotherhood. Refreshments and a time for social interaction will conclude the event.
Dalai Lama Calls for Cessation of Hostilities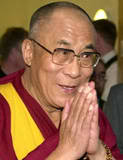 While recently in Prague for a human-rights conference, the Dalai Lama issued a plea for Buddhist monks in Myanmar who've developed "anger towards Muslim brothers and sisters [to], please, remember the Buddhist faith." He called on monks to act according to their Buddhist principles and end the deadly violence against the country's Muslim minority. According to an article posted on The Raw Story, "sectarian clashes in Myanmar's western state of Rakhine last year left around 200 people dead–mostly Rohingya Muslims who are denied citizenship–and 140,000 others homeless." The Dalai Lama said that in our world there's "too much emphasis on 'we' and 'they,'" and that "this century should be a century of dialogue, not wars."
"Sunday Assembly" for Atheists Becoming Popular
It can't legitimately be called "church," but the concept of an atheist gathering in London called "Sunday Assembly" seems to be catching on and spreading. "Next month, Sanderson Jones and Pippa Evans, the church's founders, will set off on a world tour  designed to announce the second wave of godless churches that are opening in Ireland, Scotland, Canada, the United States, and Australia," according to an article posted on The Daily Beast. "The idea is simple: It has all of the community spirit, engagement, and inspiration of a church without any of the religious aspects." But London isn't the only place that such non-theist gatherings are becoming commonplace–though many don't have such trappings of "churchiness." In Central Florida, a group called F.A.C.T.S.–Florida Atheists, Critical Thinkers & Skeptics–meet regularly for social interaction. "This group is for atheists, agnostics, free thinkers, people questioning their religious beliefs, and anyone with a critical-thinking mind who would like to socialize around Florida, mainly in Orlando, on a regular basis with like-minded people."
Sikh Leader Uses Stories to Combat Prejudice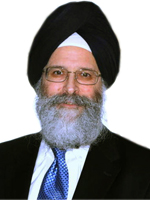 "Stories have a power to change the world"–at least that's the belief of Ralph Singh, chair of the Wisdom Thinkers Network. Demonstrating that he takes his own beliefs seriously, Singh has written a book of storiestitled Stories to Light Our Way: Journey to the World of Good. The book's stories highlight universal values that too often are lost sight of. The stories come from 11 faith traditions or worldviews, seven sacred and four secular. A recorded CD of the stories accompanies the book. According to Singh, prejudice starts young, so books for children are a natural place to begin steps to counteract such attitudes. The National Association of Episcopal Schools and a variety of other educational entities recommend the book. It can be purchased from the Character Development Group and other sellers of media.
Second of Nine-Part RELIGION 201 Series on 10/22
Once again the Holocaust Center and the Interfaith Council are partnering in a nine-part monthly series highlighting the diversity of religious thought and worldviews in Central Florida. The second in the series will be on Tuesday night, October 22, featuring a representative each from Judaism, Sikhism and Baha'i. The question to be addressed is: "How Can a God of Love and a World of Suffering Co-exist?" How does your faith tradition explain the existence of pain and suffering if a good God (or beneficent force) exists?Although the panelists for the entire series are still being lined up, the dates, topics and participating faith traditions for all nine presentations/panels are available at the Holocaust Center website. All the programs will be at the Holocaust Center (851 N. Maitland Avenue, Maitland, FL 32751) and will run from 7:00 to 8:30 pm.
Come see–and Listen to–The Three Wise Guys, LIVE!
Experience a live show of "Friends Talking Faith with The Three Wise Guys," on October 30, from 6:30 to 9:00 pm, at the Winter Park Community Center, 721 West New England Avenue, Winter Park, FL 32789. This event is hosted by the Nile Foundation in cooperation with Building US. This will be a live show with audience participation, focusing on the theme "Prayer in the Abrahamic Faith Traditions." The event is free and open to the public. A complimentary light buffet dinner will be served from 6:30 to 7:00 pm. To attend, you must RSVP.
Conscience and Courage Author to Speak in Orlando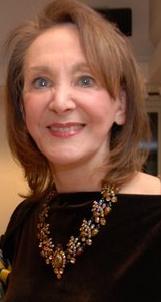 Eva Fogelman, author of the book Conscience and Courage, will speak at the Florida Hospital Seventh-day Adventist Church (Map) at 7:00 pm on Monday, November 4. The event, which is part of the Colloquium of theAdventist University of Health Sciences, is free and open to the community.Please RSVP.  Dr. Fogelman (a social psychologist, author and filmmaker who's in private practice in New York City) will speak about the Rescuer Project–a collection of interviews with more than 300 rescuers in North America, Israel, and various European and Eastern European countries, which are chronicled in her book Conscience and Courage. Fogelman, an advisor to the United States Holocaust Memorial Museum, writes: "This book looks at those few who defied authority and put themselves at risk to act humanely. These are their stories . . . . [And] it is my hope that these acts of compassion, too, will never be forgotten, and that they will be repeated again and again and again." The University Colloquium is an interdisciplinary program designed to engage students, faculty, staff and members of the community in constructive conversation. This year's theme is Moral Courage. (See also Kristallnacht 2013.)
Negro Spiritual Scholarship Foundation to Perform 10/6
Macedonia Missionary Baptist Church in Eatonville (412 East Kennedy Blvd.) is hosting aNegro Spiritual Scholarship Foundation performance titled "With Songs in Our Hearts" at 6:00 pm on Sunday evening, October 6. The performance, a narrated musical program that focuses on the human spirit and humanity's ability to rise above circumstances, is part of the collaboration of the Negro Spiritual Scholarship Foundation and the Holocaust Center to appropriately memorialize the 75th anniversary of Kristallnacht (see Kristallnacht 2013). The program, which is free and open to the public, also features soprano JoAnne Stephenson, pianist Robin Stamper and the 2013 Grady-Rayam Prize vocalists. . To understand more about the purpose of the performance, read the comments of Father Rudi Cleare, managing director of the Negro Spiritual Scholarship Fund.
Social-Justice Advocates to Host "A Night of Solidarity"
The Matthias Family Life Center at First United Methodist Church of Winter Park (125 North Interlachen Avenue, Winter Park, FL  32789) is partnering with the Hope CommUnity Centerin Apopka and others to host a "Night of Solidarity" on Saturday, November 9, from 6:00 to 9:00 pm. The event is designed to break down the walls of injustice and provide hope. The evening will feature a dinner, program and music. The dinner will be a humble meal of rice and beans (the food of the world's poor). The event will provide an opportunity for those present to interact face to face with fellow community activists. There will be a ritual performance in honor of immigrants and victims of injustice. Those in attendance will be reminded of why they do the work they do and why we all must support each other. To cover the cost of the event and to raise much-needed funding for advocacy activities, participants will be asked for a donation: $25 for adults and $10 for students. For more information, call407-880-4673 and ask for Mary Carroll at ext. 236 or Nilka Melendez at ext. 226.
Holocaust Center and Others in Major Collaboration
This year, 2013, is the 75th anniversary of one of Western civilization's major excursions into infamy. On November 9 and 10, 1938, an event that came to be known as Kristallnacht–the night of breaking glass–was perpetrated by ordinary citizens against the Jews, urged on by Hitler's Nazi regime. Over a period of two days, thousands of Jewish homes and businesses were ransacked or destroyed, 91 Jews were killed, 30,000 Jewish men were taken to concentration camps, and 1,668 synagogues were ransacked, 267 of them set on fire. For the first time there was incontrovertible evidence for the entire world to see concerning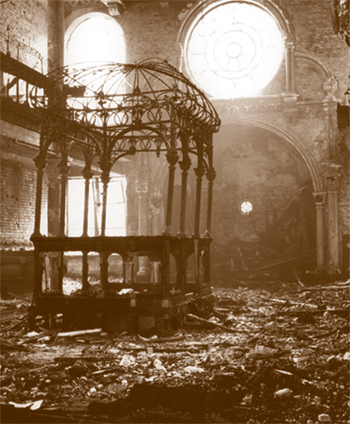 Hitler's intentions toward the Jews. To ensure that we appropriately reflect on and learn from this historic travesty–which marked the visible beginning of the Holocaust–a wide array of Central Florida organizations are partnering with the Holocaust Center in a series of events that include three performances by the Bach Festival Society Choir and Orchestra of the Kristallnacht-inspired oratorio A Child of Our Time, and multiple performances of the readers theater "Witness," which describes in the words of those who were there what really happened. (SeeKristallnacht 2013 for a full listing of activities associated with this commemoration.)
View of the interior of the Essenweinstrasse synagogue in
Nuremberg following its destruction during Kristallnacht.
Pope Emphasizes the Human Face of the Faith
When Pope Francis granted a lengthy interview for Italy's La Civilta Cattolica and an assortment of other major Jesuit journals around the world, the headlines resulting from his candid comments grabbed the attention of Catholics and non-Catholics alike. As theHuffington Post reported it: "Pope Francis faulted the Roman Catholic Church for focusing too much on gays, abortion and contraception, saying the church has become 'obsessed'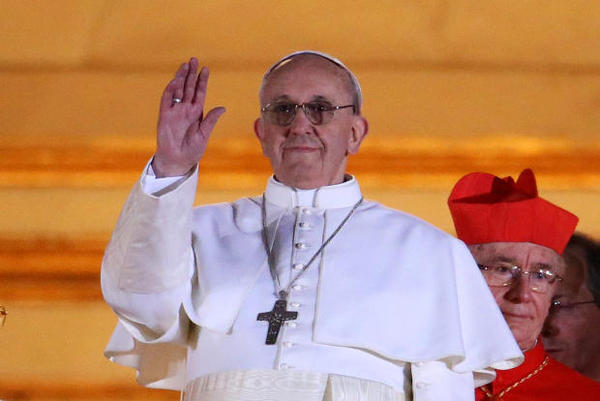 with those issues to the detriment of its larger mission to be 'home for all' . . . . 'We have to find a new balance, otherwise even the moral edifice of the church is likely to fall like a house of cards, losing the freshness and fragrance of the Gospel,' Francis said in the interview. 'The church has sometimes locked itself up in small things, in small-minded rules . . . . The people of God want pastors, not clergy acting like bureaucrats or government officials.'" Subsequent elaboration shows that the Pope wasn't declaring these hot-button issues to be no longer of consequence. Rather, he was saying they aren't the be all and end all of Christian obligation, and other important obligations must not be lost sight of in the zeal over certain high-profile issues. The Pope's common touch and his ability to relate to ordinary people has greatly endeared him to many of all faiths–and no faith–around the world. Read a more comprehensive version of the Pope's interview at America Magazine.
Scores of Christians Killed in Pakistan by Suicide Bombers
According to an online article by The Washington Post: "Two suicide bombers detonated explosives outside a historic church in northwestern Pakistan, killing at least 75 people as they left Sunday [September 22] worship services. . . . The bombing, the deadliest single attack on Christians that church leaders could recall in the country's 66-year-old history, sparked protests across the country and renewed concerns about Pakistan's ability to protect religious minorities. . . .The blast occurred outside Peshawar's All Saints Church, which dates to 1883 and is one of the oldest Christian places of worship in northwest Pakistan." In an opinion published in the Orlando Sentinel earlier this year (March 13), James Coffin, executive director of the Interfaith Council of Central Florida, wrote about atrocities being perpetrated against Shia Muslims in Pakistan by radical Sunni Muslims. He noted the human propensity to persecute "on the basis of the labels we wear. Nation against nation. Culture against culture. Religion against religion. Sect against sect." Coffin went on to say, "But we can do something. At the very least, we can speak up. . . . In today's world of mass media and the Internet, an avalanche of condemnation of such barbarism can make more impact than we might think." Persecution against any group deserves our emphatic and sustained condemnation. It's not acceptable human behavior. It's evil no matter who the perpetrators and victims happen to be.
Spiritual Reflection
| | | |
| --- | --- | --- |
| | "Morality is of the highest importance–but for us, not for God."   –Albert Einstein | |