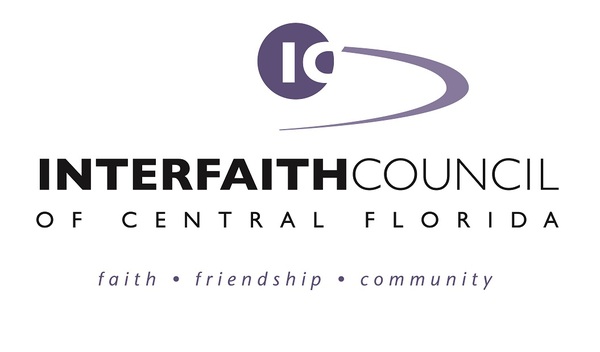 NEWSLETTER  –  APRIL 2018
---
Friends Talking Faith with The Three Wise Guys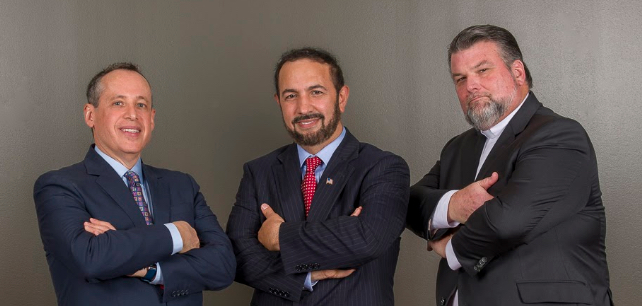 Hear the varied perspectives of the Rev. Bryan Fulwider, Rabbi Steve Engel and Imam Muhammad Musri as each week they discuss how faith impacts both the simple and the complex aspects of life. These three clergy come together as friends to discuss topics from the perspective of the different religions they represent. They contend that "good religion works for peace, respects and values others regardless of their religious perspective, and works through acts of compassion to make the world a better place for everyone." Friends Talking Faith with The Three Wise Guys airs on Tuesdays at 6:30 pm on 90.7 WMFE FM in Orlando. Tune in on your radio or listen online. You can also listen to any show already aired. During April, Friends Talking Faith will feature the following:
April 3: Faith and Health: Reproductive Justice as A Matter of Faith—Dr. Willie Parker will talk with us about his book "Life's Work: A Moral Argument for Choice"
April 10: Faith and Society: Talking About Common Sense Gun Laws—Ms. Patricia Brigham, from the Florida Coalition for Gun Safety, and Mr. JC Martinez, student organizer of the Apopka High School walkout, will share where they are in the fight for common-sense gun laws.
April 17: Faith and Society: The Legalized Marijuana Fight—What is the faith perspective on this controversial and politically charged topic?
April 24: Faith and Society: Predatory Lending, Living Wage, Healthcare—The Three Wise Guys will talk with WMFE financial guru Dr. Hank Fishkind in this newest addition to the Community Transformation series
'Golden Rule Day' Celebrating Its 11th Anniversary
In 2007, URI-Africa and Interfaith Peace-building Initiative (a URI Cooperation Circle member) declared April 5 as Golden Rule Day in Addis Ababa, Ethiopia, and called upon all citizens of the world and many other organizations, including the United Nations, to join them in proclaiming the day and living everyday according to the teaching of the Golden Rule in order to make our world better and more peaceful for all. Since then, about 700 organizations in 165 countries have joined in proclaiming Golden Rule Day and a request for a United Nations declaration of Golden Rule Day is pending before the General Assembly. But no one needs to wait for UN approval before celebrating Golden Rule Day. And certainly everyone can seek to live by the Golden Rule every day. Click here to learn more about this commemoration.
Public Program to Examine History of Local Racial Terror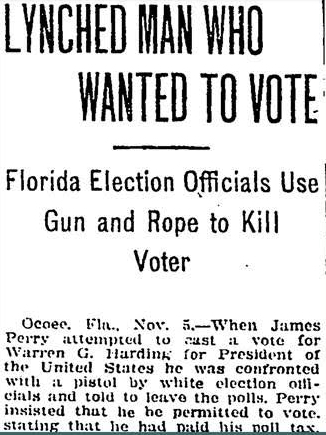 The public is invited to a free program on Thursday, April 5, that will examine in detail a tragic past incident of local racial terror, exploring its impact on Central Florida's race relations, voting practices and economics then and now. The event—which begins at 6:30 pm at the Callahan Neighborhood Center (101 North Parramore, Orlando FL 32801)—includes the screening of an award-winning short film, community dialogue and a panel including a local scholar, activist and historian. The program is part of a larger project led by the Equal Justice Initiative, which is seeking to address the history of lynchings in America. The goal for the program is to increase knowledge and create dialogue about our local history of racial terror and to consider our individual and collective response to these events moving forward. The doors open and seating begins at 6:00 pm. Childcare is available during the program, and free refreshments will be served.
Interfaith Yoga Still Making Positive Impact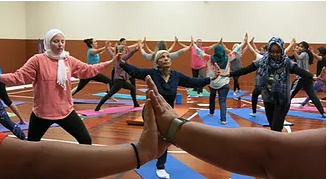 For more than a year, a loosely knit group calling itself the Interfaith Yoga Project has been making the rounds of various houses of worship helping women and girls of all backgrounds enjoy the positive experience of yoga. Sessions rotate through various venues in Central Florida's faith community. For information about events in April, go to Eventbrite. For general information, go to Interfaith Yoga's website, Facebook, the Huffington Postand the Orlando Sentinel.
Holocaust Center to Conduct Annual Day of Remembrance
The Holocaust Center invites individuals and families from throughout the community to join in its annual Yom HaShoah commemorative program at 2:00 pm on Sunday, April 8, at the Congregation of Reform Judaism (928 Malone Drive, Orlando, FL 32810). This annual event pays tribute to the six million Jews and many others who died during the Holocaust, and honors the Survivors, Liberators and Rescuers, keeping their stories alive. This year's program will feature a moving performance of songs that speak to the power of remembrance. Performed by renowned violinist Matitiahu Braun and Holly Small, these songs remind us of our duty to carry the history of those that came before us forward. Other program highlights include a Survivor-led candle lighting, responsive reading, and presentation of awards for the Creative Arts Contest. The event is free, and the public is invited.
Interfaith Group Promoting 'Better Together Day'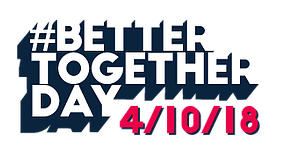 At this critical point in history, we all have a choice to make: We can choose to allow the voices of intolerance to dominate, or we can choose to raise our collective voice and help change the story. In this context and spirit, the Interfaith Youth Core is declaring Tuesday, April 10, as Better Together Day. It is a day when each of us can join our voice with the voices of thousands of students, educators and community members to start changing the national conversation. In these times of seemingly daily news of conflict, religiously motivated hate crimes and divisions across our society, it's easy to feel helpless. Better Together Day provides a chance to make our voice heard. The day's organizers are asking each of us to actively seek out something we admire in someone else's faith tradition or worldview and share it with the world. By joining our own voice with thousands of others across the country, we can influence the conversation and make our campuses, communities, and country more unified. We can change the story. We can be better together. Share what you appreciate now and tell your friends, using #BetterTogetherDay.
Interfaith Discussion: Paying Taxes and Other Obligations
Jesus was once questioned whether it was obligatory to pay taxes. His response (using King James Version English): "Render to Caesar the things that are Caesar's, and to God the things that are God's." But what if the government is using tax money to fund practices that we might consider immoral or unethical—such as war, let's say. Are we still duty-bound to fork over the tax assessment? What does your faith tradition say about such matters? Do we bear any moral responsibility for how tax funds are used once we've passed them on to the government? These are just some of the questions that will be addressed when the Interfaith Discussion group meets on Wednesday, April 11. Interfaith Discussions are held from 7:00 to 8:30 pm on the second Wednesday of each month at Adventist University of Health Sciences (671 Winyah Drive, Orlando, FL 32803) on Florida Hospital's main campus. The exchanges are respectful, open and candid, and the participants represent a variety of faith traditions as well as those who question the validity of faith altogether. For directions to the meeting, click here. Admission is free. Everyone is invited.
Shepherd's Hope to Hold Annual Fundraiser April 12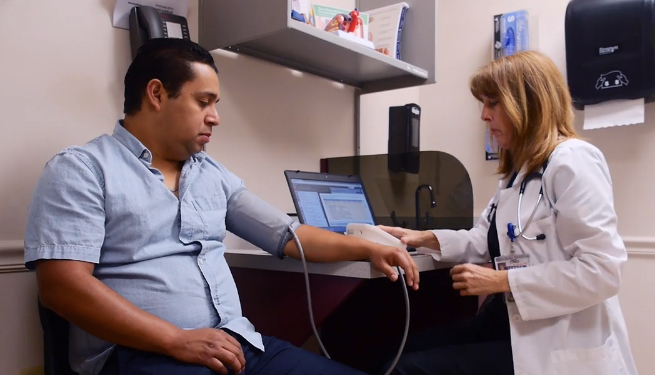 Shepherd's Hope, a faith-based nonprofit that provides access to free healthcare for the uninsured and underinsured, is hosting its annual fundraiser at a breakfast on Thursday, April 12, at the Rosen Centre Hotel Grand Ballroom A & B (9840 International Dr. Orlando, FL 32819). Table-host registration begins at 7:15 am; guest registration begins at 7:45 am; and the complimentary continental breakfast and program run from 8:30 to 9:30 am. Shepherd's Hope will again present its annual Call to Hope, a one-hour program, which will demonstrate how the organization's mission has stayed steadfast, 21 years after its first patient was cared for. Shepherd's Hope remains committed to bridging the coverage gap to high-quality healthcare for the uninsured and underinsured while mitigating the tremendous financial implications to our community. It continues to be nationally regarded as a unique model of innovative care, with over 2800 volunteers, who in 2017 generated 50,000-plus hours of compassionate healing care. The year 2017 also saw a 13 percent increase in patient medical services for the uninsured, with 40 percent of the recipients reporting that they work full-time. The April 12 Call to Hope fundraising breakfast will include inspirational stories about the individuals who visit the Shepherd's Hope centers in search of hope, and the volunteers whose commitment and faith in the mission of Shepherd's Hope make healing possible.Phone 407-876-6699 ext. 228 or send an email to see if you still might be able to attend.
Week of the Family Essay Writing Deadline Extended
The assignment is straightforward. Just complete the following in 250 words or less: "I should practice kindness with my family because . . ." But there are a few other important criteria. The essay writer must be a student 5 to 18 years of age who's enrolled in an Orange County Florida school (public/private/home). And the essay must be submitted using the form that you can access here. But here's the good news: All entries now must be received by April 15—not the original March 31 deadline. Winners will be announced prior to the November 3-10 Week of the Family. And speaking of winners, the winners will be honored at the Week of the Family Awards dinner,and the Mayor's Family Fun Day! And what do they win? First prize $100. Second prize $75. Third prize $50. And the school with the highest participation will receive a trophy presented by Orange County Mayor Teresa Jacobs.
Interfaith Council Executive Director to Speak at UUUS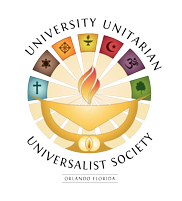 Pastor James Coffin, Executive Director of the Interfaith Council of Central Florida, will address the congregation at the University Unitarian Universalist Society (11648 McCulloch Road, Orlando, FL 32817) at 10:30 am on Sunday, April 15. The public is invited. Granted that April is National Poetry Month ("the largest literary celebration in the world"), and granted that Pastor Coffin has memorized a lot of poetry over many years, his presentation on April 15 will be built around the recitation of 10 of his favorites. He hopes the highly diverse poems he has chosen will provoke thought, inform, inspire and entertain. The title of his presentation is "30 Minutes with the Muses," and his eclectic repertoire includes American, Australian, British and Canadian poetry, composed by Atheist, Catholic, Jewish and Protestant writers. Should you choose to come to UUUS that day, why not double the benefit by coming at 9:00 am for the Inquiring Minds class? If you like getting your Sunday morning off to a good start by doing some mind stretching, there may be no better place to do it. Check it out. If not April 15, then some other time.
Rudolph Cleare to Speak at Monthly Freethought Event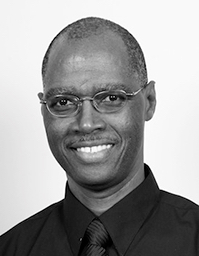 On Sunday, April 15, the monthly meeting of the Central Florida Freethought Community will feature as speaker Rudolph Cleare, Executive Vice-President of the nonprofit "Negro Spiritual" Scholarship Foundation, and Management Director of the Foundation's Project Grady-Rayam programs. Cleare also serves on the Executive Committee of the Interfaith Council of Central Florida. The April 15 event, which will be held at the University Club of Winter Park (841 North Park Avenue, Winter Park, FL 32789), is free, and the public is invited. Cleare says of his presentation—titled The Way Forward: Moving Beyond Our Tattered Social Fabric— "We are commemorating the 50th anniversary of the killing of Rev. Dr. Martin Luther King, Jr., at a point in time when our American social fabric, woven as it is from separate threads of skin color, racial origin, language, sexual orientation, religious tradition, political affiliation and regional custom, seems tattered and frayed." Thus, Cleare's presentation "will speak to what, against great odds, might lead us in search of a way forward beyond our fears, beyond our disappointment, beyond the renewed mistrust our current socio-political circumstance has bred." The monthly event of the Central Florida Freethought Community features thought-provoking speakers, local freethought news, state/church activism opportunities, volunteer options and socializing. RSVP at Meetup.
The Women of Faith Symposium Slated for April 15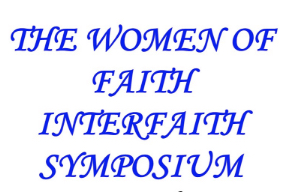 All Women of Central Florida are invited to the Women of Faith Symposium—Connecting Life, Spirit and Identity. The event will provide an opportunity to examine equality, social status and justice as it relates to the role of women in society. The event will be held from 2:00 to 5:00 pm in the first-floor Multi-Purpose Room (MPR) at the Orlando Regional Medical Center (52 West Underwood Street, Orlando, FL 32806). The event is being presented by the Golden Rule Initiative of the Center for Peace. RSVP at Eventbrite.
Presentation: The Language of Violence, Language of Love 
A training event and dinner titled "Building Interfaith Bridges to Protect Religious Minorities—2" will be held on Tuesday, April 17. This is a follow-up session to an earlier session held on December 5, 2017. The theme of the presentations is to compare the language of violence and the language of peace. Faith leaders—pastors, rabbis, imams, priests and laypeople holding positions of authority in faith groups—can help prevent dangerous speech from erupting into full-blown violence. But it takes training, skill and, most of all, a broad base of human relationships. That's why Faith in Public Life and the Interfaith Council of Central Florida are partnering to hold a "Part 2" training session for faith leaders—again featuring experts Rachel Brown, Executive Director of Over Zero, and Dan Nejfelt, Training Director for Faith in Public Life—on how to counter the language that easily leads to violence towards religious and ethnic minorities. The training session will be followed by a dinner. Both the training and the meal are free of charge. But space is limited. So it's important to RSVP quickly. Registration will close on Sunday evening, April 15 (or earlier if all the spaces are taken). The event will be held in Gore Hall, First Unitarian Church of Orlando (1901 East Robinson Street, Orlando, FL 32803). Registration, tea and networking will begin at 5:00 pm, with the presentations starting at 5:30 pm, followed by the meal. Final wrap-up will be about 8:00 pm.
Global Peace Film Festival to Screen Two Indie Films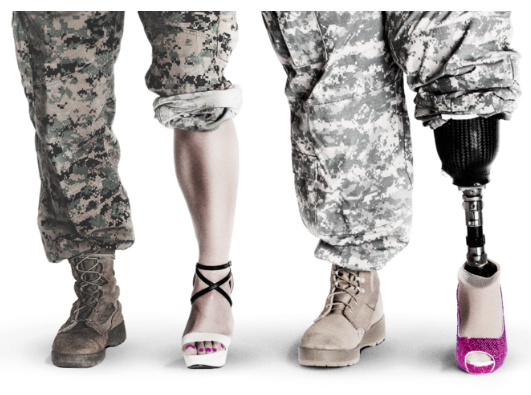 On Friday, April 20, the Global Peace Fillm Festival will co-sponsor a screening of "Look & See: Wendell Berry's Kentucky." The film is a cinematic portrait of farmer and writer Wendell Berry. Through his eyes, we see both the changing landscape of rural America in the era of industrial agriculture and the redemptive beauty in taking the unworn path."  Then on Friday, May 4, the film "Served Like a Girl" will be screened. Five women veterans who have endured unimaginable trauma in service create a shared sisterhood to help the rising number of stranded homeless women veterans. Both the April 20 and May 4 screenings will be at the Classroom Teachers Association (1020 Webster Avenue, College Park). Both films will start at 5:30 pm. The screenings are part of the Indie Lens Pop-Up series of previews of films that will premier on WUCF, Central Florida's only PBS TV station. The Orange County Classroom Teachers Association is hosting the screenings. The screenings are free, and the public is invited.
Concert to Feature African-American Symphonic Spirituals
Coinciding with the 50th anniversary of the assassination of Rev. Dr. Martin Luther King, Jr., the Bach Festival Society and Bethune Cookman University Concert Chorale will present a program of provocative and passionate works by three of the 20th century's most important African-American composers—William L. Dawson, William Grant Still and R. Nathaniel Dett. These composers fought for the chance to create lasting works that recorded their experiences and those of their fellow African-Americans. The concerts will be held Saturday, April 21, at 7:30 pm, and Sunday, April 22, at 3:00 pm at the Knowles Memorial Chapel on the campus of Rollins College. Featured will be William L. Dawson's Negro Folk Symphony,  William Grant Still's And They Lynched Him on a Tree and R. Nathaniel Dett's The Ordering of Moses. Those participating are: the Bach Festival Choir and Orchestra, the Bethune Cookman Concert Chorale, soprano Othalie Graham, mezzo soprano Krysty Swann, tenor Samuel McKelton and bass-baritone Kevin Deas, under the direction of conductor Dr. John Sinclair. Get tickets online or by calling the Bach Festival Society Box Office at 407-646-2182. Tickets cost between $25 and $65. Group rates are available. For ticket information, click here for April 21, and here for April 22.
Mosque in Sanford to Host Interfaith Panel April 22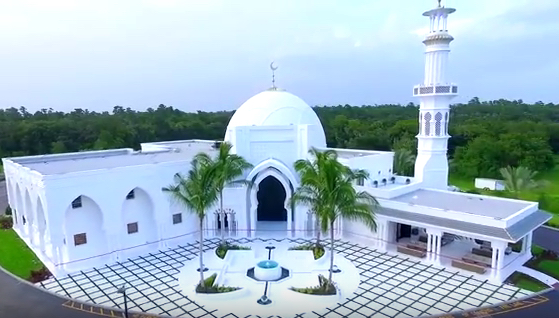 The public is invited to hear representatives of six faith traditions—Buddhism, Christianity, Hinduism, Islam, Judaism and Sikhism—share insights into their respective beliefs and practices during a panel discussion conducted at Masjid Al Hayy (786 Myrtle Street, Sanford, FL 32773) and moderated James Coffin, Executive Director of the Interfaith Council of Central Florida, on Sunday, April 22, at 4:00 pm. The panel, which will run for one hour, will be followed by refreshments and an opportunity to tour the new masjid—which, by any standard, is truly a must-see piece of architecture. The goal of the event is not only to highlight information about the various faith traditions during the panel discussion, but also to simply get acquainted. This is the kind of event that a youth group or some other sub-group within your house of worship might like to attend as a group. Click here to get some idea of the beauty and artistry of the structure. Then come along on April 22 to see it in person and to learn more about the rich diversity of faith in Central Florida.
Cornerstone Hospice Seeking Central Florida Volunteers
Cornerstone Hospice and Palliative Care, Inc., a not-for-profit community organization since 1984, is seeking volunteers to help in a variety of roles. Cornerstone provides comfort and care to Central Florida families experiencing life-limiting illnesses. Cornerstone Hospice volunteers may provide companionship, support and comfort to patients and their caregivers. Volunteers may be asked to give the regular caregivers a much-needed break by visiting with a patient while family members run errands. They may walk a patient's dog, help honor veterans or assist with light office duties. Volunteers with caring hearts and time to share may sit vigil when death is imminent for a patient who has no family or friends to hold his or her hand. More than 7,000 people in Lake, Sumter, Orange, Osceola, Polk, Hardee and Highlands counties benefit from Cornerstone programs each year. Click here for information on how to volunteer.
He Got Up Offering More Services and Locations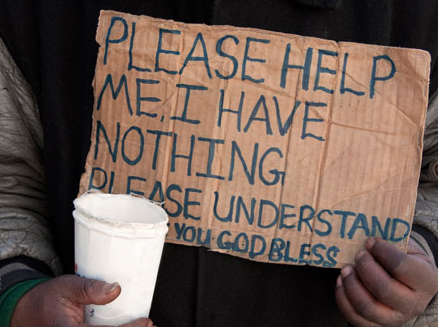 He Got Up, a Christian community-service venture that has been greatly appreciated for the past two years, is taking on a slightly different look in 2018 as the venture seeks different ways to serve the Central Florida community with Compassionate Restorative Justice. Instead of a single grand event at one time in one place, as has been done in the past, He Got Up will host several smaller and more focused events throughout the year and throughout the region. The main focus of these events will be Legal Services, where the group has found the greatest response. Help with drivers-license issues, court-cost issues and other legal issue will be provided at every event. These will be held on April 7, at Dr. James R. Smith Neighborhood Center (1723 Bruton Blvd, Orlando, FL 32805); April 21 at Englewood Neighborhood Center (6123 La Costa Drive, Orlando, FL 32807); and May 5 at  Northwest Community Center (3955 WD Judge Dr, Orlando, FL 32808). In addition to these event dates, He Got Up has arranged two court dates in Orange County: Friday, May 11, and Friday, May 25; and two court dates in Osceola County: Friday, June 8 and Friday, June 22. Click here for information about volunteering. Learn more by phoning (321-300-6962) or emailing your questions
Your Tax-Deductible Contributions Always Appreciated
If you appreciate what's being achieved by the Interfaith Council of Central Florida and Friends Talking Faith With the Three Wise Guys radio program, we invite you to contribute on a regular basis to these community-based, community-benefitting activities. It may be every month, once a quarter or annually. And it may be a large contribution or small. But whatever it is, you'll have the satisfaction of knowing that you played a part in helping to make our community more harmonious and peaceful. All contributions are tax-deductible and may be sent to: PO Box 3310, Winter Park, FL 32790-3310. Or you can click here to contribute online. Thank you for your help.
Humanist Reflection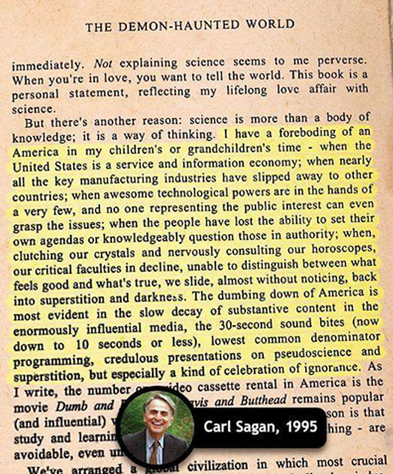 "Science is more than a body of knowledge; it is a way of thinking. I have a foreboding of an America in my children's or grandchildren's time—when the United States is a service and information economy; when nearly all the key manufacturing industries have slipped away to other countries; when awesome technological powers are in the hands of a very few, and no one representing the public interest can even grasp the issues; when the people have lost the ability to set their own agendas or knowledgeably question those in authority; when clutching our crystals and nervously consulting our horoscopes, our critical faculties in decline, unable to distinguish between what feels good and what's true, we slide, almost without noticing, back into superstition and darkness. The dumbing-down of America is most evident in the slow decay of substantive content in the enormously influential media, the 30-second sound bites (now down to 10 seconds or less), lowest common denominator programming, credulous presentations on pseudoscience and superstition, but especially a kind of celebration of ignorance."—Carl Sagan, written in 1995