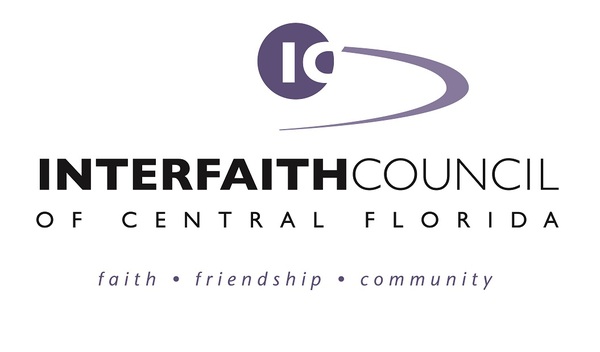 NEWSLETTER  –  JULY 2019
---
U.S. Catholic Bishops Approve New Death-Penalty WordingIn response to Pope Francis's August 2018 reformulation of the Catechism of the Catholic Church's treatment of the death penalty, the U.S. bishops approved (at their June 2019 General Assembly) a new section on the death penalty for the U.S. Catholic Catechism for Adults. The revision reflects the growing awareness that the dignity of the person is not lost even after the commission of great crimes. Additionally, more effective forms of detention have been developed to ensure the due protection of citizens without definitively depriving the guilty of the possibility of redemption.

Lights for Liberty Vigil to Be Held at Lake Eola July 12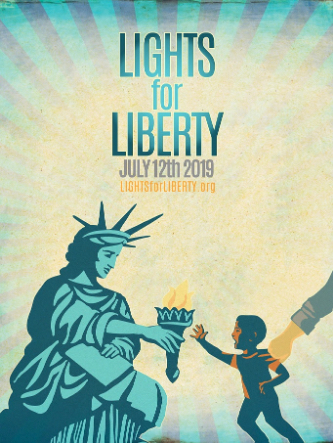 ​On Friday, July 12, at 7:00 pm, Lights for Liberty: A Vigil to End Human Concentration Camps will be held at Orlando's Lake Eola. Lights for Liberty is a  nationally coordinated event that's expected to bring together thousands of people in locations across the country to protest the inhumane conditions faced by migrants. A similar July 12 vigil will also be held at The Villages at the Town Square at Lake Sumter Landing from 8:00 to 9:00 pm.
U.S. DOJ Offering New Program to Protect Religious Entities
The Community Relations Service (CRS) of the US Department of Justice is offering a new facilitated program titled "Protecting Places of Worship Through Education and Dialogue." The program educates local communities on how to prevent and respond to hate crimes that target religious institutions. It also fosters dialogue to strengthen relations between government, law enforcement and faith communities. This new three-hour program is in response to a series of violent acts against houses of worship in multiple communities across the United States and is designed to increase the security of local religious centers. Upon request, CRS convenes subject-matter experts to provide an overview of hate-crime laws, statistics, case studies and physical security. Click here to learn more. To have your more-specific questions answered, click here to send an email.
The Most Recent Edition of PJI's Journal Is off the Press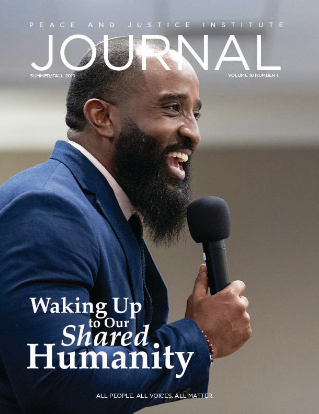 The summer/fall issue of Valencia College's Peace and Justice Institute is off the press—and it's also available online. In this issue, PJI Advisory Council Chair Patricia Ambinder reflects on the evolution of the institute, detailing its growth in scale and impact, as well as its focus on using inner work to influence personal and societal healing. The Journal's cover story, "Waking Up To Our Shared Humanity," details how Rudy Darden, Valencia College English professor and PJI facilitator, explored his own discomfort to support dialogue and conversations essential for Central Florida to acknowledge its collective traumas and pave a new path for what he calls "a more unified future." Another feature, "Creating a Resilient Community: From Trauma to Healing," demonstrates how PJI is supporting Central Florida in becoming a more resilient community by exploring adverse childhood experiences (ACEs), trauma-informed practices and methods of healing." To request being put on the Journal email list, click here.
Appeals Court Says Brevard County Was Discriminating
​From a press release dated July 8, 2019: "The 11th U.S. Circuit Court of Appeals on Monday ruled that the Brevard County Board of County Commissioners' practice of using religious beliefs to determine who can offer invocations at public meetings is unconstitutional, discriminatory, and a violation of religious freedom. . . . The ruling came in the case Williamson v. Brevard County, which was filed on behalf of the Central Florida Freethought Community (CFFC), other local organizations, and several non-theists whom commissioners barred from offering invocations since 2014. The case was brought by attorneys for Americans United for Separation of Church and State, the American Civil Liberties Union, the ACLU of Florida, and the Freedom From Religion Foundation. . . . 'We are pleased a second court has agreed that religious discrimination by the Brevard County Commission is unconstitutional and must stop. Our hope is that a third court is not needed to reaffirm our rights,' said David Williamson, a plaintiff in the case. . . . The lawsuit was filed in 2015 by the CFFC, the Humanist Community of the Space Coast, the Space Coast Freethought Society, and some of their members. The plaintiffs asserted that the Commission's rejection of atheists, Humanists, and other non-theists who sought to deliver solemnizing messages at the beginning of commission meetings violated the U.S. and Florida Constitutions. . . . The U.S. District Court for the Middle District of Florida in September 2017 agreed with the plaintiffs that the commissioners' practice of excluding nontheists violated the U.S. Constitution. The 11th U.S. Circuit Court of Appeals affirmed today that the commissioners' practice was discriminatory and unconstitutional." Read more here.
Listen to Friends Talking Faith with The Three Wise Guys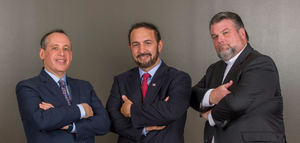 Hear the varied perspectives of the Rev. Bryan Fulwider, Rabbi Steve Engel and Imam Muhammad Musri as each week they discuss how faith impacts both the simple and the complex aspects of life. These three clergy come together as friends to discuss topics from the perspective of the different religions they represent. They contend that "good religion works for peace, respects and values others regardless of their religious perspective, and works through acts of compassion to make the world a better place for everyone." Friends Talking Faith with The Three Wise Guys airs on Tuesdays at 6:30 pm on 90.7 WMFE FM in Orlando. Tune in on your radio or listen online. You can also listen to any show already aired.
Vision Orlando Partnering with Convoy of Hope for Event
A major Convoy of Hope community service event will be held from 9:00 am to 12:30 pm on Saturday, July 27, at Tinker Field (287 South Tampa Avenue, Orlando, FL 32805). The event is designed to help the many families that are in need in our region. Local churches, businesses, community-service centers and healthcare organizations will be partnering to provide guests with groceries, medical and dental screenings, prayer, haircuts, lunch, veteran services, music, a kids' carnival, children's shoes, job and career services, community services, family portraits, and more—at no charge to the recipients. An estimated $1 million worth of goods and services will be available to the anticipated 10,000 guests of honor who will attend. Click here to volunteer for this Christian community service event.
Bach Festival Society to Host Insights & Sounds Series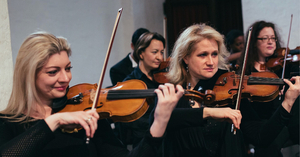 The 2019-2020 Insights & Sounds series of the Bach Festival Society will start on September 20 at Knowles Chapel with Handel's Heroines and Heroes—a night of arias, choruses and overtures from Handel's magnificent oratorios, operas and ceremonial occasions. Some charming and others majestic, Handel's pieces display his prodigious genius. The second performance in the series, on November 14 at Tiedtke Concert Hall, will be Bach's Moravian Music Heritage. In addition to being responsible for establishing the first Bach Society in America, the Moravians also provided lineage to baroque and classical era masterpieces in North America. The final performance of the series, on January 23 at Tiedtke Concert Hall, will serve as a night of discovery for The Greatest Composers (You've Never Heard Of). Bach Festival Society director Dr. John Sinclair will present several lesser-known composers, many of whom had a tremendous influence on history's most significant and treasured composers. Single tickets go on sale August 1. But for the best seats at the best prices, a subscription is recommended. For tickets, phone 407-646-2182 or visit the Bach Festival Society website.
Final Opportunity for an Outing Before School Starts
If you want to get in one more really interesting outing before your child or grandchild starts back to school, and if the child is at least 9 years old, a two-hour event titled "Crazy Cool Craniums" may be just what you're looking for. In fact, you're invited to participate too—as long as you're no older than 99! Those are the rules—literally! This multi-age event runs from 9:00 to 11:00 am on Saturday, August 3, at the Ed Yarborough Nature Center (3485 North County Road 426, Geneva, FL 32732). For just $5 per participant you can play "Nature CSI!" in which you'll learn to identify animal skulls by looking at all the clues! Examining the teeth, eyes and other adaptations will help you and your fellow "detectives" determine whether you're dealing with a carnivore, herbivore or omnivore. Participants will have a chance to handle real and replica skulls. You'll also dissect an owl pellet, searching for small-rodent craniums—or crania if you prefer the Latinized version of the word's plural! Advance online registration is required. Phone 407-665-2211 for more information. The program is directed by Lori L. Hartsock, Program Coordinator, Seminole County Greenways & Natural Lands. And just why should you consider bringing your child or grandchild to this activity? Because . . .  "In the end we will conserve only what we love. We will love only what we understand. And we will understand only what we are taught."— Baba Dioum Senegal
Hiroshma and Nagasaki Commemoration Set for August 6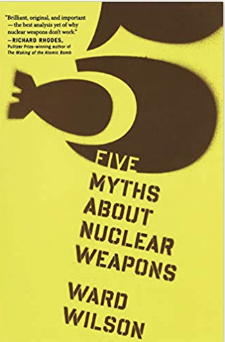 ​The 7th Annual Abolition 2020—Hiroshima/Nagasaki Commemoration will be held from 6:30 to 9:00 pm at the chapel of the Church of Scientology of Orlando, 6770 Lake Ellenor Drive, Orlando, FL 32807. Abolition 2020 is a nonprofit committed to "the abolition of nuclear weapons in our lifetime—because the right number of nuclear weapons in the world is zero." Guest speaker for the event is Ward Wilson, historian and author of Five Myths About Nuclear Weapons, whose book "blows the lid off the stale debate surrounding nuclear weapons, stripping away emotion and exaggeration," says Amazon's promo of the book. "By drawing on new facts and historical research, Wilson methodically shatters each of these myths in turn. His conclusions will surprise you, enlighten you, and spur debates about whether nuclear weapons have any power and importance in the twenty-first century." Also featured at the event is the screening of the documentary The Beginning of the End of Nuclear Weapons. "This 59-minute documentary film takes the viewer through a brief history of nuclear bombs and the anti-nuclear activism that has pushed to eliminate them ever since their invention, including moving testimony from Hiroshima bomb survivor Setsuko Thurlow." The event is free and the public is invited.
'When Helping Hurts Seminars' Available for Faith Groups
The foundational principles on which the Central Florida nonprofit Community Resource Network (CRN) are based were drawn in great measure from Dr. Brian Fikkert's book When Helping Hurts: How to Alleviate Poverty Without Hurting the Poor … And Yourself. Dr. Fikkert argues that "how we define poverty or homelessness determines the solutions we propose." If we feel the problem entails only a lack things, money or food, that's what we'll supply when people present themselves for our help. But CRN, like Dr. Fikkert, believes the solution for poverty and homelessness is not just more things. The answer is supportive, empowering relationships for people who are stuck in the cycle of poverty or who are experiencing homelessness. This is why CRN is available to conduct "When Helping Hurts Seminars" with its faith-based partners, onsite at their locations, so more people and organizations can be introduced to this insightful approach. Houses of worship and other faith entities that are interested in having CRN facilitate a no-cost "When Helping Hurts Seminar" should email Evan Smith for more information.
Humanist Celebrant Training Event Slated for August 10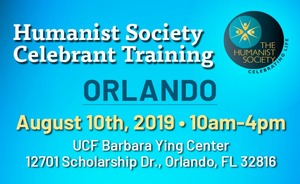 The Humanist Society and the American Humanist Association Center for Education will conduct training for humanist celebrants from 10:00 am to 4:00 pm on Saturday, August 10. Lunch is provided. New, experienced and prospective humanist celebrants are invited to hone their skills, learn best practices for planning and executing humanist ceremonies and network with other celebrants in the area. The training event, which will be held at University of Central Florida's Barbara Ying Center (12701 Scholarship Drive, Orlando, FL 32816), will provide knowledge, confidence and creative ideas. Learn how to prepare unique and inspiring humanist ceremonies. Find out how to care for and support the families of individuals nearing the end of life. Discover what makes a humanist memorial service so different. Gain understanding of how humanists celebrate life events and milestones. Learn best practices for working with clients to build ceremonies they will cherish. The cost of the training is $85 per person, and all participants will receive supporting materials to begin (or add to) their personal library of resources (e.g. sample ceremonies, suggested readings, creative ideas). Click here to register.
Interfaith Discussion to Be Held at AdventHealth University
On Wednesday, August 14, the monthly Interfaith Discussion sponsored by the Interfaith Council of Central Florida will be held from 7:00 to 8:30 pm at AdventHealth University (671 Winyah Drive, Orlando, FL 32803), which is on AdventHealth's main Orlando campus. The title of the evening's discussion is: "Healing the Holy Land: Interfaith Peace-Building in Israel and Orlando." What does your faith traditions teach about how to settle long-running tensions between people groups? Does religion typically help heal human alienation? Or does religion add to it? Is there anything people in Orlando can do to help alleviate or resolve tensions that are thousands of miles away? The exchanges are respectful, open and candid, and the participants represent a variety of faith traditions as well as those who question the validity of faith altogether. For directions to the meeting, click here. Admission is free. Everyone is invited. For more information, phone 321-228-4599.
New Hope for Kids to Offer Volunteer Trainng in August 

New Hope for Kids Center for Grieving Children is offering training to become a volunteer grief-support group facilitator. The center (544 Mayo Avenue, Maitland, FL 32751) provides grief support for children and families who have experienced the death of a loved one. The program helps children, teens and young adults cope with their grief and loss through the sharing of stories and experiences, as well as art, music and recreation. A one-year commitment is requested for volunteers, and a pre-interview and tour of the facility is required. The next 25-hour training program, which will be conducted August 17 and 18, provides a great way to give back to our community. For more information, visit the center's website, send an email or phone 407-331-3059 x15. Download the volunteer application here.
'Forced to Flee' Exhibit at Ruth Funk Center for Textile Arts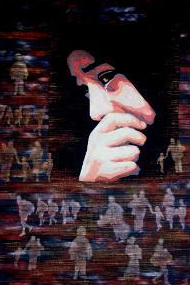 A juried quilt exhibition—organized by Studio Art Quilt Associates and described as a powerful, thought-provoking, inspiring quilt-as-art exhibit— will be on display at the Ruth Funk Center for Textiles Arts at the Florida Institute of Technology (150 West University Blvd, Melbourne, FL 32901) until August 24. (The exhibit features 36 quilts addressing subjects ranging from human conflict to natural disasters.) Throughout history people have been forced to flee from their homes for their own safety and survival due to war, oppression, natural disasters, and atrocious human-rights violations. The 1951 Convention Relating to the Status of Refugees was adopted to address the growing numbers of people needing protection, with the understanding that effective solutions require international co-operation. That Convention document continues to influence the measures used today to attempt to address the global challenges arising from the current refugee crisis impacting countries across the globe. For this exhibit, artists were encouraged to illustrate the issues surrounding the global refugee crisis, the impact on families and communities, the stress placed on host countries, and the need for new initiatives, funding, and international cooperation to find solutions. The selected pieces will not only showcase the artwork but also encourage the viewer to think deeply and carefully on this timely subject. The exhibit is open from 12:00 noon to 4:00 pm, Tuesday through Saturday. Admission is free. Read more here. Have your questions answered by phone (321-674-6129) or by email. (The illustration for this news item is by Eunhee Lee (South Korea) and titled, They Are Also Us. Photo courtesy of the artist.)
Holocaust Center Featuring 'Facing Prejudice' Exhibit
An exhibit titled "Facing Prejudice" is being featured at the Holocaust Center (851 North Maitland Avenue, Maitland, FL 32751) until August 30. Center personnel describe "Facing Prejudice" as "an unparalleled exhibition: a journey of questions, personal insights and factual statements designed to challenge and empower the visitor to fight for understanding and tolerance in their everyday lives" and that "explores the complexity of the prejudices that exist within us. This concept is a journey of questions, personal insights, and factual statements designed to challenge you." Holocaust Center hours are Monday to Thursday from 9:00 am to 4:00 pm; Friday from 9:00 am to 1:00 pm; and Saturday and Sunday from 12:00 noon to 4:00 pm.
Save the Date for This Year's Global Peace Film Festival


Mark your calendars right now for one of Central Florida's most impressive and world-changing events—the Global Peace Film Festival. The festival, which has the goal of "expanding the definition of peace through the power of film," will be held from September 16 to 22. Join filmmakers from around the world as you watch films that inspire, motivate, foster understanding and promote engagement. But your participation doesn't need to be passive, because an array of volunteers are needed. So check out the options. The GPFF provides a wonderful opportunity to watch films, get involved and change the world. More details to come in next month's newsletter.
Ginsburg Family Foundation Offering $35K Matching Grant
If you appreciate what's being achieved by the Interfaith Council of Central Florida and Friends Talking Faith With the Three Wise Guys, you have an opportunity to make your contributions for the balance of 2019 to achieve twice as much! the Ginsburg Family Foundation will give one dollar for every dollar someone else gives up to a maximum of $35,000. So we ask all our supporters to make their contributions go further by taking advantage of this act of generosity form the Ginsburgs. Whether you contribute monthly, quarterly or annually, every gift you give during the balance of 2019 will do double duty. money go twice as far. Which means you can have even greater satisfaction in knowing that you played a part in helping to make our community more harmonious and peaceful. All contributions are tax-deductible and may be sent to: PO Box 3310, Winter Park, FL 32790-3310. Or you can click here to contribute online. Thank you for your help.
AdventHealth, Dr. Phillips Center Receive Unique Grant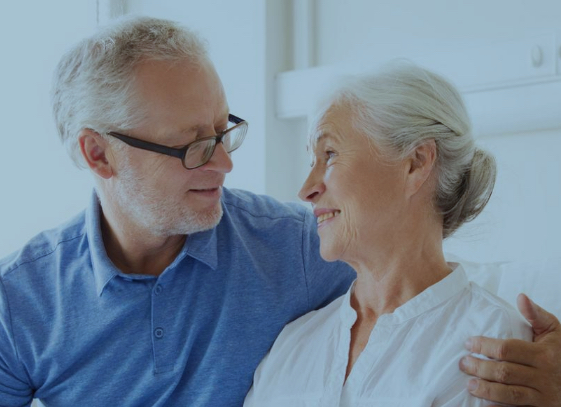 The National Endowment for the Arts (NEA) has awarded AdventHealth and the Dr. Phillips Center for the Performing Arts an $85,000 grant to support a groundbreaking study that evaluates how the performing arts impacts those with memory loss and their caregivers. The grant was one of just 15 grants totaling $724,000 the NEA awarded to support research projects that investigate the value and impact of the arts. The local study, launched earlier this year, may enhance or even change the way the healthcare community treats anxiety disorders and other conditions associated with dementia in the aging population. Led by veteran AdventHealth researchers and educators at the Dr. Phillips Center, the study follows memory-loss patients and their full-time caregivers through an eight-week fun and interactive class incorporating theater games, movement exercises and performances. "Caregivers have unique burdens and stressors, and this grant will enable us to further our research in developing programs and interventions with the aim of reducing these factors and providing whole-person care," says Dr. Steven Smith, chief scientific officer of the AdventHealth Research Institute. "We hope this research will result in expanded support and resources for caregivers, innovative treatment for people with memory disorders, and show how unique partnerships can be used to advance medicine and help our neighbors heal."
Hindu Reflection
"We are what our thoughts have made us; so take care about what you think. Words are secondary. Thoughts live; they travel far."—Swami Vivekananda