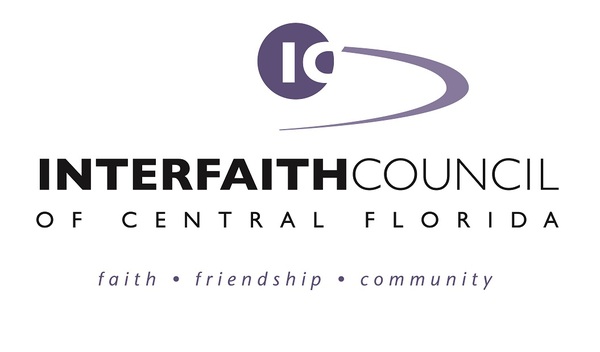 NEWSLETTER  –  FEBRUARY 2021
---
Biden Order Reestablishes Faith-Focused White House Office
WASHINGTON (AP) — President Joe Biden signed an executive order Sunday relaunching a White House office aimed at fostering cooperation between the federal government and faith-based and secular community organizations. . . . The order reestablishes the White House Office of Faith-Based and Neighborhood Partnerships, a 20-year-old initiative first put in place by President George W. Bush. The White House said the office's early goals under Biden will include working to "address the COVID-19 pandemic and boost economic recovery; combat systemic racism; increase opportunity and mobility for historically disadvantaged communities; and strengthen pluralism". . . . In a statement, Biden suggested that such partnerships are particularly important at a time when the pandemic has created considerable uncertainty and suffering. . . . "This is not a nation that can, or will, simply stand by and watch the suffering around us. That is not who we are. That is not what faith calls us to be," he said. . . . His team will work with "leaders of different faiths and backgrounds who are the front lines of their communities in crisis and who can help us heal, unite and rebuild" . . . . The office will be led by Melissa Rogers, who served in the same role during President Barack Obama's second term. Rogers will also serve on the White House Domestic Policy Council as senior director for faith and public policy. Josh Dickson, who was the Biden campaign's national faith engagement director, will be deputy director.

Director of American Humanist Association Steps Down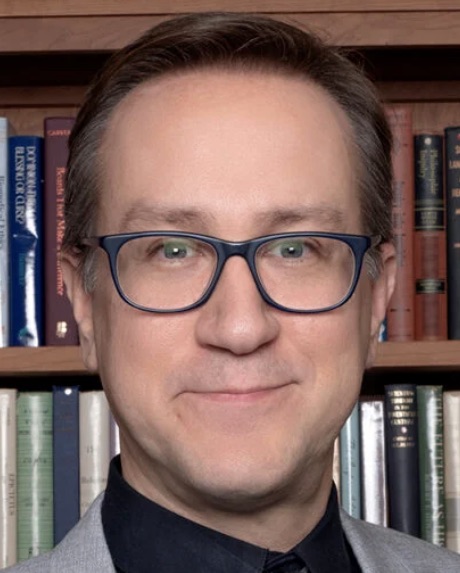 From the Religion New Service website: "Roy Speckhardt announced Friday (Feb. 5) he is stepping down from his position as executive director of the American Humanist Association. . . . Speckhardt [pictured, courtesy of AHA] said that after 15 years at the top of the organization, it was time for him to 'step down and make room for new leadership,' noting that the most prominent organizations representing atheists and freethinkers have never had non-white leadership. . . .'It is my emphatic hope that my seat is filled with a Black or Brown humanist because our movement has gone too long without such diversity at the helm and this would open the door for the AHA to truly achieve its potential as a humanist and anti-racist institution,' he said in a written statement. . . . Speckhardt told Religion News Service his decision was prompted by racial equity trainings he has participated in and a lot of 'humanistic soul searching, especially during the pandemic.' Humanists are nontheists who believe in ethical values informed by science and their desire to meet people's needs and affirm their dignity, according to the AHA website."
Houses of Worship Begin Serving as Vaccination Centers
Houses of worship representing a variety of faiths already are or soon will be vaccination sites in Seminole County. At Masjid Al Hayy (786 Myrtle Street, Sanford, FL 32773), anyone 65+ or a non-hospital healthcare worker is eligible. Vaccine quantities are limited. Prior registration is required. Call 407-665-0000 to register by phone. At the Sikh Society of Central Florida (2527 West State Road 426, Oviedo, FL 32765), anyone 65+ or a non-hospital healthcare worker is eligible. Vaccine quantities are limited. Prior registration is required. Call 407-665-0000 to register by phone.
WUCF to Screen Black Church History Docuseries Feb 16, 17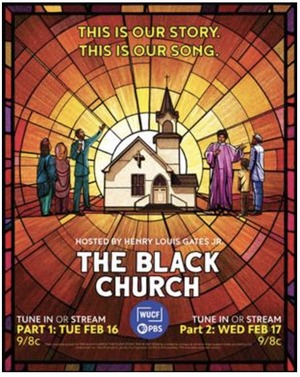 Local PBS affiliate WUCF will screen the premiere of The Black Church: This Is Our Story, This Is Our Song, an intimate four-hour series from Henry Louis Gates, Jr., on Tuesday and Wednesday nights, February 16 and 17. The docuseries explores the 400-year-old story of the Black church in America, the changing nature of worship spaces, and the men and women who shepherded them from the pulpit, the choir loft and church pews. Renowned participants include Oprah Winfrey, John Legend, Jennifer Hudson, Bishop Michael Curry, Cornel West, Pastor Shirley Caesar, Rev. Al Sharpton, Yolanda Adams, Rev. William Barber II, BeBe Winans, Bishop Vashti Murphy McKenzie and more. The Black Church premieres in two parts on February 16 and 17 at 9:00 pm (ET) on WUCF TV. Tune in or stream the premiere at wucf.org/live. Click here for options on how to watch.
Orlando Residents Invited to Give Input about OPD
As part of Orlando Mayor Buddy Dyer's Community Trust & Equity Initiative, an independent, third-party analysis of Orlando Police Department policies, procedures, training and accountability systems is being conducted by the Bowman Group and two national non-profits focusing on excellence in policing: CNA Institute for Public Research; and Effective Law Enforcement for All. These groups would like your input on how the Orlando Police Department engages with the community. The final opportunity to give input will be Wednesday, February 17, from 6:00 to 8:00 pm. You must register in advance to participate. The goal of the analysis is to produce recommendations to ensure that OPD is serving the community in the best way possible.
Hindu University Shares Webinar, Writings Re Hinduphobia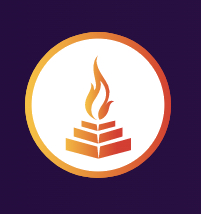 Hindus have long had to deal with misunderstandings and misinformation when they're referenced by academia, in the media and in casual conversation of non-Hindus. Although baffled by why they come in for such negative commentary, they're not ignoring it. They're seeking to actively do something about. So they're inviting people of goodwill to view a webinar about Hinduphobia and to read about the topic. After all, the written material points out, Hindus "are not proselytizing by nature; they do not seek to convert the entire world to Hinduism; they do not wish to replace all the other religions, philosophies, and ideologies in this world; they do not seek to conquer the world; they have no history of invading, conquering, colonizing, enslaving, and exterminating peoples in any part of the world, as some other nations and ideologies have done and continue to do. Hindus did not conquer Arabia and the Middle East; Hindus did not colonize England or America or the rest of the world; Hindus did not buy and sell African Americans as slaves; Hindus did not exterminate the American Indians and confine them to reservations; Hindus have not launched well-funded proselytizing missions rampaging around the world. The fact is Hindus have been on the receiving end of these atrocities against humanity." Of interest, Pew Research Center reported in 2016 that Hindus were the most highly educated religious group in the United States, with 77 percent of adults having a college degree.
DREAM Session 3: Conversations on Race to Be Held Feb 18
The Orlando Mayor's Dr. Martin Luther King Jr. Commission will present the third event of The Dream Community Dialogue Series, facilitated by the Peace and Justice Institute, Valencia College, on Thursday, February 18, from 6:30 to 8:30 pm. Conversations on Race invites participants to discuss in a virtual format the topic of race and how it affects each of us in our daily lives as we consider action steps to help us move forward together toward more equitable communities. Issues of implicit bias, stereotypes, micro-aggressions, privilege and oppression will be addressed. A look at one of the hidden histories in our community, red-lining, will help create new awareness about systemic racism. Self-awareness and awareness of others' diversity are a key component of this session, and participants will engage in several breakout sessions to authentically share and listen to the lived experiences of one another. Click here to register (limited availability).
Indie Lens Pop-Up to Provide Screening of Mr. SOUL! Feb 19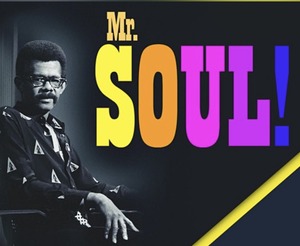 From 1968 into 1973, the PBS variety show SOUL!, guided by enigmatic producer and host Ellis Haizlip, offered an unfiltered, uncompromising celebration of Black literature, poetry, music and politics. At the time, such voices had few other options for national exposure. The series was among the first to provide expanded images of African Americans on television, shifting the gaze from inner-city poverty and violence to the vibrancy of the Black Arts Movement. Through participants' recollections and illuminating archival clips, Mr. SOUL! not only captures a critical moment in a culture whose impact continues to resonate, but also celebrates an unsung hero whose voice we need now more than ever to restore the soul of a nation. Check out the trailer and register to join audiences nationwide on Friday, February 19, at 6:00 pm (ET), for a free virtual Indie Lens Pop-Up screening of Mr. SOUL!, followed by Q&A with the producer, writer and director of Mr. SOUL!, Melissa Haizlip.
MLK Gospel Concert: Through Unity, We Shall Overcome
On Saturday, February 20, at 7:00 pm, a gospel-music spectacular will be presented by the Mayor's Dr. Martin Luther King, Jr. Commission on the Mainstage at Seneff Arts Plaza as a Frontyard Festival™ performance at the Dr. Phillips Performing Arts Center. The event's major sponsor is AdventHealth. The event will be is produced and directed by Grammy Award Winner Dr. Jefferey Redding, with Dr. Kelly Miller, Mr. Terrance Lane and Mr. Clay Trice, and featuring UCF University Singers, UCF Women's Choir, Orlando Choral Society, Garden Choir, Voci del Cuore, Encore, the Aeolians from Oakwood University (video/streaming), Bethune Cookman University, St. Mark AME Choir, Tuskawilla United Methodist Church Choir, Sisaundra Lewis and more. This is a free event, but you must register in advance as seating is limited. Guests are encouraged to bring non-perishable food items, which will be collected upon entry. Donations will be distributed by Second Harvest Food Bank to various community/school food pantries.
Faith Groups Asked to Spread Word Re Nemours Free Clinic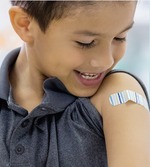 Faith communities and other organizations that interact with the potential beneficiaries of this venture are asked to spread the word that the free Nemours Mobile Clinic will be offering Free Well Child Checks and Vaccines (COVID-19 not included) for uninsured children 17 years old and younger. Family income must be less than or equal to 200% of the federal poverty guidelines. Call 407-650-7715 for an appointment. Locations, dates and times are: Saturday, February 20, and Saturday, March 6, 9:00 am to 1:00 pm, Hope Community Center, 800 South Hawthorne Avenue, Apopka, FL 32703. Saturday, February 27, 9:00 am to 1:00 pm, Florida Department of Health, Seminole County, 400 West Airport Blvd. Sanford, FL 32773. And Saturday, March 20, 9:00 am to 1:00 pm, Community Hope Center, 20 Old Vineland Road, Kissimmee, FL 34746.
Virginia Lawmakers Pass Death Penalty Repeal  
Last month, Virginia's House of Representatives joined the state's Senate in passing a death penalty repeal bill. Virginia Gov. Ralph Northam says he will sign the bill into law when it reaches his desk. Three House Republicans joined in approving the measure, which passed by a vote of 57-41. Virginia will soon become the 23rd state nationally and the first southern state to abolish the death penalty. An additional dozen states have not used the death penalty in more than ten years.
Family Storytelling: Keep Your History Alive! Feb 23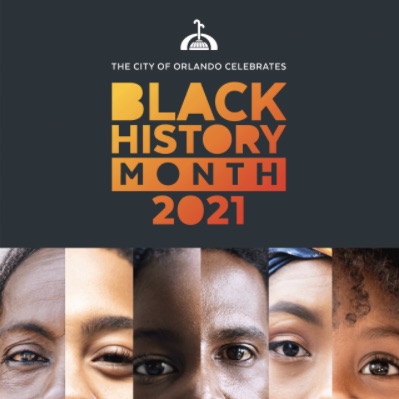 Every February, Orlando Mayor Buddy Dyer and the City Commissioners celebrate Black History Month by highlighting the lasting contributions and positive influence of Black Americans in the Central Florida community. In an abundance of caution and to avoid the spread of COVID-19, most activities and events this month will be conducted as dynamic virtual workshops and panels. The 2021 Black History Month theme celebrates the diversity of African American families as a core part of American society. In that context, author and storyteller Valada Flewellyn will present a multimedia program about the value of family storytelling, demonstrating how everyone can preserve their family history through stories. Panelists for the event are: Valada Flewellyn, author, poet and storyteller; and LaToya Flewellyn, of EYESEEIMAGES Media Time. This free virtual workshop—titled "Family Storytelling: Keep Your History Alive!"—will be held on Tuesday, February 23, at 6:00 pm (ET). Prior registration is required.
Protecting Places of Worship Zoom Presentation Feb 26
From 1:00 to 3:00 pm on Friday, February 26 (ET), speakers from the Federal Bureau of Investigation; U.S. Department of Homeland Security; U.S. Attorney's Office, Middle District of Florida; and the Cybersecurity & Infrastructure Security Agency will be featured during a Zoom presentation hosted by the FBI Tampa Citizens Academy Alumni Association, a community-based and community-supported organization that promotes a safer community through outreach and educational events, with emphasis on the mission and leadership role the FBI takes in protecting our communities and nation. You and one additional leader from your house of worship are invited to participate in this free Safety at Houses of Worship program. Leaders from houses of worship of all faiths from throughout Central Florida are invited. The FBI Vision is to be ahead of the threat through leadership, agility and integration. Participants must register in advance for this free Zoom meeting.
Interfaith Council Member Voices Concerns Re Legislation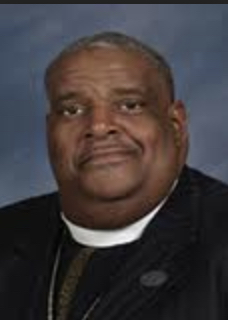 Rev. Dr. James Morris, an active member of the Interfaith Council of Central Florida and, until recently, vice chair of the organization's board, recently had an opinion piece published in the Orlando Sentinel expressing strong reservations about what has been dubbed the "anti-protest law" that's being considered by Florida's legislature. "Two radical companion bills are currently being considered in committees of the Florida Legislature—SB 484 in the Senate, and HB 1 in the House of Representatives," Morris said in his article. "The bills are sinister and alarming. And I don't use such terms lightly. . . . I'm not an alarmist who sees danger lurking around every corner. I'm not a pessimist who views every shadow with deep foreboding. But there are times when it's foolhardy not to recognize the true nature of proposed legislation. And this is one such time." From Morris's perspective, the law has very obvious racial overtones. "In the 1860s, recently freed slaves recognized the power of the ballot box. And ever since then, a white contingent has sought to curtail that power. In the 1960s, Blacks recognized the power of peaceful protest. And ever since then, a white contingent has sought to curtail that power." The article can be read in full here.
Neighborhood Organization Directory Ready for Your Listing
Did you know Orange County Government has a Neighborhood Organization Directory that is used to inform neighborhood or community groups about upcoming workshops, grant opportunities, important emergency response information and more? The annual update to this directory is about to begin. To include your neighborhood or community group—or to update your group's information—please register here. This directory includes details of faith-based entities as well as other nonprofits.
Interfaith Discussion to Be Held via Zoom on March 10
On Wednesday, March 10, the monthly Interfaith Discussion sponsored by the Interfaith Council of Central Florida will be held on Zoom from 7:00 to 8:30 pm. Topic for the evening's exchange: According to your faith tradition, what is a person's moral obligation, if any, to come to the aid of those who are being verbally denigrated or physically threatened because of their faith, their race, their gender, their sexual orientation, their politics or any number of other delineators that may lead to mistreatment? Are we ever justified in standing back and doing nothing? If the victims are total strangers, do we have less obligation than if they are our neighbors or family members? Please log in a few minutes before 7:00 just so you have time to deal with any failures to launch. The meeting is being hosted by the Baha'is of Orange County East. Click here to join the Zoom Meeting. Meeting ID: 834 6828 6041. Password: 537979. Dial by your location: +1 312 626 6799 US (Chicago) or +1 929 205 6099 US (New York). The monthly discussions are respectful, open and candid, and the participants represent a variety of faith traditions as well as those who question the validity of faith altogether. For more information, phone 321-228-4599.
Peace & Justice Alliance Webinar on Nuclear Weapons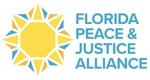 The Florida Peace & Justice Alliance will host a webinar on at 5:00 pm (ET) on Sunday, February 28, titled: "The journey to a world free of nuclear weapons—where we are, and how you can get involved." Featured presenters will be Dr. Lynn Ringenberg of Physicians for Social Responsibility Florida, and David Combs of the Union of Concerned Scientists. Click here to register for the webinar. Email Al Mytty for more information.
Who Stole My Bible? Getting Positive Reviews from Many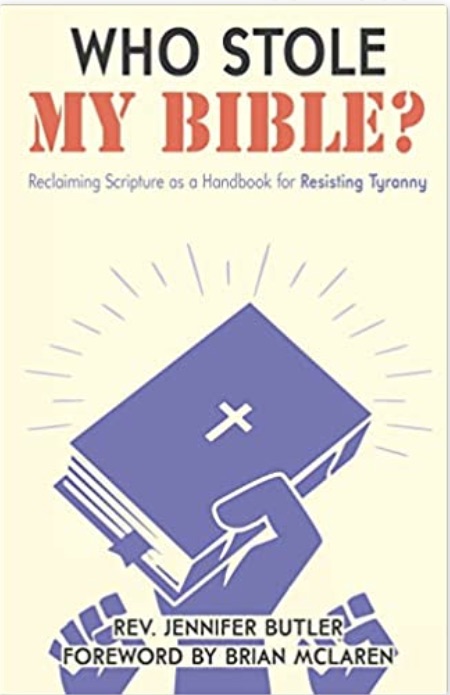 If you're a progressive Christian or even an unaffiliated onlooker who feels the Bible contains a strong voice for social justice, the book Who Stole My Bible? will provide considerable affirmation for your position. If you're not on that wavelength, the book may have no appeal or may force you to rethink some of your positions. Author Jennifer Butler spent ten years working in the field of international human rights, representing the Presbyterian Church (USA) at the United Nations. She's a former chair of the White House Council on Faith and Neighborhood Partnerships. She was an international human rights advocate. While mobilizing religious communities to address the AIDS pandemic and advocate for women's rights, she grew passionate about the need to counter religious extremism with a strong religious argument for human rights. So she founded an organization called Faith in Public Life. Rev. Butler maintains that the Bible has been hijacked. Thus the many examples of scripture we see being used and abused to justify racism, sexism, reactionary politics and even violence. She also recognizes that scripture is replete with stories of those who followed God's call to resist oppression and fearlessly pursue compassion, justice and human dignity. So she builds her book around such stories. Learn more about the book and what people are saying about it by going to Amazon.
Interfaith Council Asks for Your Help with Funding
If you appreciate what's being achieved by the Interfaith Council of Central Florida, we would welcome your support. Please send your contribution to: Interfaith Council of Central Florida, PO Box 3310, Winter Park, FL 32790-3310. Thank you for your assistance.
Unitarian Universalist Reflction
"To grow restless with who we are helps us move toward our ideals. Perfection is impossible, but we all have the potential to be more patient, more compassionate, more open-minded."—Stephen Shick (Unitarian Universalist, peace activist, reformer, clergy