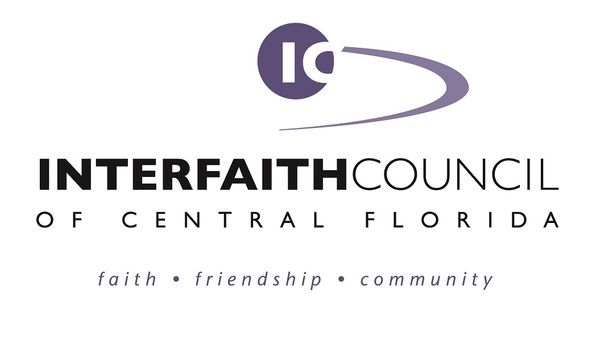 NEWSLETTER  –  JANUARY 2021
---
Baha'i Group to Host Virtual Interfaith 'Prayers for Peace'
In response to the tests and difficulties that are facing our nation and its people at this time, the Baha'is of Orange County East are inviting the public to join them for a virtual interfaith service titled "Prayers for Peace and Unity in America." The event will be held on Zoom on Saturday, January 16, at 2:00 pm. Join our Cloud HD Video Meeting; Meeting ID: 895 2362 2978; Passcode: 059876; Find your local number: https://us02web.zoom.us/u/kbgidxKkl7.

Interfaith Council to Host Interfaith/Multicultural Service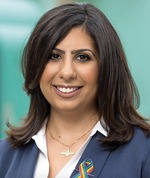 Join the Interfaith Council of Central Florida and the Orlando Mayor's MLK Commission in a celebration of the life and legacy of the Rev. Dr. Martin Luther King, Jr., bringing together voices, sounds and images from a diverse group of faith traditions, cultures and worldviews to affirm Dr. King's vision of "a beloved community." This annual event— to be conducted at 3:00 pm on Sunday, January 17 (via livestream because of the pandemic)—draws its theme from Dr. King's speeches, with this year's focus being "Love and Power." The keynote speaker will be Florida State Representative Anna Eskamani (pictured), a prominent figure in community activism and a finalist for this year's Orlando Sentinel "Central Floridian of the Year." Click here to access the 3:00 pm livestream. Check out the list of all the upcoming programs in Orlando that celebrate Dr. King.
Children's Advocacy Center to Host Session on Implicit Bias
The Children's Advocacy Center at Orlando Health is partnering with Omar Bohler of the Florida Department of Juvenile Justice to provide a virtual training session titled "How Implicit Bias Rules:  A System Reality Check." The event, which will be held Tuesday, January 19, from 10:00 am to 12:30 pm, will take an objective, interactive, data-driven look at how governmental systems—healthcare, housing, education, employment, dependency and criminal justice—may be influenced by implicit bias. The presentation will also look at the media's effect on a person's bias. To register, send an email to Ann Pimentel, letting her know you wish to participate.
Law Enforcement to Discuss Security for Worship Sites
The Mercy Foundation Inc is inviting clergy and/or lay leaders at houses of worship of all faiths to participate in a Zoom meeting on Tuesday, January 19, to discuss with local law-enforcement representatives how to ensure human safety and property protection during the pandemic in general and during the heightened threat of domestic terrorism connected to the inauguration of President-elect Joe Biden. There will be two Zoom meetings that day: at 10:15 am for Orange County residents; and at 1:15 for Osceola County residents. The Zoom access details are as follows. For Orange County: Join Zoom Meeting: https://zoom.us/j/91521334088?pwd=RWkrVmRJMnhEM0pKS0xwckFFdnlNdz09; Meeting ID: 915 2133 4088; Passcode: 662643; Dial by your location: +1 312 626 6799 US (Chicago). For Osceola County residents: Join Zoom Meeting: https://zoom.us/j/99946068871?pwd=NVMvU3FFbHh6b3JtVk5YWFo2akg5dz09; Meeting ID: 999 4606 8871; Passcode: 636121; Dial by your location: +1 929 205 6099 US (New York).
PJI Hosting The DREAM Community Dialogue Series

The Orlando Mayor's Dr. Martin Luther King, Jr. Commission, in partnership with the Peace and Justice Institute (PJI) at Valencia College, will from 6:30 to 8:30 pm on Thursday, January 21 present the first virtual workshop in a series of six in The DREAM Community Dialogue Series. These workshops focus on our shared humanity, with an exploration of race, religion, gender, sexual orientation, bias, systems of privilege and oppression and practical application. In this first workshop, facilitators will share the stories of their unique paths of identity development and the powerful changes it brought to their lives. These stories invite participants to consider how a deep exploration of identity, be it through the lens of race and ethnicity, gender, sexual orientation or socioeconomic class might transform one's life. Click here for more details and to register.
Religious Freedom Commission to Host 'Conversations' Event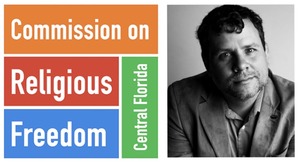 Preserving democracy and freedom depends on our ability to communicate with civility and curiosity, not hostility, towards strangers. That's why the Central Florida Commission on Religious Freedom has invited UCF Professor Thomas Bryer to speak at a virtual event titled "Public Conversations: Finding Common Ground in the Company of Strangers." In a recent Orlando Sentinel article, Dr. Bryer, wrote: "In a time when agreed-upon truth is difficult to find, the 2020 election results demonstrated one uncontestable fact on which all citizens can agree: the United States is home to a divided people. We are divided in how we prioritize values that guide our individual lives and shape our laws; we are divided in how we interpret data and experiences of others as a problem to be fixed or a non-issue to ignore. These divisions lead to tensions and sometimes violence as we wrestle with big ideas such as freedom, equity, equality, fairness, and the ever-present tension between liberty and general welfare in and across our society." Dr. Bryer uses an unusual teaching approach that brings together strangers to engage in civil conversation about issues that are highly divisive. Learn from Dr. Bryer and practice these skills in diverse small group conversations on religious freedom topics during a Zoom meeting to be held Tuesday, January 26, from 5:00 to 6:00 pm. The event is free, but registration must be completed in advance. Click here to register.
Orange County Offering COVID-19 Testing and Vaccination
The latter part of December Orange County received its first shipment of COVID-19 vaccine—16,000 doses of the Moderna vaccine. Focusing first on its EMS workers, the county has now begun vaccinating the county's 65+ population. Click here for more information about the vaccination process. Orange County Government's Health Services Department will offer COVID-19 testing seven days per week from 9:00 am to 5:00 pm through January 30 at Barnett Park. Both PCR/molecular and rapid tests are available to county residents at this site. Click here for important information about testing. Heart of Florida United Way is conducting a community-wide survey to understand how the COVID-19 pandemic has impacted people throughout Central Florida. They invite everyone to complete the survey, which is available online.
Stono Institute Offering Two New Programs for the Public
The Stono Institute for Democracy, Justice and Security is offering two new programs for the public: one focused on personal rights in response to police treatment, the other on rites-of-passage training for Black male youth ages 13-18. For more information on guarding your rights, phone 1-888-FIGHT10. For more information on the rites of passage, click here. The application deadline for the latter is January 31.
Holocaust Center Offering Unique Writing/Speaking Class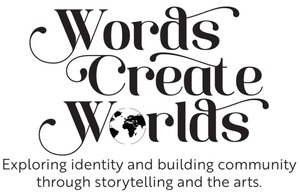 The Holocaust Center is inviting college students from different religious, spiritual and secular backgrounds to come together to participate in a series of creative workshops that will culminate in a final Spoken Word Showcase. Under the facilitation of touring artist and educator Joe Davis, students will get to know each other, develop community guidelines and have a crash course in the history and culture of the spoken word and slam poetry. Students will be invited to reflect on their own personal stories and to work together to create poetry around their unique identities and backgrounds. No prior experience in poetry, spoken word or performance art is required. Participants must commit to attending all sessions. The sessions, all virtual, will be on: February 21, 28; March 21; April 18, May 16 and 23. College students who are interested should contact Rachel Luce-Hitt by email or by phone (407-628-0555) by February 1.
Interfaith Discussion to Be Held via Zoom February 10
On Wednesday, February 10, the monthly Interfaith Discussion sponsored by the Interfaith Council of Central Florida will be held on Zoom from 7:00 to 8:30 pm. Topic for the evening's exchange is: Religious Persecution. What is it? Is it prevalent in today's world? Is it present in the United States today? Are adherents to your faith/worldview being persecuted here or elsewhere? Has your faith/worldview ever been a persecutor? What can we do to stop it? On Wednesday evening, February 10, please log in a few minutes before 7:00 just so you have time to deal with any failures to launch. Here are the log-on details for Zoom, which is being hosted by Baha'is of Orange County East: Join Zoom Meeting at https://us02web.zoom.us/j/83468286041?pwd=MzRCYWNneFRnTkVSTlIxeWpMaWY4UT09. Meeting ID: 834 6828 6041. Password: 537979. Dial by your location: +1 312 626 6799 US (Chicago) or +1 929 205 6099 US (New York). The monthly discussions are respectful, open and candid, and the participants represent a variety of faith traditions as well as those who question the validity of faith altogether. For more information, phone 321-228-4599.
Rights Activist to Present 'Facing Uncomfortable Truths'
In a virtual event from 12:00 noon to 1:00 pm on Wednesday, February 17, the Holocaust Center is inviting the public to log onto a program presented by human-rights activist and pioneer for racial equality Richard Lapchick. Lapchick will call upon his storied career as "the racial conscience of sport" to lead participants through a discussion of the uncomfortable truths reopened during our nation's recent racial reckoning. He will also discuss how the Me Too! movement opened up broader discussions on sexism and misogyny. And how the Washington football team's renaming helped us look at the genocide of indigenous people as part of the founding of America. Closer to home, he will talk about the Pulse nightclub shooting and its illumination of how far we have to go to conquer homophobia. Finally he will talk about the pandemic violence in our nation. The program is free but advance registration is required.
HUA Makes Available Replay of Webinar on Hindu Music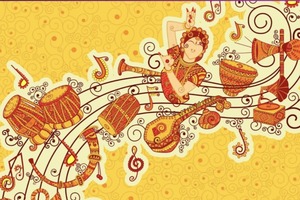 In December, Hindu University of America (5200 Vineland Road #125, Orlando, FL 32811) hosted a webinar titled "Hindu Musical Traditions: A Historical Perspective." The webinar—which is now being made available for those who didn't get to see it live in December—highlights the great diversity in Hindu art and musical traditions. Join Dr. Kanniks Kannikeswaran on a fascinating journey exploring how these traditions have evolved over the past two millennia across the length and breadth of India and throughout the Indian diaspora. In the midst of this extraordinary diversity is a common core centered on the "raga" and the "tala," which have their roots in Vedic Hindu spirituality. The webinar features several live and recorded musical illustrations and an interactive Q&A session. Dr. Kanniks is an internationally known musician, composer, music educator and scholar, with several large-scale musical productions and scores to his credit. Click here to sign up to view the webinar.
FADP Reports No Executions Conducted in Florida in 2020
Floridians for Alternatives to the Death Penalty reports that, aided by the organization's collaborative education and awareness activities, Florida's use of the death penalty is declining. Meanwhile, polls show public support for life is increasing. There were no executions in Florida in 2020, and new death sentences are down. "Now is the time for us to increase the momentum to create a safer, more humane and less violent Florida for us and our posterity," says FADP's Executive Director Mark Elliott. To that end, FADP is organizing targeted campaigns to the Governor to halt executions, to state attorneys to end death sentencing, and to policy makers to re-direct Florida's criminal-justice funding to focus more on restorative justice, healing and public safety. FADP's "Don't Kill for Me" storyteller project uplifted the voices of murder victims' families, exonerated death-row survivors, and all those directly impacted by the death penalty who support life over death. FADP is a non-profit and non-partisan statewide Florida organization of individuals and groups united to abolish the death penalty in Florida.
Baptist Joint Committee for Religious Liberty Sets Priorities  
In outlining the BJC's priorities for the new year, Executive Director Amanda Tyler says the organization will place even greater emphasis on involving scholars, theologians and faith leaders who are Black, Latino, Native American and from other communities of color. "We will also be examining our institutional history," she says, "reimagining our work at the intersection of religious liberty and racial justice. . . ." Moving on to talk about the negatives of Christian nationalism, which BJC has strongly opposed, Tyler says: "As Americans, we don't share a common religion, and not all of us claim a faith tradition. But we do share a constitutional system that says there are no second-class faiths. We all have an equal right and responsibility to engage constructively in the public square, regardless of our religion. . . . We champion Faith Freedom For All, a concept that considers everyone's religious liberty and not just the freedom of a privileged few. Protecting 'our religious liberty' can look very different from looking out only for 'my religious liberty.' We believe that this expansive vision for religious freedom has the power to unify our communities." Click here to learn more about the Baptist Joint Committee for Religious Liberty.
Religious Affiliations of Federal Legislature Changes Little
The religious composition of the 117th Congress has changed little from the 116th Congress, and has remained overwhelmingly Christian (88%), and heavily Protestant (55%), the Pew Research Center has reported. But the Congress, despite its diversity, isn't a perfect reflection of the makeup of the U.S. population—particularly when it comes to those without religious affiliation.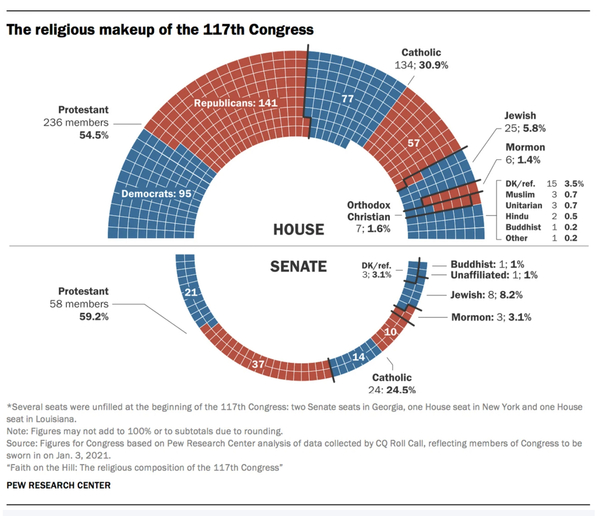 Orange County Inviting Residents to Take Violence Survey
In conjunction with the ongoing work of its Citizens Safety Taskforce—which is currently engaged in fact finding and the review of best practices that can help to lower violent crime (particularly gun violence)—Orange County is seeking input from residents of all backgrounds as it tries to determine the most effective way to minimize violent crime. So please click on this link to take a short, confidential survey about gun violence and violent crime in your community. The Orange County Citizens Safety Taskforce is made up of a highly diverse group of some 35 educators, law-enforcement officers, faith leaders, youth workers, non-profit directors and even some who've done time in prison but who've reformed and have deep concerns that others not follow the path they ill-advisedly took. The Task Force is co-chaired Rod Love, a local business owner and former Orange County Commissioner; and Pastor James Coffin, Executive Director of the Interfaith Council of Central Florida. The Task Force's fact-finding should be completed by mid March, after which a report will be prepared with recommendations for the county.
'Heathens Against Hate' Decry Attire of Insurrectionists
Many Christians were quick to denounce the crosses, the "Jesus 2020" flags, the Christian symbols worn and the Christian statements made by insurrectionists who stormed and vandalized the U.S. Capitol on January 6, murdering a law-enforcement officer and injuring many more. But Christians weren't the only ones angry because their faith was being connected to such nefarious activities. Heathens Against Hate and individual heathen and pagan adherents took issue with other symbols that were sported by out-of-control rioters—especially the horned headdress worn by a man calling himself Angeli. "As a devotee of the Horned God, I'm especially sickened by Angeli's perversion of the horns," wrote Jason Mankey, editor of Patheos' Pagan channel. "For me those horns represent oneness with the Earth, the pursuit of knowledge, and the liberation of the oppressed. The sickened MAGA crowd that stormed the Capitol building shares none of those values, and I hope Angeli is soon brought to justice, gets the mental health assistance he most obviously needs, and is then sent away to rot in jail for twenty years." Read more at Religion News Service.
CISA Produces Resource to Make Houses of Worship Safer


The Cybersecurity and Infrastructure Security Agency, which operates under the Department of Homeland Security, has created a new resource titled The Power of Hello Guide for Houses of Worship. The resource is tailored specifically for houses of worship and empowers all personnel to observe and evaluate suspicious behaviors, mitigate potential risk and obtain help when necessary. CISA provides a multitude of resources to support risk mitigation and help decision-makers implement cost-effective security measures to protect people and property. The products are available on the CISA Hometown Security website, on the new CISA Power of Hello website and on the Faith-Based Organizations—Houses of Worship website.
National Group Helping People Everywhere Re Drug Abuse
Alcohol and drug abuse are ever-present risks for all demographics. No one is every too rich or too poor to be at risk. No one is ever too young or too old. And to complicate matters, people tend to deny their dependency until they're in crisis. Fortunately, there are substance-abuse hotlines. And the national organization help.org offers a guide to substance-abuse programs/facilities in each state. If you or a friend or relative are facing a diminished life because of substance abuse, the foregoing links are worth checking out.
Interfaith Youth Core Issues Statement Re Capitol Invasion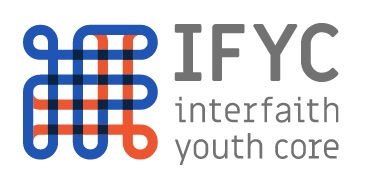 Following are the first three paragraphs of a statement issued by the Interfaith Youth Core in the wake of the January 6 assault by insurrectionists on our nation's capitol: "IFYC is dedicated to an America defined by religious pluralism—a country where people of all religious identities can thrive, develop relationships, and build a common life together. What we saw happening in the U.S. Capitol last week was nothing short of the desecration of American ideals. . . . In our work with people of diverse faith backgrounds, we take it as a given that people hold irreconcilably different beliefs. The glorious possibility of a thriving religiously diverse democracy is that, even with those differences, we can realize our nation's call of e Pluribus Unum. Yet religious pluralism requires a shared understanding and acceptance of reality-based facts. January 6 brought into sharp and bloody relief how consistent and outrageous lies from the highest halls of power and deliberate disinformation are fundamental threats to our democracy. Understanding truth from lies—whether about an election or about a person from another faith, race or background—is an essential part of our democratic project. . . . IFYC is founded on the idea that religious identity can be a powerful force to bring people together to work for the common good. The manipulation of racial and religious identity towards violence and distrust is an ugly part of our nation's history; the white Christian nationalism on display last week is an intolerable continuation of that story. IFYC insists that all religious and ethical communities are part of the American story. We believe that the 'better angels' of our religious traditions will prevail – but only if we work together to make it so. . . ."
BJC Executive Director Comments on Attack on Capitol
"What we witnessed this [January 6] was un-American and un-Christian, at least when we consider those descriptors in their ideal forms. . . . Those of us who claim both identities have a special responsibility not only to repudiate these actions but also to continue the work to dismantle Christian nationalism and to reveal how this dangerous ideology permeates our society." So says  Amanda Tyler, Executive Director of the Baptist Joint Committee for Religious Liberty, responding to this week's attack on the U.S. Capitol by a mob, many of whom cloaked their destructive acts in Christian imagery. Read her piece for Good Faith Media.
Interfaith Council Asks for Your Help with Funding
If you appreciate what's being achieved by the Interfaith Council of Central Florida, we would welcome your support. Please send your contribution to: Interfaith Council of Central Florida, PO Box 3310, Winter Park, FL 32790-3310. Thank you for your assistance.
Quaker Reflection
"I always forget how important the empty days are, how important it may be sometimes not to expect to produce anything, even a few lines in a journal. A day when one has not pushed oneself to the limit seems a damaged damaging day, a sinful day. Not so! The most valuable thing one can do for the psyche, occasionally, is to let it rest, wander, live in the changing light of a room."—May Sarton (1912—1995)