NEWSLETTER  –  MAY 2017
---
Sikhs Launch Million-Dollar Awareness Campaign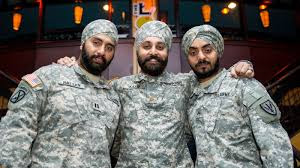 Early in April, Sikhs in the United States launched a million-dollar awareness campaign that aims to stop hate-fueled attacks by explaining more about who Sikhs are and what they believe. The "We Are Sikhs" campaign was years in the making, funded by Sikh leaders and their families across a dozen cities that have been swept up in anti-Muslim sentiment since the September 11 (2001) attacks. Their beards and turbans make American Sikhs easy targets for the angry and uninformed. The ads, which are airing on CNN, Fox News and on TV stations in Fresno, California, home to a large Sikh community, make no mention of the more than 300 hate crimes reported by Sikhs in the U.S. since the 2001 terrorist attacks. Rather, they feature Sikh families explaining how the world's fifth-largest religion, founded in India, aligns with American values. Read more from the AP article that the foregoing was excerpted from.

Florida Interfaith to Host Climate Conference

The third annual Florida Interfaith Climate Action Network is scheduled for April 28 at First United Methodist Church (142 East Jackson Street, Orlando, FL). This year's assembly theme—"Water Is Life"—is definitely a reality in Florida. And it's true from the precious Floridian Aquifer to the river of grass flowing into the Everglades to the rising seas along the beaches to the estuaries threatened by runoff and salinization to the growing threat of fracking. Projections are for a population increase in Florida of 15 million people by 2070, nearly doubling the current 20 million. With Florida already experiencing water issues, imagine 35 million residents fighting for clean water. This Assembly will give participants a working knowledge of Florida's critical water-system issues and will provide opportunity for participants to collaborate in networks with other to protect Florida's water. Register immediately.
Rollins College Offering Lifelong Learning Classes
Are you 50 years of age or older and have a bucket list of things you want to learn? Then the Rollins Center for Lifelong Learning may be just the thing for you. During May, June and July, the RCLL will continue to offer an array of classes that address subjects ranging from art to religion to current events to playing Mahjong. In fact, the array of classes is truly amazing. Each class costs $70. Classes fill up quickly, so register as soon as you know which class/classes you'd like to take. (It may be too late for some of the May classes, but June and July still beckon!) Have questions? Contact the RCLL by email or by phone (407-646-1577).
Friends Talking Faith with The Three Wise Guys

Hear the varied perspectives of the Rev. Bryan Fulwider, Rabbi Steve Engel and Imam Muhammad Musri as each week they discuss how faith impacts both the simple and the complex aspects of life. These three clergy come together as friends to discuss topics from the perspective of the different religions they represent. They contend that "good religion works for peace, respects and values others regardless of their religious perspective, and works through acts of compassion to make the world a better place for everyone." Friends Talking Faith with The Three Wise Guys airs on Tuesdays at 6:30 pm on 90.7 WMFE FM in Orlando. Tune in on your radio or listen online. You can also listen to any show already aired. Tune in each Tuesday during May at 6:30 pm.
May 2: Faith and Society: Difficult Conversations
May 9: Faith and Society: Mothers in the Middle
May 16: Faith and History: Owning Our Shadow: The 1920 Ocoee Massacre
May 23: Faith and Psychology: Our Veterans' Suicide Rate
May 30: Faith and Culture: Tribalism vs. Pluralism
Six-Week Interfaith Series Continuing at WPPL
The Interfaith Council of Central Florida is coordinating a series on "Faith Traditions Today: Who Is My Neighbor?" which will be held in the Community Room on the first floor of the Winter Park Public Library (460 East New England Avenue. Winter Park , FL 32789). The series, which began April 18, will run for four weeks in May, on Tuesday evenings, from 7:00 to 8:00 pm. The dates, the faith traditions to be highlighted, and the speaker for each faith, are: May 2, Christianity, Rev. Dr. Jason Micheli; May 9, Judaism, Rabbi David Kay; May 16, Sikhism, Mr. Nav Khalsa; May 23, Buddhism, (speaker to be confirmed). The presentations are free and the public is invited.
Interfaith Panel to Discuss Faith and Respect for Elderly

"What does your faith teach about how those of years and experience should be treated?" That's the question that an interfaith panel will address during a program to be held in the Stover Center at Westminster Winter Park (1111 South Lakemont Avenue, Winter Park, FL 32792) on Wednesday, May 3, from 2:30 to 4:00 pm. Panelists are: Dr. Sheri Dressler, Baha'i; Dr. Jim Appel, Christian; Ms. Rana Tiwari, Hindu; Ms. Barbara Weinreich, Jewish; Ms. Nuran Sykes, Muslim; and Mr. Surinder Panesar, Sikh. The program, which is jointly sponsored by the Chaplain's Office at Westminster Winter Park and the Interfaith Council of Central of Central Florida, is free and the public is invited.
Have Your Questions About Islam Answered by Muslims

Here are two options to learn more about Islam: (1) The Islamic Center of Orlando is providing an opportunity at 6:30 pm every Wednesday night for the public to have their questions answered about the Islamic faith. It's being done in a relaxed and casual setting "over a cup of coffee." They're even providing the coffee! The question-and-answer events will be held in the dining room of the Muslim Academy of Orlando (MAGO), situated at 11551 Ruby Lake Road, Orlando, FL 32836 (just off Apopka-Vineland Road, near Lake Buena Vista). For more detail or to make a reservation, phone 407-495-6139. (2) On the fourth Saturday of every month (May 27 this month), the Center for Peace at the Islamic Society of Central Florida hosts an "Open House Invitational" at which you can learn about Islam and the Muslim community—again, from Muslims themselves. The event Includes a presentation, a question-and-answer time, an international dinner, a tour of the mosque, and more. The event is conducted at the Center for Peace at the headquarters of the Islamic Society of Central Florida (1021 North Goldenrod Road, Orlando, Florida 32807).  A tour of the mosque will be conducted at 5:30 pm, followed by the rest of the program. Register at Eventbrite.
Dream Builders Network to Host Anniversary Breakfast

Dream Builders Network—a Christian network for men that "provides encouragement, group mentorship, connections and creative resources to help men pursue their God-given dreams"—will hold its 13th-anniversary breakfast on Thursday, May 25, from 7:00 to 9:00 am at Faith Hall, First Baptist Church Orlando (3000 South John Young Pkwy, Orlando, FL 32805). Theme for the event is "Perspective that Compels Us Forward." Advertising for the event says that those who attend will be "inspired by passionate people who are pursuing compelling futures." For more information about the program, cost and registration details, go to Eventbrite.
HUA To Host Conference About Sri Aurobindo

Hindu University of America (5200 Vineland Road, 120, Orlando, FL 32811) will host an international conference on May 4 and 5 about the Indian philosopher and yogi Sri Aurobindo. The presentations will focus on the grand visions of the ancient Indian wisdom he represented. This famous Indian argued that human society has evolved throughout history and is destined to continually move toward a better organization of life. He believed in a fundamental unity as the very basis of existence and at the foundation of all things. The conference will focus on the relevance of Sri Aurobindo's philosophy and its applicability to the problems confronting society today. Despite the profundity of his philosophy and its wider implications, his ideas are less well-known in the West than in the East, and there have been few conferences that make an in-depth study of his philosophy. This conference aims to fill that gap. The conference will be held at HUA's Mahatma Gandhi Center for Nonviolence, Human Rights and World Peace. For more information, click here.
Buddha's Birthday, Asian Food Festival on May 7

Guang Ming Temple (6555 Hoffner Avenue, Orlando, FL 32822) invites the public to its  2017 Buddha's Birthday Celebration and Asian Vegetarian Food Festival from 10:00 am to 4:00 pm on Sunday, May 7. The event is free, though the food, which is very reasonably priced, must be purchased. The Buddha's Birthday Celebration Ceremony and Offering Procession in the temple will begin promptly at 10:00 am. The Asian Vegetarian Food Festival and general entertainment are expected to begin outside at about 11:30 am. Guests will also have the opportunity to tour the temple. This is one of the largest events Guang Ming Temple presents each year, attracting thousands from across the state. It is hosted by the Florida Chapter of Buddha's Light International Association. Guang Ming Temple is one of over 200 Fo Guang Shan temples spread throughout the world. For more information, contact Guang Ming Temple at 407‐281‐8482.
St. Luke's United Methodist to Host Interfaith Picnic
St Luke's United Methodist Church (4851 South Apopka-Vineland Road, Orlando, FL 32819) invites the community to join them on Sunday, May 7, from 1:00 pm to 3:00 pm for "an afternoon of fellowship, food and fun" and a chance to get to know others "of all cultural and religious backgrounds." It's an opportunity to "try some different foods, play games and enjoy good company." Those who attend are asked to "share a part of your culture by bringing a special dish." Drinks and desserts will be provided. The event will be held in the picnic area behind Building C. Please RSVP by email. Direct any questions to Elizabeth Vasquez by email or by phone (407-876-4991 x 216)
Go Hear 'The Three Wise Guys' Address Capital Punishment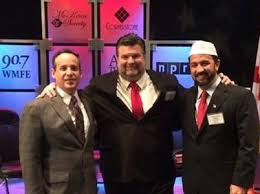 If you enjoy listening to the Three Wise Guys on the radio program Friends Talking Faith, mark your calendar right now for an in-person presentation titled "Faith, Politics and Capital Punishment–A 'Three Wise Guys' Event." (Rabbi David Kay will be standing in for Rabbi Steven Engel, who can't present because of a scheduling conflict.) The public is invited to this free presentation on Monday, May 8, at 7:00 pm at the Lake of the Woods Clubhouse (300 Carolwood Point, Fern Park, Casselberry). The event is sponsored by the Interfaith Council of Central of Central Florida and coordinated by several residents of the Lake of the Woods subdivision. For more information, phone 321-228-4599. Click here for directions.
Senior Food and Lifestyle Fair Set For May 9
Table 60, a food-insecurity initiative for seniors in Central Florida, is hosting a Senior Food and Lifestyle Fair on Tuesday, May 9, from 10:00 am to 2:00 pm at the Winter Park Community Center (721 West New England Avenue, Winter Park, FL 32789). This free event will feature a broad array of services and programs—refreshments, fresh produce, cooking demonstrations, health screening, movement lectures, federal food assistance (SNAP) information, medication-disposal information and more. Free transportation for Winter Park residents is available (phone  407-599-3364 by Friday, May 5, 12:00 noon to make a reservation).
What Does Your Faith Say About Judicial Reform?

The sacred writings of most faith traditions have a lot to say about justice and the moral responsibility that rests on government decision makers. So what does your faith tradition say about the judiciary? What reforms would be implemented if we were to follow the mandates in your faith's sacred writings? What role would judges play? Is there even any similarity between the way our judiciary functions today and the ideals advocated in your faith's ancient spiritual texts? Those questions and more will be the focus of the Interfaith Discussion on Wednesday evening, May 10, sponsored by the Interfaith Council of Central Florida. The discussion is held from 7:00 to 8:30 pm on the second Wednesday of each month at Adventist University of Health Sciences (671 Winyah Drive, Orlando, FL 32803) on Florida Hospital's main campus. The exchanges are respectful, open and candid, and the participants represent a variety of faith traditions as well as those who question the validity of faith altogether. For directions to the meeting place, click here. Admission is free. Everyone is invited.
Northland to Host Dialogue on Christian-LGBTQ Relations
On Thursday, May 18, at 7:00 pm, Northland Church (522 Dog Track Road, Longwood, FL) will host a public event titled "Elevating the Dialogue." Rev. Terri Steed Pierce of Joy Metropolitan Church in Orlando, and Bishop Kelvin Cobaris, of The Impact Church of Orlando, will join Pastor Joel C. Hunter to discuss how Christians can work to make Orlando churches more inclusive and supportive of LGBTQ people, regardless of a church's theological positions on marriage and sexuality. Amelia Markham, an organizer with The Reformation Project (TRP), will moderate the discussion; and Matthew Vines, executive director and founder of TRP, will facilitate a Q&A. Love the Sinner, a short documentary film that explores the connection between Christianity and homophobia in the wake of the shooting at Pulse nightclub in Orlando, will be shown ahead of the conversation. The film, directed by Jessica Devaney and Geeta Gandbhir, will premier at the Tribeca Film Festival in New York this month. "This is not meant to be a debate, but a learning time for all who attend," says Pastor Hunter. "I need to be confronted with how I unintentionally hurt people or communicate a lack of respect. We all need to stop blaming others and start searching our own hearts for solutions to community divisions." The event is free and open to the public. For updates, please follow #ElevateDialogue across Facebook, Twitter and Instagram.
United Against Poverty Needs Shopping Carts

Imagine that during your regular trip to get groceries, you walk into the store and discover there are no shopping carts. What would you do? Perhaps go elsewhere? But what if that was the only place you could afford? In recent weeks the shopping-cart inventory at the food store at United Against Poverty has dropped to 29 carts—for use by a clientele of more than 400 families who rely on the UAP's Grocery Program each day. To help solve the problem, UAP has set up a crowdfunding page to raise the necessary funds to bring the cart inventory up to 90. Each cart costs approximately $222. UAP is asking community members to consider making an online gift of any amount, or by sending a check (with "Shopping Carts" in the memo line) to United Against Poverty (150 West Michigan Street, Orlando, FL 32806.) UAP is also introducing added security features to prevent the new carts from leaving their campus, meaning contributors can rest assured that their investment will provide a dignified shopping experience for years to come.
GPFF, WPPL, WUCF to Screen Indie Film Real Boy

The Global Peace Film Festival, the Winter Park Public Library and WUCF TV are partnering to bring the public a screening of Real Boy, the coming-of-age story of Bennett, a trans teenager with dreams of musical stardom. During the first two years of his gender transition, as Bennett works to repair a strained relationship with his family, he is taken under the wing of his friend and musical hero, celebrated trans folk singer Joe Stevens. The film will be screened at the Winter Park Public Library (460 East New England Avenue, Winter Park, FL 32789) on Sunday, May 21, at 2:00 pm. Admission is free.
Christian Clergy Being Sought to Help Prison Ministry

Kairos Prison Ministry International, a non-denominational Christian nonprofit, is seeking Christian clergy of all denominations to assist in the organization's ministry in Central Florida. Although there's a particular need for clergy, anyone interested in prison ministry should feel free to volunteer. To get an idea of what Kairos volunteers do, watch this video from the Branchville Correctional Facility in Indiana. To learn more about how to become involved, peruse the Kairos website, then send an email indicating the nature of your interest. (We apologize that when we ran this notice last month we linked to the wrong email address. That has now been corrected.)
State Department Seeking Homes for Exchange Students

Each year American Councils for International Education sponsors some 2,000 scholarship students from the former Soviet Union, the Middle East, the Balkans, Africa or Southeast Asia, creating an opportunity for Americans to open their hearts and homes, sharing U.S. culture, gaining a new family member and promoting mutual understanding. The students come for one academic year on fully funded U.S. State Department merit scholarships. They attend the local high school of the host family and receive a monthly stipend and medical coverage. Host families provide meals, accommodation and a nurturing, English-speaking home environment. The students are encouraged to be active in volunteering and learning about American society. Sometimes students seek a host family of a specific faith tradition. You can be part of changing the world one family and one student at a time. View a brief videoexplaining the program. For further information, send an email to Susan Peterson, local coordinator of American Councils. Or phone her at 407-678-4693 (home) 321-439-1105(cell).
Your Tax-Deductible Contributions Always Appreciated
If you appreciate what's being achieved by the Interfaith Council of Central Florida and Friends Talking Faith With the Three Wise Guys radio program, we invite you to contribute on a regular basis to these community-based, community-benefitting activities. It may be every month, once a quarter or annually. And it may be a large contribution or small. But whatever it is, you'll have the satisfaction of knowing that you played a part in helping to make our community more harmonious and peaceful. All contributions are tax-deductible and may be sent to: PO Box 3310, Winter Park, FL 32790-3310. Or you can click here to contribute online. Thank you for your help.
Baha'i Reflection

"If the learned and worldly-wise men of this age were to allow mankind to inhale the fragrance of fellowship and love, every understanding heart would apprehend the meaning of true liberty, and discover the secret of undisturbed peace and absolute composure."– Bahá'u'lláh