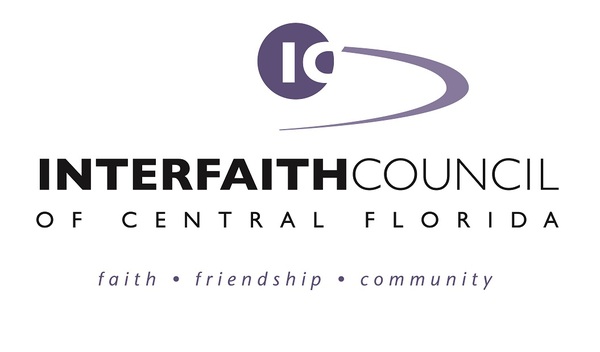 NEWSLETTER  –  JANUARY  2014
---
Pope Calls for Continued Inter-Religious Dialogue
In an address to the plenary assembly of the Pontifical Council for Interreligious Dialogue at the Vatican in November, Pope Francis stated: "The Catholic Church is conscious of the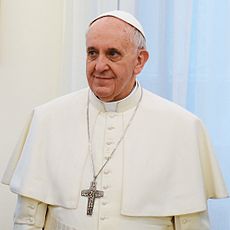 value of the promotion of friendship and respect between men and women of different religious traditions. . . ." The pope continued: "Dialogue does not mean renouncing one's own identity in approaching others, nor does it mean accepting compromises on faith and Christian morality. On the contrary, 'true openness involves remaining steadfast in one's deepest convictions, clear and joyful in one's own identity' . . . ." The pope concluded by saying: "The future is in respectful co-existence in diversity, not in the uniformity of a single theoretically neutral thought. The recognition of the fundamental right to religious freedom, in all its dimensions, therefore becomes indispensable. . . ." The full news release may be read at the Vatican Information Service website.Rabbi Sherwin Leads WhiteHouse Hanukkah Event

A "son of Orlando," Rabbi Joshua Sherwin, officiated at one of two Hanukkah celebrations at the White House in early December. Rabbi Sherwin is the son of Rabbi Rick and Elissa Sherwin of Congregation Beth Am in Longwood. The younger Rabbi Sherwin is a chaplain in the Navy, currently stationed at the U.S. Naval Academy in Annapolis, Maryland. In sharing the details of the White House event–and the video link–with his Beth Am congregants, Rabbi Rick Sherwin said: "It was significant that, as President Obama noted, Hanukkah parallels the message of Nelson Mandela's life in securing freedom for all. InLong Walk to Freedom, President Mandela writes, 'To be free is not merely to cast off one's chains, but to live in a way that respects and enhances the freedom of others.'"How to Bring Peace to the "Christmas Wars"
In an article bearing the less-than-humble title "Happy Holidays vs. Merry Christmas: The Last Thing That Ever Needs To Be Said About It," Paul Brandeis Raushenbush, senior religion editor of the Huffington Post, shares his views on how to bring an end to the "war on Christmas." For the most part, his article provides a simple, commonsense, just-follow-the-golden-rule approach–at least when describing why "Happy Holidays" may at times be the appropriate greeting of December cheer. Symbols Abound in Florida Capitol's Rotunda
When the privately operated Florida Nativity Scene Committee was granted permission to

set up a nativity scene in the rotunda of Florida's capitol, the Wisconsin-basedFreedom From Religion Foundation sought and received permission to hang a banner celebrating the Winter Solstice. In fact, an array of other religious symbols also found their way into the rotunda, including a menorah. A South Florida man sought and received permission to display a "Festivus pole" (popularized by a 1997 episode of "Seinfeld") made of Pabst Blue Ribbon beer cans. FFRF lawyer Andrew Seidel is quoted on the WSFU website as saying: "When a religious group seeks to co-opt the power and prestige of the government, the best way to dilute that co-opting of the power and prestige is to put up our own message." According to the Fox News website, "Groups that advocate for the separation of religion and government say the [Nativity] display is on solid constitutional grounds because the state is not spending money on it and it [the state] has designated the Capitol rotunda as a public forum."Friends of the Wekiva River Hosting Field Trip
Join forest ranger Mike Martin and author and filmmaker Bill Belleville at 9:00 am on Saturday, January 4, as they lead a Friends of the Wekiva River field trip on a tour of some of Seminole State Forest's best-kept secrets. Small springs dot the Seminole State Forest, ranging from tiny seeps to beautiful pools, hidden throughout the forest.  Martin and Belleville will lead a driving-and-walking journey to several of the springs. They will also provide interesting geological and historical information about each location. The field trip is suitable for people of all ages. Participants will be walking short distances–no more than a quarter of mile at a time over uneven terrain–and will be transported via 4WD truck over longer distances throughout the property. Meet at 9:00 am at the Bear Pond Trail Head of Seminole State Forest, 32058 State Road 46, Sorrento.  A $2 per person cash "honor entrance fee" is required. Participants must have comfortable walking shoes, insect repellant and drinking water. The field trip will last 2-3 hours. For more information, contact assistant park manager Amy Conyers: 407-884-2006 or Amy.Conyers@dep.state.fl.us.

"Friends Talking Faith" Radio Program



Hear the varied perspectives of the Rev. Bryan Fulwider, Rabbi Steve Engel and Imam Muhammad Musri as each week they discuss how faith impacts both the simple and the complicated aspects of life. "Friends Talking Faith with The Three Wise Guys" airs on Tuesdays at 6:30 pm on 90.7 WMFE FM in Orlando. Tune in on your radio or listen online. You can also listen to any show already aired. January's programs are:
January 7: Faith and Religion–Making and Keeping Promises
January 14: Faith and Society–Mental Illness
January 21: Faith and Society–The Rev. Dr. Martin Luther King, Jr.
January 28: Faith and Science–Religion and Space Exploration
Do You Have Questions about Islam?
Here are two options to learn more: (1) The Islamic Center of Orlando is sponsoring an open house at 6:30 pm every Wednesday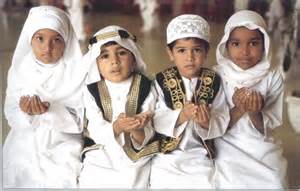 night to answer the public's questions about the Islamic faith. night to answer the public's questions about the Islamic faith. And it's being done in a relaxed and casual setting "over a cup of coffee." They're even providing the coffee! The question-and-answer events will be held in the dining room of the Muslim Academy of Orlando (MAGO), situated at 11551 Ruby Lake Road, Orlando, FL 32836 (just off Apopka-Vineland Road, near Lake Buena Vista). For more detail or to make a reservation, phone407-495-6139. (2) Every Saturday from 10:00 am to 1:00 pm at the Islamic Society of Central Florida's Center for Peace (1021 N. Goldenrod Road, Orlando, Florida 32807) you can learn about Islam and Muslims from Muslims. The sessions include in-depth discussions, film presentations, field trips and much more. The goal is to help build a community based on acceptance and respect. Register here. For more detail, phone 407-273-8363.
Prayers as Cure for HIV Causing Controversy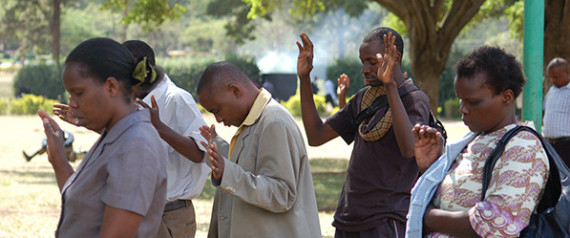 Few, even among those who don't believe in the benefit of prayer, would seek to deny sufferers of physical illness the right to beseech God for healing. But it becomes altogether more problematic when the advocates of prayer insist that the sick people give up their medicine and dependsolely on prayer for their cure. Yet that's what's happening in parts of Africa. And to make matters worse, in some cases those seeking cure through prayer are sent to a specific "lab" for testing, where they're declared to be cured–only to subsequently discover that they're actually more desperately ill than before. "The prayer healings are especially worrisome," says an article in the Huffington Post, "because people who quit treatment may become resistant to the drugs." Those whose lives have been turned upside down by such practices argue that such faith healers belong in jail. Since governments are reticent to become involved, more-moderate churches are speaking up and even organizing to combat the damage being done.
Interfaith Discussion Slated for January 8
Who or what provides the authority for your faith tradition's beliefs and practices? Do you have writings you believe are inspired? Do prophets still arise periodically? How would you recognize a prophet? Do councils and committees decide what's truth? Who or what speaks authoritatively? And has it changed since the founding of your faith tradition? That's the theme to be addressed by the Interfaith Discussion Group on January 8. The group meets from 7:00 to 8:30 pm on the second Wednesday of each month at Adventist University of Health Sciences on Florida Hospital's main campus. The discussions are respectful, open and candid, and the participants represent a variety of faith traditions as well as those who question the validity of faith altogether. For directions to the meeting place, click here.
Emergency Training for Seminole Faith Leaders
Active shooters, tornadoes, lock-downs, hazardous-materials events–these are just some of the unpredictable emergencies that faith leaders may have to deal with in their house of worship or in their surrounding community. A good first step in helping Seminole County faith leaders prepare for the gamut of possible emergencies is for them to attend the Active Shooter Emergency Planning Workshop on Friday, January 10, from 8:30 to 10:00 am at the Seminole County Public Safety Building, Emergency Operations Center, 150 Bush Blvd., Sanford, Florida 32773. Direct questions and/or RSVP to 407-665-5102 oraharris@seminolecountyfl.gov.
Court Says Only Muslims Can Call God "Allah"
The Catholic Church in Malaysia is facing formidable opposition as it appeals a court ruling that prevents Christians and other non-Muslim Malaysian minorities from using the word "Allah" when referring to God–a practice they've followed for centuries. A three-judge panel made the ruling in October 2013. The Catholic Church in Malaysia has appealed, and the case is scheduled to be heard on February 24. The Malay Mail Online website says that according to "a 2010 census, Muslims are Malaysia's largest religious group, followed by Buddhists. Christians are the third-largest at 2.6 million, which comes up to about 10 per cent of the entire Malaysian population. . . . Bumiputera Christians, who form about 64 per cent or close to two-thirds of the Christian community in Malaysia, have used the word 'Allah' when praying and speaking in the national language and their native tongues for centuries."
"Christian College Choice" Helping Students
Graduating from high school but not sure what college/university to attend? Want to attend one that's supportive of the Christian values you subscribe to? Not sure how to sift through all the facts and figures to find what's right for you? Then Christian College Choice could be of help. This website is a sort of primer that provides checklists to help young Christians decide what they really want from an educational institution. While the checklist questions are basic, they may help would-be students of higher education to decide what they're looking for and which aspects of a school are most important on their personal priority scale. The questions provoke thought about value and affordability, faith and learning, practical strategies and professional preparation.
MLK Candlelight Vigil and Interfaith Service
On Sunday evening, January 12, the public is invited to join an array of religious and civic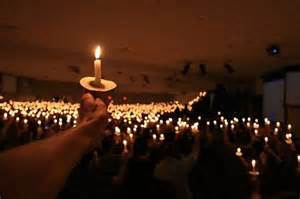 leaders at the Orlando City Hall, where you'll receive a commemorative T-shirt and glow stick. The "candlelight" vigil and march will leave City Hall at 6:00 pm (so arrive earlier), led by Mayor Buddy Dyer and proceeding to First United Methodist Church (142 East Jackson Street). There we'll conduct the city's annual MLK Interfaith and Multicultural Service, featuring as speaker Rabbi David Kay, associate rabbi of Congregation Ohev Shalom in Maitland. This year's event will highlight the words of Dr. King: "In the end, we will remember not the words of our enemies, but the silence of our friends." Sponsored by the Interfaith Council of Central Florida and the City of Orlando Mayor's Martin Luther King, Jr. Commission, the event provides a natural catalyst for dialogue with children and youth about the history of the Civil Rights Movement, the contributions of Dr. Martin Luther King, Jr., the advances made and the challenges that still remain. Spread the word concerning this truly special celebration and learning opportunity. For more detail, and to see a list of all activities associated with the MLK holiday, go to the website of the City of Orlando.
Pace Center for Girls Accepting Applications
Do you know a girl between the ages of 11 and 17 who's dealing with:
Truancy?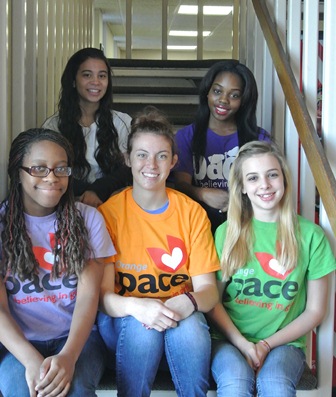 Probation or other Department of Juvenile Justice issues?
Repeated school suspensions?
Underachievement?
Behavioral issues?
Trauma recovery?
Mental-health concerns?
PACE school for girls is currently accepting applications for the Spring 2014 term. Girls must register immediately to start classes in January. PACE now provides pick-up and drop-off from the downtown Lynx Station. Call 407-992-0456 ext 205 oremail today to make a referral to PACE or to get more detail.
Catholic Diocese Sponsoring Interfaith Prayer Service
"In Remembrance of Those We Have Lost" is the focus of this year's Interfaith Prayer Service for Peace on Tuesday evening, January 14, organized by the Catholic Diocese of Orlando. The event will be conducted at St. James Cathedral, 215 North Orange Avenue, Orlando, FL, from 7:00 to 8:00 pm. A reception will immediately follow the service. Spiritual leaders from many of Orlando's array of faith traditions will share scriptures, music and other readings from their respective faiths that focus on peace despite personal loss. The public is invited. For details and to RSVP, contact Alejandro Luciano: 
407-246-4819
or 
advocacyjustice@orlandodiocese.org
.
Habitat for Humanity Seeking Volunteers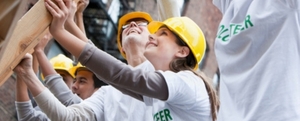 Habit for Humanity volunteers–working on construction sites, in Habitat's ReStores or in other capacities–have helped more than 600,000 families worldwide realize the dream of owning a simple, decent, affordable home. And the need for volunteers isn't abating. Habitat ReStores need warehouse assistants, pricing-room assistants, furniture movers and deconstruction assistants. And that's over and above the help needed from volunteers on construction sites. In fact, whatever your talent, there's probably a role you could play for Habitat. The best way to find out is to attend an orientation session–Tuesdays at 9:00 am and Thursdays at 5:30 pm. For more detail, phone Jamacan Penney-Vassey at 407-688-8874.
Nile Foundation Changing Its Name
No matter how difficult it may be, old dogs do at times have to learn new tricks. And now is

one of those times–thanks to the fact that theNile Foundation is changing its name to theAtlantic Institute. For those unfamiliar with the Nile Foundation, the group has been promoting dialogue, respect, and cooperation in the community since its foundation in 2003," says its director, Huseyin Peker, noting that its "mission has been the facilitation of cultural understanding and acceptance of diversity." Peker says that "in order to create greater awareness of our goals and mission, we have elected to associate with other organizations in the Southeastern United States who perform similar activities. . . ." And "for better recognition and branding purposes, we have all agreed to known as the Atlantic Institute in Southeastern United States." As of January 2014, the Nile Foundation will be known as the Atlantic Institute – Central Florida.
Atlantic Institute Sponsoring Art/Essay Contest
The Istanbul Center and Atlantic Institute are sponsoring an Art & Essay Contest that addresses the theme "Creating a Legacy of Understanding." The deadline, which has been extended, is now January 17. That's not far away, so any middle-school or high-school students who wish to participate must move quickly! The rules are specific and comprehensive, but the prizes make it well worth the time required. So check out thecompetition rules and see if your son or daughter or some youth you know might be interested in participating. Also, read about the winners from last year. For further information phone 407-601-7937.
Movie Critiques Role of Religion in Black Community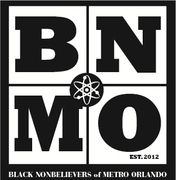 Karl Marx declared religion to be the opiate of the masses. Jeremiah Camara, maker of the movie Contradiction, would no doubt agree. As would the Black Nonbelievers of Metro Orlando and the Freethought Film Festival Foundation, who are sponsoring the movie's screening on January 19, at the Plaza Theater in downtown Orlando (155 South Orange Avenue) at 3:30 pm.  This movie is not an affirmation of religion. Quite the opposite. It's a hard-hitting, negative assessment of religion's perceived contradictions and shortfalls–"a very penetrating, full-length documentary that shows the ill effects of religion on America's most religious community: the black community," is how it's described. That having been said, for those religious leaders who subscribe to the axiom that you can learn more from your critics than from your fan club, viewing it might help you improve the way you and your house of worship "do religion." You can view a trailer of the movie and read more about it on Facebook.
100,000 Per Day Fed at Sikh Golden Temple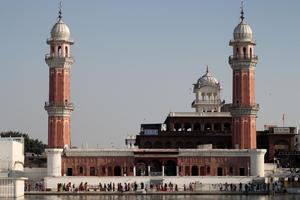 Hospitality is foundational to Sikhism. Go to a Sikhgurdwara (house of worship), and you'll be asked to stay for the "langar" (hospitality meal). So it's only natural that visitors to the Sikh's Golden Temple in Amritsar, India, would be invited to partake of a langar. The only difference between the langar at the local gurdwara and at the Golden Temple is probably about 99,800 people! And at the Golden Temple, it's provided every day! To see a photo collage and read about the immensity of this hospitality operation, click here. 
"Orlando Cares" Providing Volunteer Opportunities
Are you looking for an interesting and rewarding volunteer service opportunity? Do you enjoy working with children? Do you want to help Central Florida's younger set get a better start in life? Then "Orlando Cares" may be just the outlet for you. The five main volunteer options are: (1) Mayor Buddy's Book Club, (2) Preschool Ambassadors, (3) The Garden, (4) Path Finders and (5) Third-Grade Reads. And what do each of these each entail? You'll find the answers, and can register to help, at http://www.orlandocares.net. But if you still have questions, phone the Office of Community Affairs at 407-246-2500. You'll be glad you got involved. And so will the children whose lives you touch.
Muslims Address Domestic Violence Against Women
The Orlando chapter of the Islamic Circle of North America is sponsoring a lecture on domestic violence against women, which is a widespread social problem in the United States and around the world. The lecture, presented by educator Dr. Ishaq Zahid, will look at current statistics and discuss ways to change a bad husband-wife relationship to one of love and compassion. The lecture will be held on Thursday, January 9, from 7:00 to 8:00 pm, at the Alafaya Branch Library (12000 East Colonial Drive, Orlando). The lecture is free and open to the public. Reservations can be made by email or by phoning 407-479-8856.
Law Professor Delivers TEDx Talk on Earth Care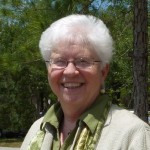 Sister Patricia Siemen (OP, JD), director of the Center for Earth Jurisprudence at Barry University School of Law in Orlando, recently addressed one of her passions–the rights and inter-relatedness of the total web of nature–in a TEDx talk in Jacksonville. Her presentation focused on the relatively new concept that the earth's non-human components actually have rights. She also described her own dawning of awareness about the need to view everything in light of the whole of creation. Click here for a video overview of the mission of the Center for Earth Jurisprudence.
Playback Theatre to Present Perspectives on Peace
What is peace? How is it achieved on a personal level? Within local communities? On a

global scale? On January 26 (with performances at 7:30 and 9:30 pm), Central Florida audiences will have a unique opportunity to hear those questions answered through an interactive form of improvisational theatre known as Playback Theatre. Titled "Peace: Through Your Eyes," the program, co-sponsored by Satori Entertainment and the Timucua Arts Foundation, will use improv storytelling to explore your perceptions on Peace. Audience members are encouraged to share moments, situations, and even dreams from their lives.  The highly trained improv actors will re-create the story, "playing back" what was shared in a safe environment.  Every story honored will be simultaneously entertaining, powerful and profound. Audience members will gain a whole new perspective on Peace. The event is held at Timucua White House, 2000 S. Summerlin Ave. Admission is free–other than your being asked to bring a bottle of wine or a food contribution to the "potluck" before the performance. To learn more and to make a reservation, send an email to operations@satorientertainment.com or phone 407-668-3416.
Indian Community to Celebrate India's Republic Day
The general public is being invited to join the Central Florida Indian community in celebrating India's Republic Day, on Sunday, January 26, from 1.30 to 4.00 pm at the Community Hall of the Hindu Society of Central Florida, 1994 Lake Drive, Casselberry, FL 32707. The event includes a cultural program and speech by Dr. Piyush Agrawal, a distinguished guest from Miami. Following the program Indian snacks and tea and coffee will be served. Admission is free with prior RSVP by January 23 tohscfnewagegroup@gmail.com.
Prince Charles "Deeply Troubled" by Persecution
Britain's Prince Charles, a long-time advocate and supporter of interfaith dialogue and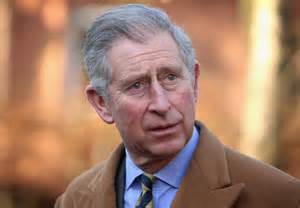 interaction "delivered an impassioned warning about the dangers faced by Christians in the Middle East, at an interfaith Christmas reception held for religious leaders at Clarence House," reports the Huffington Post. "It seems to me that we cannot ignore the fact that Christians in the Middle East are increasingly being deliberately targeted by fundamentalist Islamist militants," the prince told those assembled. "For 20 years I have tried to build bridges between Islam and Christianity and to dispel ignorance and misunderstanding, . . . The point . . . is that we have now reached a crisis where the bridges are rapidly being deliberately destroyed by those with a vested interest in doing so."
Stepsister of Anne Frank to Speak in Altamonte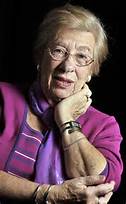 The stepsister of Anne Frank will speak on February 9, at 7:00 pm at the Altamonte Hilton, 350 North Lake Blvd, Altamonte Springs, FL 32701. Currently living in the the United Kingdom in London, Mrs. Eva Schloss, stepsister and childhood friend of Anne Frank, will be interviewed by Greg Dawson of the Orlando Sentinel, who has written a book about his own mother's survival of the Holocaust. The event's theme is: "Learning from the past, living the present, looking to the future." Tickets cost $20 if purchased by January 31. Click here for further information and to purchase tickets. The event is sponsored by Chabad of North Orlandoand Chabad of Greater Orlando.
Building US, Interfaith Council Gain 501(c)(3)
Tax-deductibility for contributions is assured now that Building US and the Interfaith Council of Central Florida received their official non-profit certification from the IRS last month. "The mission of the Interfaith Council of Central Florida is to create a better, more peaceful, more harmonious community by encouraging and facilitating greater interest in, understanding of, respect for and cooperation among our region's many faith traditions." While the Interfaith Council works primarily within the region's faith communities, Building US seeks to take that same spirit of understanding, acceptance and cooperation to an even broader segment of the community. Building US is the parent organization under which the Interfaith Council of Central Florida, the Friends Talking Faith With the Three Wise Guys radio program and the just-emerging InterDiversity Institute all operate. And speaking of tax-deductible contributions, be assured that contributions are always welcomed. Send them to: PO Box 3310, Winter Park, FL 32790-3310. Indicate which of the four entities above you wish to receive the benefit of your gift.
"Festival of Arts & Spirit" at Villages Feb. 15
On February 15, 2014, the United Church of Christ at the Villages, in conjunction withGladdening Light, will present a "Festival of Arts & Spirit," with featured speaker Rev. Dr. Charles McCollough, a noted sculptor and author. Other artists speaking and presenting their art work will be Mr. Randall Robertson, multimediaist; the Rev. Duain Vierow,  painter; Ms. June Keener Wink, author, potter and dancer, along with Ms. Ann Marie Genco. In addition to speakers, the event will include displays of art, hands-on opportunities and a catered lunch, covered by the $15 ($10 students) admission fee. For a full schedule of the day's events and to make a reservation, call 352-748-9199 or email the church office atUCCatVoffice@aol.com.
Airline's Venture into Prayer not Liked by All
According to a recent article in jewishpress.com, when El-Al airlines began broadcasting the traditional Hebrew Travelers Prayer over airplanes' sound system during boarding and as the plane was taxiing to the runway, it quickly met with stiff resistance, highlighting the challenge posed when religious expressions are imposed on captive audiences. "This gesture may sound harmless enough, and I'm sure the majority of the passengers were not deeply scarred by hearing some Jewish guy asking God to protect them from the dangers of the road (including from wild animals, which is always a bonus)," said the article's writer," Yori Yanover. But complaints were sufficient to cause the airline to bring a halt to the practice.
Recent Publications by Interfaith Council Leaders
Members of the executive committee or advisory board of the Interfaith Council of Central Florida have had three article published since the December newsletter was emailed: On November 28 and December 17, respectively, the Rev. Bryan Fulwider and Robert J. Rayhad opinion pieces in the Orlando Sentinel. And on December 20, Imam Muhammad Musrihad an article posted on the Huffington Post. Click on their names to link to the articles.
Hindu Prayer of Thanksgiving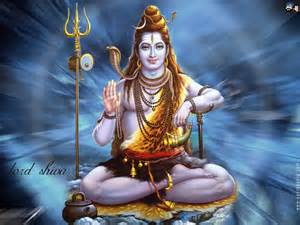 "Let us together be protected and be nourished by Supreme's blessings. Let us exert with our vigorous minds for the benefit of humanity. Let our efforts at learning expand our mental horizons, fill our hearts with joy, and be endowed with a noble purpose. Let us never hate anyone. Let there be peace and serenity in all the three universes."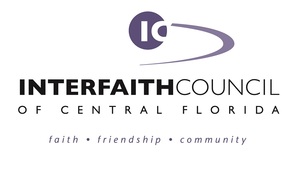 Please forward this email to any you feel would be interested. To be placed on the Interfaith Council's email newsletter list, send your request to
jim@interfaithfl.org
.